Hawaiian police officer accused of arresting lesbian couple for kissing in public
Courtney Wilson and Taylor Guerrero were stuck in Hawaii for five months after the incident until charges were dropped
Doug Bolton
Thursday 29 October 2015 18:18 Comments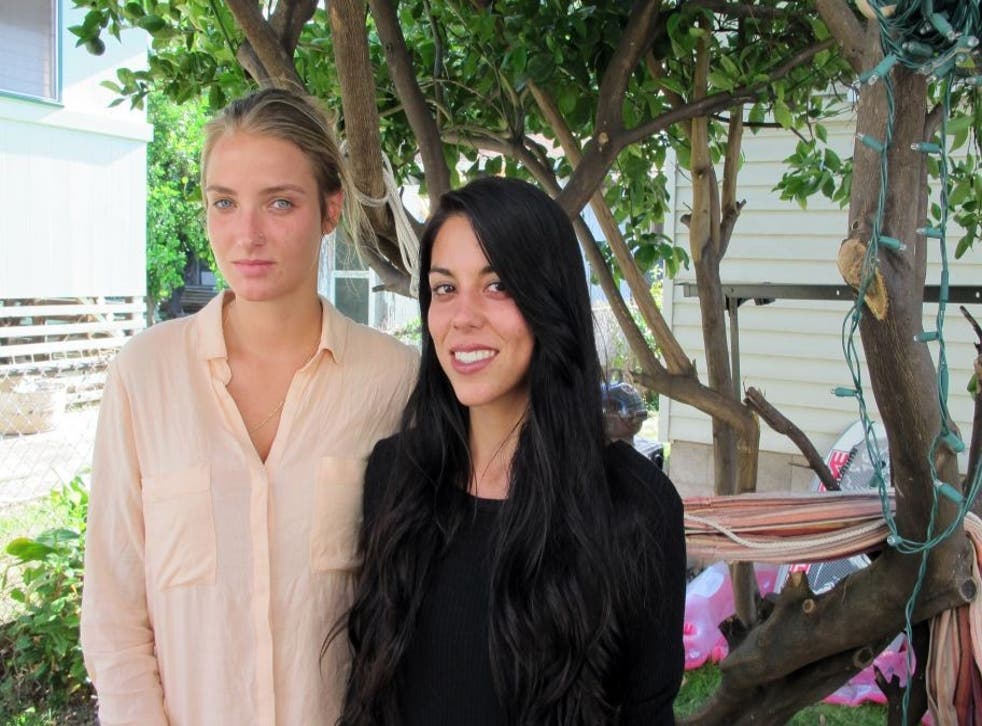 An American lesbian couple have filed a lawsuit against the Hawaii Police Department, claiming they were arrested by a police officer after he objected to their public display of affection while on holiday.
According to information in the federal lawsuit, Courtney Wilson and Taylor Guerrero held hands and hugged and kissed each other while shopping in a Foodland supermarket on the second day of their holiday in Oahu, the most populated of the Hawaiian islands.
Police officer Bobby Harrison witnessed this and loudly told them to "take it somewhere else."
The pair, who have been together for two years, complied with his instructions and continued shopping.
Harrison later witnessed them being affectionate again, and threatened to throw them out of the supermarket.
While they were waiting at the check-out, the officer grabbed Wilson by the wrist, and she immediately tried to call the police.
The lawsuit says Harrison then began "bumping his belly" against Wilson, and told them: "You girls don't know how to act. You don't know the difference between a motel and a grocery store."
Guerrero then tried to get between the officer and her girlfriend, and was allegedly shoved to the floor.
She kicked the officer as she fell, and the "whole situation got physical", with Wilson claiming she was punched in the face by Harrison.
Harrison wasn't carrying handcuffs, so he restrained the women with the aid of some supermarket employees, while other customers looked on.
The couple told Hawaii News Now that they were held by staff until someone found zip ties to restrain their hands.
They claim they were then taken to the basement of the supermarket, where they were "harassed" about their conduct and asked "if it was worth it."
LGBT+ rights around the globe

Show all 9
The pair were arrested, and charged with assault on a police officer. After spending three days in jail and paying $1,300 (£850) for bail which was set at $12,000 (£7,840) each, they were released - on the condition that they didn't leave the island.
This meant they had to stay in Hawaii for five months, during which time they were forced to sleep in a public park and the houses of friends and strangers, supporting themselves by taking cleaning jobs in holiday homes.
Eventually, prosecutors threw out the case, according to the pair's attorney, Eric Seitz.
Seitz added that Foodland, which is not part of the lawsuit, had apologised to the couple.

The lawsuit was filed on Tuesday 27 October, and claims that Harrison was motivated by his hostility towards gay people. The city and county of Honolulu is a co-defendant in the lawsuit.
Wilson told Hawaii News Now: "I just think that what he did was absolutely wrong without a doubt. I just really want an example to be made."
Hawaii Police Department has not specified whether Harrison, a 26-year veteran of the force, remains on duty.
The Department said they opened an internal investigation into the incident on Wednesday 28 October.
Register for free to continue reading
Registration is a free and easy way to support our truly independent journalism
By registering, you will also enjoy limited access to Premium articles, exclusive newsletters, commenting, and virtual events with our leading journalists
Already have an account? sign in
Join our new commenting forum
Join thought-provoking conversations, follow other Independent readers and see their replies