Hedy Epstein, 90-year-old Holocaust survivor speaks after her arrest: 'Ferguson police are deliberately inciting violence'
Ms Epstein has called for 'peace, justice and equality'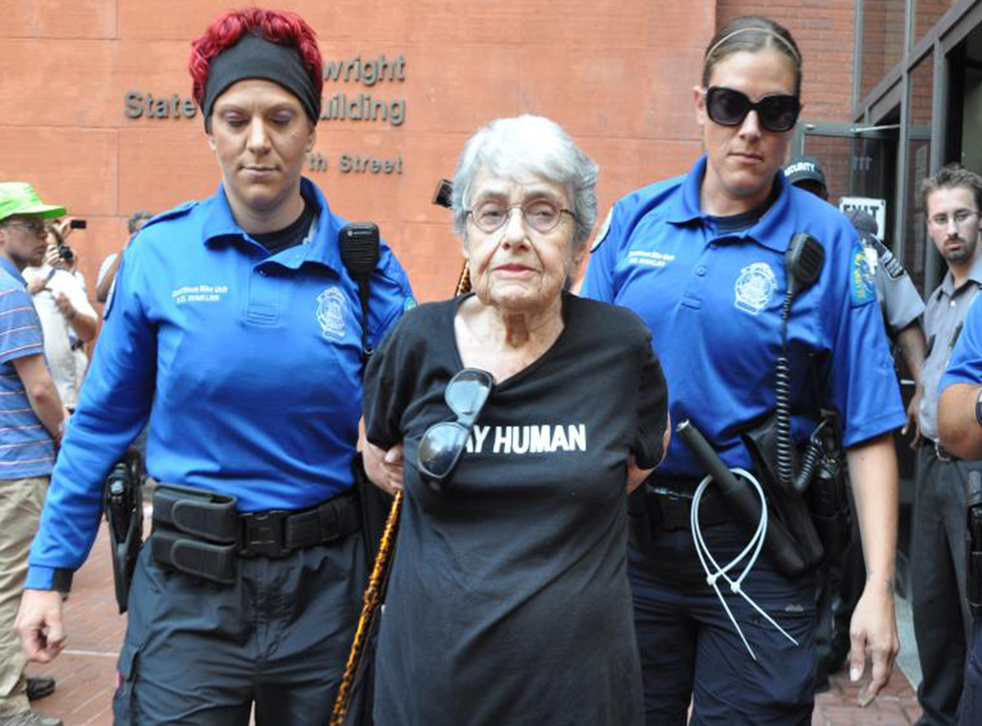 Hedy Epstein, the 90-year-old Holocaust survivor who was arrested on Monday in St Louis has accused police in Ferguson of deliberately inciting violence as protests over the death of unarmed black teenager Michael Brown continue across Ferguson.
Ms Epstein was one of eight people arrested and charged with "failure to disperse" during a demonstration outside of the Wainwright building, where Governor Jay Nixon has an office. She is due to appear in court on 21 October.
Ms Epstein, a resident of St Louis, is a political activist and speaker widely known for her vocal support of the Free Gaza Movement. Pictures of her in handcuffs and flanked by police were widely shared across social media, sparking wide-spread outrage.
Ms Epstein said protesters were there demanding to speak with Governor Nixon during a demonstration calling for him to de-escalate his response to riots in Ferguson, which has seen the area placed under a state of emergency and the National Guard deployed.
After refusing to move away from the door, Ms Epstein said St Louis police "arrested us without further ado, handcuffed us, put us in paddy wagons to the station, booked us, released us, and charged us and gave us a court date."
The increasing militarisation and the presence of the National Guard has seen tensions between protesters and authorities flare in Ferguson, leading President Obama to warn: "There is no excuse for excessive force by police."
Ms Epstein told The Independent that one of the main issues involved it the riots is the police in Ferguson, who have used tear gas and rubber bullets during the unrest.
"From the beginning, they were inciting the demonstrators who were demonstrating peacefully to become violent so that the police can become more violent in return," she said.
"The police and the guards need to be pulled out and they need to leave it to the people there to sort out. As long as you have riot police and riot gear and military equipment and lethal weapons - that is not going to lead to peace.
"It has to stop, because more lives are going to be lost, more people will be injured and more property will be damaged. It accomplishes nothing"
In pictures: Scott Olson's striking Ferguson images for Getty

Show all 23
Anger rose again this week after an independent pathologist hired by the Brown family determined the teenager had been shot six times, including twice to the head. The family's lawyer, Daryl Parks, suggested that the 18-year-old was killed at the moment he was already in a position of surrendering before the police officer.
"Michael Brown was walking down the street with his friend and police said get off the street and get onto the sidewalk," said Ms Epstein. "They said they would continue walking and then that's when the violence started.
"You don't have to shoot to kill because someone was walking down the street. The officer didn't know that Michael Brown was a suspect in an alleged robbery, he was merely shot because he was not obeying and walking on the sidewalk."
Mr Brown was shot and fatally wounded on 9 August by police officer Darren Wilson, who is currently suspended with full pay. His death has heightened racial tensions between the predominantly black community and the mostly white Ferguson Police Department.
Ms Epstein added: "There are certain stereotypes with male African Americans walking down the street, who immediately become a suspect just by walking. When I walk down with my white skin I am privileged and no one questions me.
"I hope there will be change, change not only in Ferguson because what is happening there is happening all over the country – racism is alive and well and I think we need as a nation to look at ourselves and we need to change our ways. Violence only begets violence.
"People in Ferguson have the right to live in peace and calm – there has been enough tragedy in Ferguson already. We need peace, justice and equality."
Register for free to continue reading
Registration is a free and easy way to support our truly independent journalism
By registering, you will also enjoy limited access to Premium articles, exclusive newsletters, commenting, and virtual events with our leading journalists
Already have an account? sign in
Register for free to continue reading
Registration is a free and easy way to support our truly independent journalism
By registering, you will also enjoy limited access to Premium articles, exclusive newsletters, commenting, and virtual events with our leading journalists
Already have an account? sign in
Join our new commenting forum
Join thought-provoking conversations, follow other Independent readers and see their replies