Heterosexuality declared illegal by Mayor of Hell - in response to Donald Trump
'It's a great place to visit - Donald Trump should go to Hell anytime'
Andrew Buncombe
Minneapolis
Friday 01 September 2017 14:11 Comments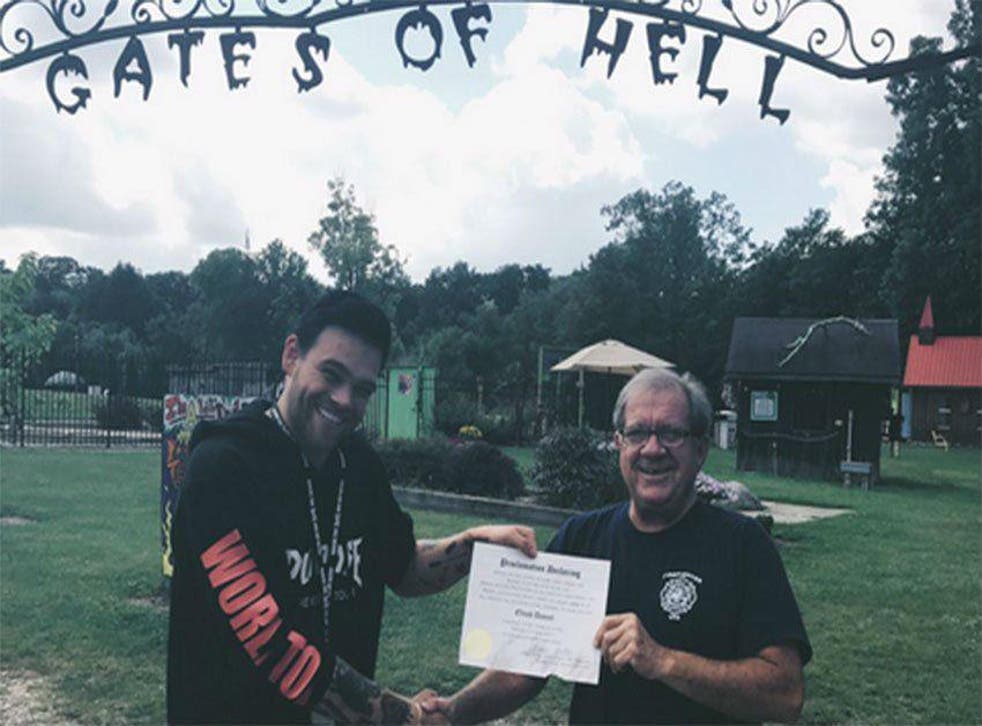 Every politician knows how tough it can be to get things done - even when you pay for the pleasure.
YouTube comedian Elijah Daniel handed over $100 for the right to be the mayor of Hell, Michigan, for a day, sought to outlaw heterosexuality and then found himself being duly impeached.
"My ban is a copy-and-paste of Trump's Muslim ban, but with heterosexuals instead," said Mr Daniel, who also written a gay-themed erotic novel about the President.
Mr Daniel, who lives in California, told the Huffington Post he was looking for an an easy way to buy himself a political position. It was at that point that he learned about Hell, a township of 73 people 20 miles northwest of the college town of Ann Arbor.
First settled in 1838 by a man called George Reeves, who set up a mill, the community reportedly earned its name by Mr Reeves's habit of paying farmers for their grain with home-distilled whiskey. The wives of the sozzled farmers, had the habit of declaring of their husbands: "He's gone to Hell again"
Trump defends Arpaio pardon
More recently, the town has sold itself as a tourist destination and wedding location. The community website proclaims that more people get told to go to their town than anywhere else. It also offers people the chance to become mayor for a day before being "impeached".
"I was looking for a town willing to make me mayor," Mr Daniel told the website. "They'll do it in Hell for $100, so I caught a redeye to Michigan and got sworn in."
Soon after becoming mayor, the 23-year-old, who is gay, issued a proclamation declaring that heterosexuality had been outlawed.
World news in pictures

Show all 50
"Growing up, I was always told that homosexuals would go to Hell," he wrote in his declaration, which was posted on Twitter. "Now the heterosexuals are trying to take that from us too."
He added: "I am establishing new vetting measures to keep radical heterosexuals out of our town. We want to ensure that we are not admitting into our town the very heterosexual threats we are fighting against.
"The straights coming into our town procreating, having more straight children to take our rightfully gay jobs. We only want to admit those into our town who will support our town and love deeply our people."
He said that while he would not allow straight people to enter the town, those who already lived there could stay if they paid a fine of $84,000 - "to be returned after one year of abstinence from any heterosexual activities".
The ban apparently did not extend to Mr Trump. "It's a great place to visit," he said. "Donald Trump should go to Hell anytime."
Soon after declaring his heterosexual ban, Mr Daniel was "impeached" and the job went back to the former mayor, Odum Plenty.
Mr Daniel has no regrets. "Being impeached was fun @realDonaldTrump," he wrote on Twitter. "You should try it."
Register for free to continue reading
Registration is a free and easy way to support our truly independent journalism
By registering, you will also enjoy limited access to Premium articles, exclusive newsletters, commenting, and virtual events with our leading journalists
Already have an account? sign in
Join our new commenting forum
Join thought-provoking conversations, follow other Independent readers and see their replies