Hillary Clinton blames Russia hacking and FBI director James Comey for her election loss
She said the alleged cyber attack was 'an attack against our country'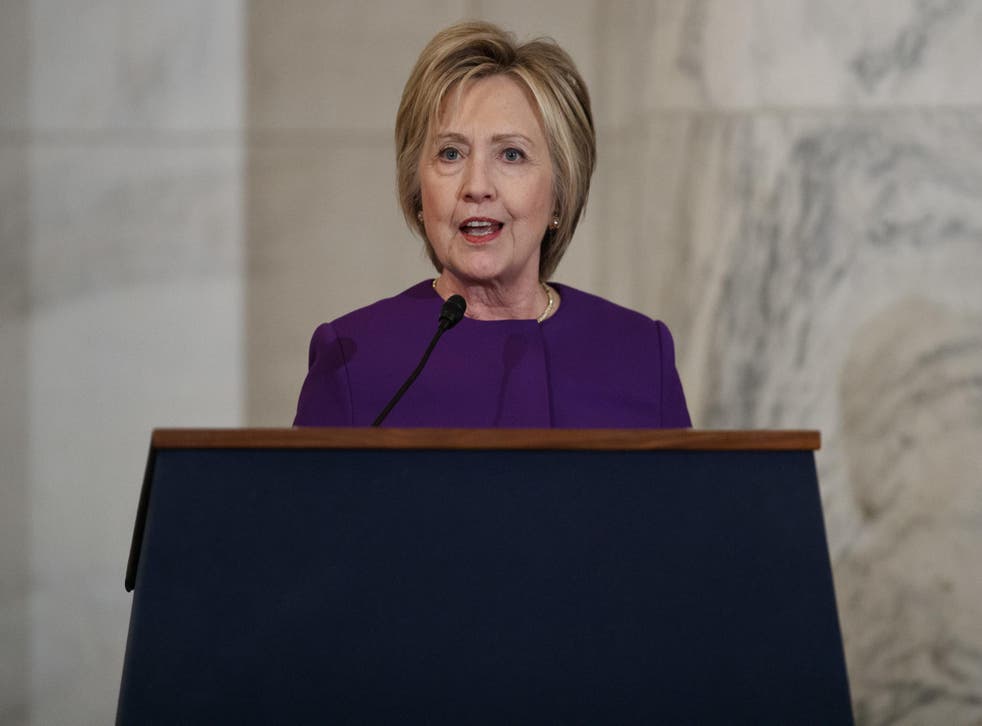 Hillary Clinton has blamed the alleged Russian cyber attack and FBI director James Comey for losing the presidential election.
Speaking to campaign donors in New York on Thursday evening, she said Russian president Vladimir Putin's hack of the Democratic National Committee emails were "an attack against our country" and as a result of "personal beef" against her.
Ms Clinton said the 2011 parliamentary elections in Russia were "rigged" and that the Russians wanted to "undermine" US democracy.
"Putin publicly blamed me for the outpouring of outrage by his own people, and that is the direct line between what he said back then and what he did in this election," Ms Clinton said.
These were Ms Clinton's first remarks on Russia since the CIA concluded that Russia had sought to manipulate the 2016 election to boost Donald Trump. The FBI was accused, in contrast, with sitting on top of "explosive" information about Russia and the election.
It was also one of her first speeches in public since the 8 November election: since then she has mostly been spotted around her home town in upstate New York, walking her dogs with husband Bill Clinton and visiting the local book store.
Trump: Clinton may be 'most corrupt person ever to seek presidency'
"Make no mistake, as the press is finally catching up to the facts, which we desperately tried to present to them during the last months of the campaign," she added.
"This is not just an attack on me and my campaign, although that may have added fuel to it. This is an attack against our country. We are well beyond normal political concerns here. This is about the integrity of our democracy and the security of our nation."
She also told the group, which paid more than $1 billion towards her campaign, that FBI director James Comey's letter to a group of Republicans, alerting them to new emails that were pertinent to the then-closed investigation of Ms Clinton's alleged misuse of her personal email server, also cost her several swing states.
Former ambassador to Russia: Putin wanted 'revenge' against Clinton
"Swing-state voters made their decisions in the final days breaking against me because of the FBI letter from director Comey," she said, as reported by the New York Times.
After Mr Comey sent the letter, reigniting the debate over Ms Clinton's emails, the investigation was closed again, days before the election.
President Barack Obama has vowed to take retaliatory measures upon Russia – both subtle and explicit action, he said – but has not elaborated what the measures are or when they will start.
Barack Obama: US will act on election hacking by Russia
White House press secretary Josh Earnest said Mr Trump "obviously" was aware of the help from Russia during the campaign, and that Mr Putin was behind the attack.
Mr Trump said the claims were "ridiculous" and questioned why Mr Obama was only talking about Russia now, after he had won the election.
The White House named Russia as a prime suspect in the cyber hack as far back as October, a month after Mr Obama said he spoke about the issue to Mr Putin directly at the G20 meeting in China.
Register for free to continue reading
Registration is a free and easy way to support our truly independent journalism
By registering, you will also enjoy limited access to Premium articles, exclusive newsletters, commenting, and virtual events with our leading journalists
Already have an account? sign in
Register for free to continue reading
Registration is a free and easy way to support our truly independent journalism
By registering, you will also enjoy limited access to Premium articles, exclusive newsletters, commenting, and virtual events with our leading journalists
Already have an account? sign in
Join our new commenting forum
Join thought-provoking conversations, follow other Independent readers and see their replies