Michelle Obama: I wouldn't lie to you, Hillary Clinton really is my friend
During their first joint campaign rally, Ms Obama said there was nobody more qualified for the toughest job on earth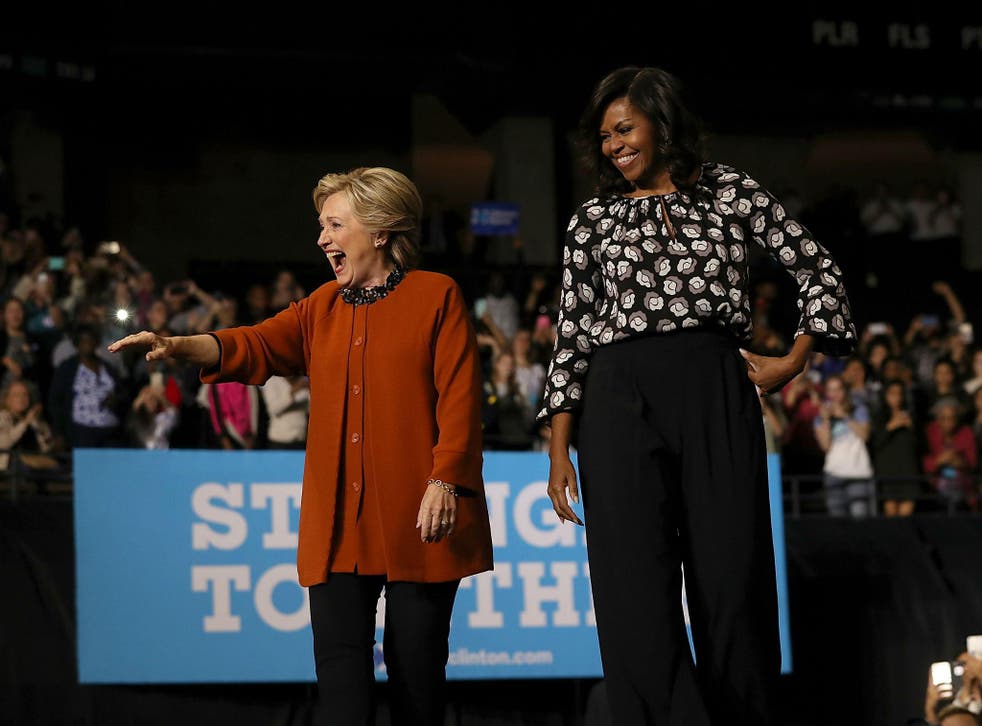 Michelle Obama insisted that Hillary Clinton was her "friend" at the pair's first joint rally on the campaign trail, addressing speculation that the Clintons and Obamas did not get on well.
Speaking in Winston-Salem, North Carolina, Ms Obama said: "People wonder if Hillary Clinton is my friend. Yes, she is my friend."
"[Hillary and Bill Clinton] they have been supportive from the very day my husband took the oath of office," she added.
Her speech, and her first joint rally with Ms Clinton, came more than three months after her husband first stumped for the Democrat, saying he was "ready to pass the baton".
Ms Obama also addressed criticisms that she has been active on the campaign trail.
She responded: "Well, that's true. But this is truly an unprecedented election and that's why I'm out here. I'm out here first and foremost because we have never had a more qualified candidate for president in our lifetime."
The mutual insistence about their friendship comes despite claims from Donald Trump that Ms Obama did not like Ms Clinton, and despite leaked emails from Colin Powell which claimed there were serious tensions between the two families since president Obama won the election in 2008.
Ms Obama said that Trump's vision was "negative" and focused on the "broken" aspects of communities, rather than the goodness.
Ms Clinton, she said, was a "policy wonk", had a positive vision and would treat women as "full and equal human beings deserving of love and respect".
Commentators suggested the leaked video from 2005 which showed the Republican nominee to brag about sexually assaulting women sparked a fire in the First Lady, who has often revisited the subject of gender equality when talking on behalf of Ms Clinton.
Michelle Obama 'shaken to the core' by Donald Trump comments
"We want to go to sleep at night knowing our kids and our country are safe," she told the crowd.
"I would not be lying to you. I believe with all my heart that Hillary Clinton will be that president."
The First Lady condemned Mr Trump's attempts to claim the US election was rigged, and that it was simply an attempt to make people lose hope and to not bother with casting their vote.
She said that the election would be decided by the people in the "greatest country on earth".
Michelle Obama mocks Trump with microphone (Subbed).mp4
"This is the country where a girl from the south side of Chicago, whose great great grandfather was a slave, can go to the finest universities on earth," she said. "A country where the son of a single mother in Hawaii can get to the White House.
"A country where the daughter of an orphan can break the highest glass ceiling and become the president of the United States."
Ms Clinton also insisted that the Clinton and Obama family were on good terms.
"She and the president have been such wonderful friends to me and my family, and it has meant the world to me, it really has," she said.
She ran through Ms Obama's achievements, including her charitable initiatives like Let's Move and Let Girls Learn, raising her two children, and Ms Clinton promised to look after her beloved White House kitchen garden.
"I have now stood on the debate speech for four and a half hours with Donald Trump and if you have seen any of those debates, well, that has proved once and for all I have the stamina to be president," she said.
Register for free to continue reading
Registration is a free and easy way to support our truly independent journalism
By registering, you will also enjoy limited access to Premium articles, exclusive newsletters, commenting, and virtual events with our leading journalists
Already have an account? sign in
Register for free to continue reading
Registration is a free and easy way to support our truly independent journalism
By registering, you will also enjoy limited access to Premium articles, exclusive newsletters, commenting, and virtual events with our leading journalists
Already have an account? sign in
Join our new commenting forum
Join thought-provoking conversations, follow other Independent readers and see their replies