HitchBOT: US tour ends as hitchhiking robot is vandalised in Philadelphia
The robot had been destined for San Francisco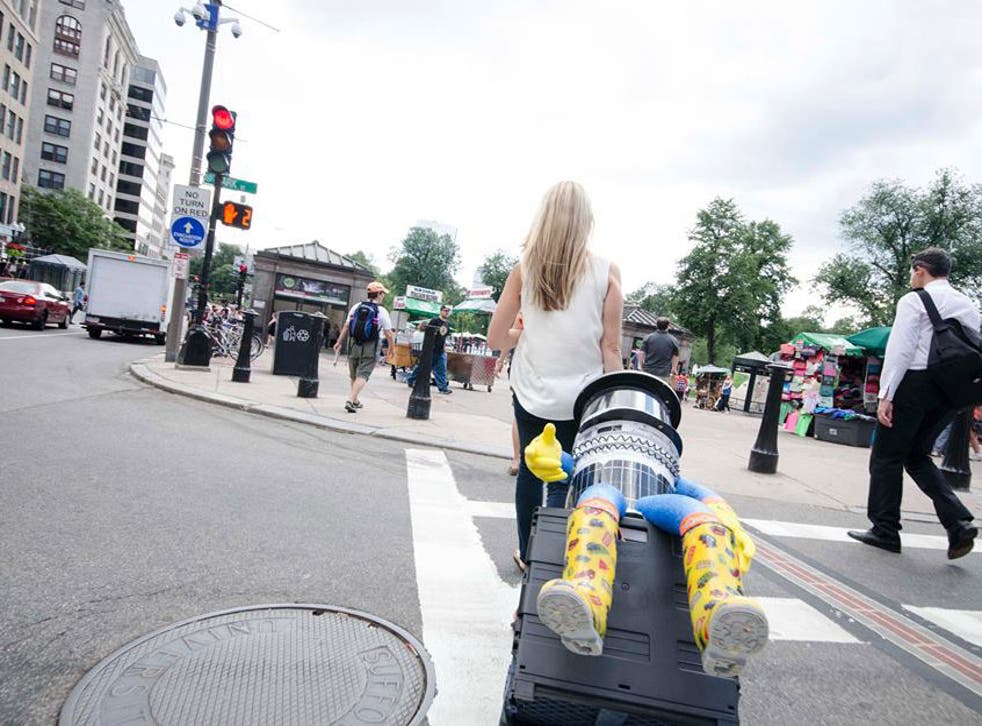 Philadelphia, William Penn's "city of brotherly love" has fallen far. For on its streets this weekend came the demise of HitchBOT, a friendly robot whose only wish was to see America.
The hitch-hiking robot that spent 26 days travelling all the way across Canada in 2014 lasted just two weeks on the mean streets of the US. It was roughed up and left for dead in Philadelphia this weekend.
A child-sized robot created by Canadian researchers as a social experiment and then set free to travel the continent unsupervised, HitchBOT was damaged beyond repair as it passed through "Philly". A photograph of what appeared to be its dismembered remains scattered on a Philadelphia pavement was posted on Twitter on 1 August.
The robot, unable to move on its own, relied on the kindness of strangers to pick it up, pass it along, or put it beside a busy road to be spotted by the next generous driver. Last year it made successful trips across not only Canada, but also Germany and the Netherlands.
HitchBOT's doomed American road trip began in Marblehead, Massachusetts on 17 July, with the hope that it could again cross the continent, this time to California. The robot spent several days in and around Boston, including attending a Boston Red Sox baseball game. But tragedy awaited HitchBOT at its next city stop in Philadelphia.
Its creators, led by Frauke Zeller of Toronto's Ryerson University and David Harris Smith of McMaster University in Hamilton, Ontario, were sent a picture of the mutilated robot on 1 August but were unable to track its location because the battery was dead. They do not know who destroyed it, or why.
Though it was immobile, HitchBOT was able to hold up a limited conversation. It contained a camera that took photos approximately every 20 minutes, and a GPS tracker to relay its location.
Following its successful journey across Canada, Ms Zeller and Mr Smith explained the project in the Harvard Business Review. "When we set out to see if a robot could hitch-hike across Canada, we were trying to initiate discussions about trust, notions of safety, and about our attitude towards technology," they wrote. "We also wanted to see whether a robot could hitch-hike across the country, relying only on the goodwill and help of strangers."
In its short but eventful life, HitchBOT attended a wedding and a comics convention, and spent a week on the road with a heavy metal band. On its website, the robot admitted that its preferred genre was electronic music, writing: "Kraftwerk are... amazing."
HitchBOT leaves behind the team of researchers it described as its "family", some 44,200 Twitter followers, and one sibling, KulturBOT, a robot devoted to visiting art galleries and tweeting images of the artworks. Ms Zeller was particularly concerned about children who followed HitchBOT on social media. "I hope that people won't be too disappointed, too sad," she said.
HitchBOT itself issued a short statement from beyond the grave. "I guess sometimes bad things happen to good robots! My trip must come to an end for now, but my love for humans will never fade. Thank you to all my friends."
Join our new commenting forum
Join thought-provoking conversations, follow other Independent readers and see their replies