Rare book with Hitler's plans for Holocaust in America bought by Canadian archive
The book was bought by Canadian librarians last year, and is now in Ottawa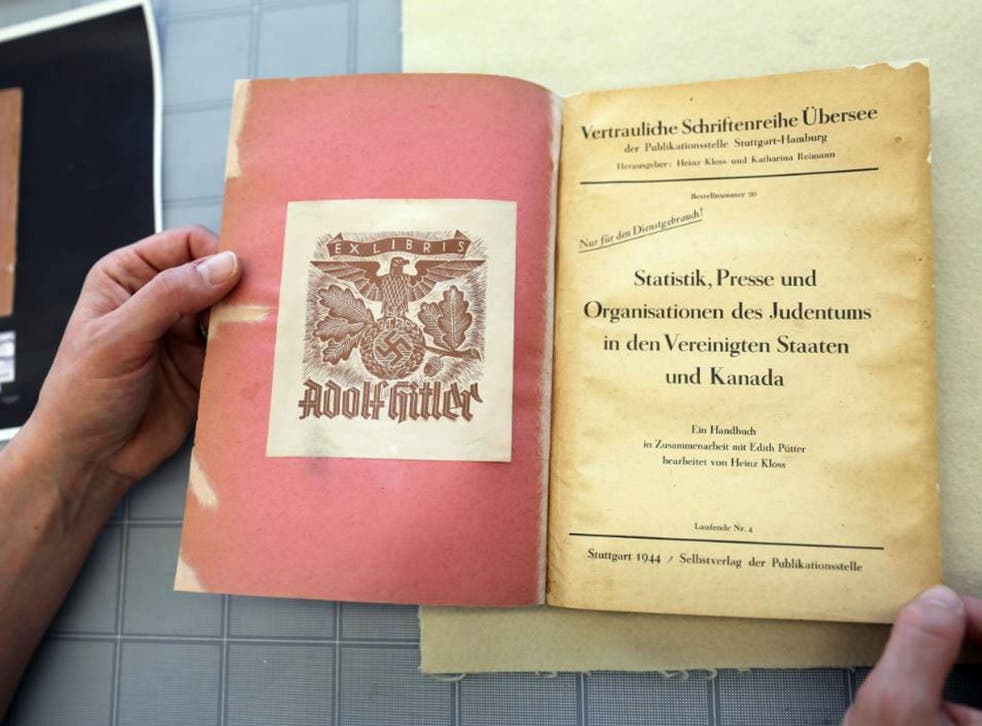 Adolf Hitler once owned a disturbing book that catalogued the number of the Jewish residents of the United States and Canada during the Second World War, which has now been acquired by Canada's national archive.
The book, published in 1944 by Heinz Kloss, a German researcher and linguist, appears to show that Nazis planned on making the Holocaust a worldwide event that spanned continents.
"[The book] demonstrates that the Holocaust wasn't a European event — it was an event that didn't have the opportunity to spread out of Europe," Micael Kent, the curator for Library and Archives Canada, told The Guardian.
The book is believed to have been a part of one of Hitler's libraries, and sorted Jewish residents of North America by language and ethnic and origin.
Kloss was known for frequently working for the Third Reich, and used 1930s data to compile the book.
World news in pictures

Show all 50
The book has been likened to the so-called Black Book, which Mr Kent says was a similar catalogue of British residents that was made in the event that Hitler's Germany managed to take over the United Kingdom.
It shows, Mr Kent said, that the horrors of those wars were well thought and analyzed plans.
"I think that's part of the horrors of Word War II and the Holocaust — recognizing how much intellectual effort went into work of the perpetrators," he said.
The book is expected to be used by the archives for educational purposes, and to combat a recent trend toward hate speech that has been sprouting up in the US, Canada, and elsewhere.
Register for free to continue reading
Registration is a free and easy way to support our truly independent journalism
By registering, you will also enjoy limited access to Premium articles, exclusive newsletters, commenting, and virtual events with our leading journalists
Already have an account? sign in
Register for free to continue reading
Registration is a free and easy way to support our truly independent journalism
By registering, you will also enjoy limited access to Premium articles, exclusive newsletters, commenting, and virtual events with our leading journalists
Already have an account? sign in
Join our new commenting forum
Join thought-provoking conversations, follow other Independent readers and see their replies