Homeland Security's proposal to separate women and children after US border crossing angers advocacy groups
Secretary John Kelly said the children would be 'well cared for as we deal with the parents'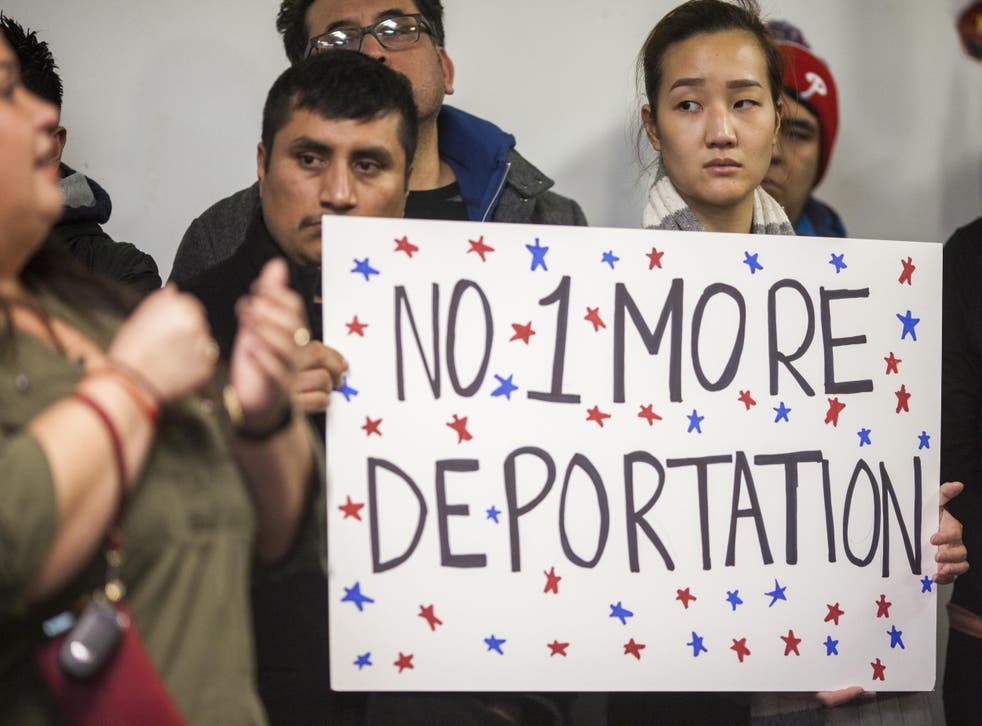 Advocacy and civil rights groups have expressed outrage at a proposal by the Department of Homeland Security to separate parents from their children to deter them from illegally crossing the Mexican-US border.
DHS Secretary John Kelly told CNN that he was considering the proposal to ensure that mothers and fathers thought twice about putting their lives in the hands of illegal human trafficking networks.
The proposal would mean putting children in the care of the government or sending them to live with relatives in the US.
"I would do almost anything to deter the people from Central America getting on this very, very dangerous network that brings them up from Mexico," Mr Kelly said.
He added that children removed from their guardians would be "well cared for as we deal with their parents."
At the moment, mothers and their children are held together in one of two detention centres in Texas or one in Pennsylvania until an immigration judge decides their case.
When pushed on how the "average person" would respond to the new measure, Mr Kelly said: "It's more important to me, Wolf, to try to keep people off this awful network."
The policy would end the Obama-era rule of "catch and release", which frees undocumented immigrants into the US as they await their trial.
Critics say the new proposal would be traumatic for families. Many women who flee across the border are so desperate or have suffered trauma at home, therefore the DHS proposal would not act as a deterrent.
On Tuesday White House Press Secretary Sean Spicer avoided a question on the issue and directed the reporter to ask ICE. He added that the President "does not get involved" in ICE-related matters.
The DHS has already come under fire after a draft memo proposed using 100,000 National Guard troops to round up undocumented immigrants.
Mr Trump has also called the issue a "military operation" to deport the "bad dudes".
Reuters reported that between 1 October 2016 and 31 January 2017, around 54,000 children and their guardians were apprehended as they crossed from Central America into the US.
Congressional Hispanic Caucus Chairwoman Representative Michelle Lujan Grisham said in a statement that President Trump was pedalling a false narrative that his immigration polices were only focused on hardened criminals, but instead he has focused on vulnerable people and families.
"The President and his DHS Secretary are now considering the merits of tearing children from their mothers as they enter the country seeking asylum," she said.
Audible groans as Trump announces agency solely to report immigrant crime
"To institute this type of policy as a deterrent is heinous. This egregious policy questions basic human rights and our country's moral standing in the world. There are better, more sensible immigration procedures that protect families while they proceed through the asylum application process."
Laura Vazquez, programme manager for immigration initiatives at Latino nonprofit advocacy organisation National Council of La Raza, told The Independent that the proposal was "incredibly inhumane".
"This proposal shows a fundamental lack of understanding about why women and children are trying to come to the US," she said.
"This will not serve as a deterrent. When a woman decides that she and her child need to flee violence, that's an incredibly difficult decision and this proposal should never be used as a way to keep women from trying to protect their children."
Marielena Hincapié, executive director of the National Immigration Law Center, said in a statement: "What the Trump administration is proposing would inflict severe emotional trauma on children and parents who are fleeing horrific conditions in their home countries and seeking safety in our country.
"This is beyond an affront to our values and our legal responsibilities. It is downright cruel. As we have seen, deterrence policies will always fail because parents will always choose saving their children's lives."
The Trump administration has insisted Mexico would reimburse the US for building the wall along the border.
It could costs as much as $20 billion. Mexican President Enrique Pena Nieto said they would not pay and promptly cancelled his first trip to visit Mr Trump.
Join our new commenting forum
Join thought-provoking conversations, follow other Independent readers and see their replies