Honduran ex-president stopped with bag containing $18,000 in cash at airport
'Obviously, someone must have put it in my belongings,' Mr Zelaya said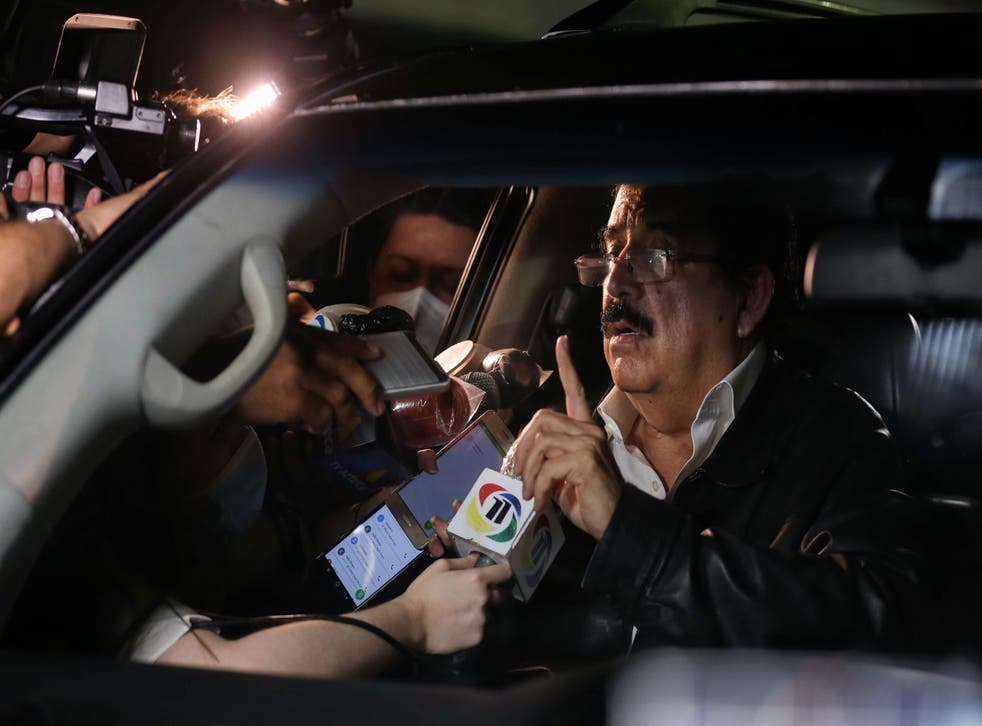 Former Honduran president Manuel Zelaya said on Friday that he had been "unjustly" detained at the airport for carrying a bag with $18,000 in cash that he said was not his.
"I don't know the origin of that money. Obviously, someone must have put it in my belongings," Mr Zelaya told local media.
"I have travelled 400 times and I know that you cannot travel with that amount of money. It is necessary to investigate who put that money in my belongings," he said.
Honduran laws designed to control trafficking and money laundering allow travellers to take up to $10,000 in cash out of the country at one time. The money must be declared to authorities.
Mr Zelaya announced on Friday evening on Twitter that he had been "unjustly detained" at the Toncontin international airport in the Honduran capital, Tegucigalpa, as he prepared to travel to Mexico for a seminar.
He said he was stopped at immigration control after a search of his carry-on luggage.
A spokesman for Honduras' public prosecutor's office denied that Zelaya was detained.
"What is happening is what the law says, which means documenting [what happened] and once that is complete and signed by former president Zelaya, where he states the money is not his, he can easily go," spokesman Yuri Mora told Reuters.
A group of supporters of the former president protested against his arrest outside the airport, reportedly burning tires and blocking traffic. Police fired tear gas to disperse them after they tried to reach the room where Mr Zelaya was stopped.
In security footage that was published by the Honduran press and circulated widely in the country, the former president is seen wearing a black coat and taking the money from a backpack in front of customs officers in a room. They ask him to count the money in front of them.
"They demanded that I count the money one by one and add it up even though I was not the owner, and they did not want to count it, claiming that it is my backpack and I should do it," Mr Zelaya said on Twitter.
"I wanted to board and there were only 10 minutes left. That video is evidently cut and edited."
The left-leaning Zelaya, 68, led Honduras from 2006 to 2009 and was an ally of late Venezuelan leader Hugo Chavez.
He was deposed in a military coup in June 2009 coup as he prepared to hold a referendum on presidential re-election, which his opponents said was a ploy to stay in power.
He is still the leader of the left-leaning Partido Libertad y Refundacion. His wife Iris Xiomara Castro de Zelaya ran in the country's presidential elections in 2013 but failed to be elected.
Mr Zelaya, who has since been released, told local media that he planned to travel to Houston, Texas on a layover before flying to his final destination, Mexico, where he is due to participate in a seminar organised by the local leftist party Partito del Trabajo (Labour Party, PT).
Additional reporting by Reuters
Register for free to continue reading
Registration is a free and easy way to support our truly independent journalism
By registering, you will also enjoy limited access to Premium articles, exclusive newsletters, commenting, and virtual events with our leading journalists
Already have an account? sign in
Register for free to continue reading
Registration is a free and easy way to support our truly independent journalism
By registering, you will also enjoy limited access to Premium articles, exclusive newsletters, commenting, and virtual events with our leading journalists
Already have an account? sign in
Join our new commenting forum
Join thought-provoking conversations, follow other Independent readers and see their replies