Iota strengthens into 'extremely dangerous' category 4 hurricane as it bears down on Central America
'Potentially catastrophic' weather system heading for Nicaragua and Honduras due to make landfall on Monday
Tom Batchelor
Monday 16 November 2020 10:14 Comments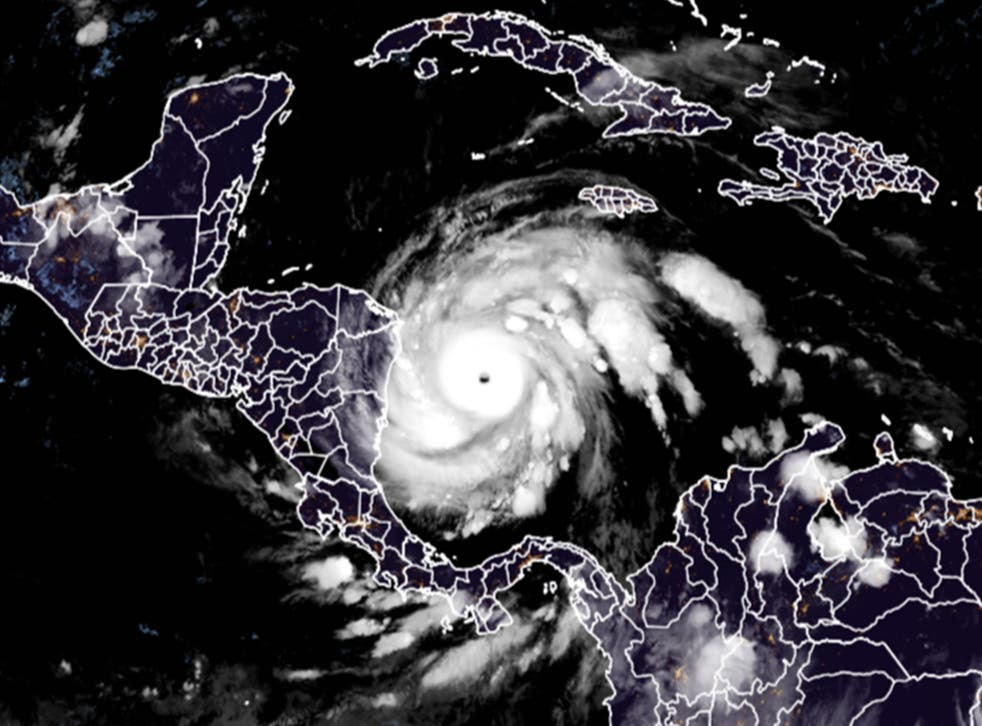 Leer en Español
Forecasters are warning of a life-threatening storm surge, flash flooding and mudslides across parts of Central America after Iota strengthened into an "extremely dangerous" category 4 hurricane.
The US-based National Hurricane Center (NHC) said the "potentially catastrophic" weather system heading for Nicaragua and Honduras was due to make landfall later on Monday.
Iota is currently located about 45 miles (70 km) east of Isla De Providencia, a tiny Colombia-administered island in the Caribbean, with maximum sustained winds of 140 miles per hour.
The NHC said heavy rain could cause flooding and mudslides until Friday.
Neighbouring Costa Rica and Guatemala, as well as Panama, El Salvador, Belize and Mexico, are likely to feel the effects of Iota – even if they are away from the stretch of land running from northeastern Nicaragua to eastern Honduras that forecasters expect to be hardest hit.
An NHC reconnaissance aircraft sent to observe the storm on Sunday reported that Iota had rapidly strengthened as it headed for the same part of Central America that was battered by similarly powerful Hurricane Eta just over a week ago.
Iota was forecast to drop 8 to 16 inches (200-400 millimetres) of rain in northern Nicaragua, Honduras, Guatemala and southern Belize, with as much as 30 inches in isolated spots.
Costa Rica and Panama could also experience heavy rain and possible flooding, the NHC said.
This year was already a record-breaking season, with Iota being the 30th named storm of an extraordinarily busy window for Atlantic hurricanes.
Evacuations have been conducted from low-lying areas in Nicaragua and Honduras.
Around 63,000 people were reported to be in 379 shelters in the northern region of Honduras alone, while the whole country was on high alert.
Nicaraguan officials said that by late Sunday afternoon about 1,500 people, nearly half of them children, had been evacuated from low-lying areas in the country's northeast, including all the inhabitants of Cayo Miskitos.
Authorities said 83,000 people in that region were in danger.
Wind and rain were beginning to be felt on Sunday night in Bilwi, a coastal Nicaraguan city where several residents expressed concern to the Associated Press news agency that their homes would not stand up to Iota, so soon after Eta.
Local television showed people carrying young children being evacuated by boat.
Authorities warned that the risk was high because Iota would probably come ashore over areas where Eta's torrential rains left the soil saturated with water and more prone to new landslides and floods.
Three-year-old girl airlifted to safety during storm Eta in Honduras
Eta has already wreaked havoc in the region. It hit Nicaragua as a category 4 hurricane, killing at least 120 people as torrential rains caused flash floods and mudslides in parts of Central America and Mexico.
Then it meandered across Cuba, the Florida Keys and around the Gulf of Mexico before slogging ashore again in Florida, and dashing across the state towards the Carolinas.
Eta was the 28th named storm of this year's hurricane season, tying the 2005 record for named storms. Theta, the 29th, was far out in the eastern Atlantic Ocean, and became a remnant low on Sunday.
The official end of hurricane season is 30 November.
Register for free to continue reading
Registration is a free and easy way to support our truly independent journalism
By registering, you will also enjoy limited access to Premium articles, exclusive newsletters, commenting, and virtual events with our leading journalists
Already have an account? sign in
Register for free to continue reading
Registration is a free and easy way to support our truly independent journalism
By registering, you will also enjoy limited access to Premium articles, exclusive newsletters, commenting, and virtual events with our leading journalists
Already have an account? sign in
Join our new commenting forum
Join thought-provoking conversations, follow other Independent readers and see their replies