Irma: Gun owners in Florida plan to 'shoot down' hurricane
'Let's show Irma that we shoot first,' states Facebook event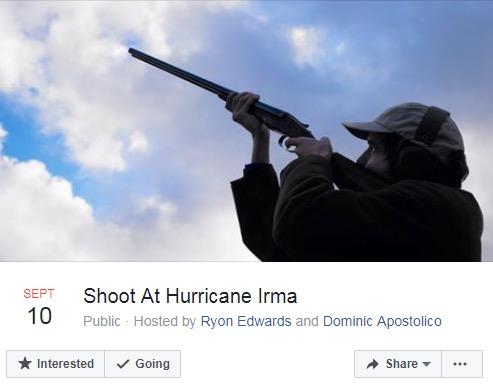 Gun owners in Florida have vowed to respond to Hurricane Irma by "shooting at" the storm.
Tens of thousands of people have joined an event advertised on Facebook to tackle the hurricane currently bearing down on Florida, in an attempt to "show Irma that we shoot first".
Hurricane Irma batters St Martin, destroying live webcam feed
Irma, the most powerful Atlantic Ocean hurricane in recorded history, has already wrought destruction in the Caribbean, killing at least 22 people.
Ryon Edwards, who created the event on Facebook, said he had no't expected to generate such a large response, and that he started the event out of "stress and boredom".
"A combination of stress and boredom made me start the event. The response is a complete and total surprise to me," the 22-year-old told BBC Newsbeat.
"I never envisioned this event becoming some kind of crazy idea larger than myself. It has become something a little out of my control."
Plane captures aerial view of Hurricane Irma as it heads towards the United States
Some people appear to have taken the plan seriously, including one Facebook user who posted an image of himself holding a gun, along with the message: "I'm not going to sit around and wait, I'm going straight into the eye."
Others responded to it with scepticism, with one user writing: "Isn't this just going to make the weather madder?"
Another Florida resident has made an event encouraging people to "shoot flames" at the storm.
"It's time we took a stand against this big bully! This our home nobody drives us out of our own territory," states the event description.
"Join me in this fight as we shoot flames at Hurricane Irma and dissipate her on the spot. She will burn."
Barbuda, Hurricane Irma – in pictures
Show all 7
More than five million people — a quarter of the state's population — have been ordered to evacuate ahead of the storm. The Carolinas and Georgia have also declared emergencies.
The Category 5 storm had maximum sustained wind speeds of 160mph on Saturday, according to the US National Hurricane Centre.
Irma was briefly downgraded to a Category 4 with 150mph winds on Friday, but was later reclassified to a Category 5.
Join our commenting forum
Join thought-provoking conversations, follow other Independent readers and see their replies