As it happened
ended
1505029779
Irma - as it happened: Florida Governor Scott says 'last chance to make a good decision' and evacuate or seek shelter
More than six million people ordered to evacuate Florida as storm moves towards western coast - but all of the state will see winds of 80mph and above
NASA satellite imagery shows Hurricane Irma making landfall in Cuba
Hurricane Irma is bearing down on Florida, after having wrought destruction in the Caribbean, killing at least 24 people.
Winds of up to 160mph smashed into Cuba's northern coast on Saturday hours after it was classified as a Category 5 storm.
Irma has now been downgraded to a Category 3, but is forecast to restrengthen once it moves away from Cuba, according to the US National Hurricane Centre.
Concerns are also mounting over Hurricane Jose, which is growing in strength and heading towards islands already devastated by Irma.
Florida is bracing for Irma to hit on Sunday morning. It is expected to bring massive wind and flooding damage to the fourth most populous US state.
Governor Rick Scott warned that Irma, the most powerful Atlantic Ocean hurricane in recorded history, is wider than the "entire state".
More than six million people - a quarter of the Florida's population - have been ordered to evacuate.
The Carolinas, Alabama and Georgia have also declared emergencies.
The storm, of "nuclear" ferocity, has already churned along a path through the Lesser Antilles, Puerto Rico, the Dominican Republic, Haiti and Cuba.
Irma's eye passed directly over the island of Barbuda, meaning its inhabitants were twice subjected to the fastest winds.
Hurricane Irma – devastation caused in pictures

Show all 45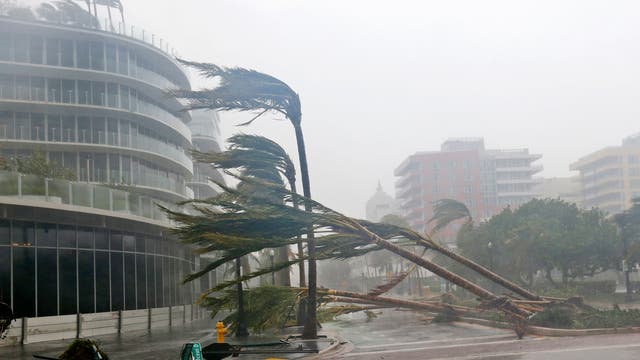 Heavy rain and howling winds raked the neighbouring island of Antigua, sending debris flying as people huddled in their homes or government shelters.
Officials had warned people to seek protection from Irma's "onslaught" in a statement that closed with: "May God protect us all."
Foreign Secretary Boris Johnson said the UK was "taking swift action to respond" to the disaster after speaking to the chief minister of Anguilla, a British overseas territory that was among the first islands to be hit.
Britons in the region have been urged to follow evacuation orders, while states of emergency have been declared in Puerto Rico, Cuba and Florida - amid fears Miami could be struck directly by the hurricane.
A British naval ship has been deployed to help deal with the aftermath with 40 Royal Marines on board, as well as army engineers and equipment, as authorities struggle to bring aid to smaller islands.
1504943729
This is Will, I'll be manning The Independent's live blog today as Hurricane Irma – now reclassified as a Category 5 storm – bears down on Florida.
The rhetoric from officials about this storm has been apocalyptic, and five million Floridians have been ordered to evacuate, in preparation for severe damage in the state.
Meanwhile, to the south east, Hurricane Jose is gaining strength. Meteorologists fear it could soon turn into a Category 5 storm, as it menaces islands already smashed by Irma.
Kristin Hugo
9 September 2017 08:55
1504944597
Cuba has been bearing the brunt of Hurricane Irma most recently. It is the first time the country has been hit by a Category 5 storm since 1924. 
The storm moved over the northern Camaguey Archipelago overnight, blowing winds of up to 160mph. 
Despite the severity of the storm, a tourist visiting the country told the BBC people stayed calm and checked on their neighbours.  
Kristin Hugo
9 September 2017 09:09
1504944994
Some good news for Mexico - Hurricane Katia weakened to a tropical storm when it made landfall north of Tecolutla, Veracruz, last night with winds of 45mph.
Kristin Hugo
9 September 2017 09:16
1504945743
An update from Reuters on Storm Katia, which made landfall in Vercaruz, Mexico last night. While it weakened from a hurricane to a storm, there are fears the rain it will bring could cause flooding and landslides. The area has already seen significant rainfall in recent weeks, and the ground is saturated in some places. 
Mexico is also dealing with the aftermath of a powerful 8.1 magnitude earthquake which struck on Friday and killed at least 32 people. 
Kristin Hugo
9 September 2017 09:29
1504947066
This from CNN's man in Cuba, as Irma batters the island: 
Kristin Hugo
9 September 2017 09:51
1504947767
Hurricane Jose, a Category 4 storm, is tracking towards the Northern Leeward Islands, the National Hurricane Centre has said. The islands have already suffered significant damage under Hurricane Irma.
Kristin Hugo
9 September 2017 10:02
1504948734
Strong winds are already blowing on the Florida Keys. Residents have been ordered to evacuate, and warned by forecasters that "nowhere is safe" on the islands. 
Kristin Hugo
9 September 2017 10:18
1504949464
Hurricane Irma has been downgraded to a Category 4 storm, but remains extremely powerful, with maximum sustained winds of 155mph. 
The storm was already downgraded before being reclassified as a Category 5, just prior to hitting Cuba. 
Kristin Hugo
9 September 2017 10:31
Join our new commenting forum
Join thought-provoking conversations, follow other Independent readers and see their replies