Indian teenager Anoyara Khatun joins Bill and Melinda Gates to help women and children around the world
The Every Woman, Every Child initiative claims to have saved the lives of millions over the past five years
Andrew Buncombe
Saturday 26 September 2015 11:38 Comments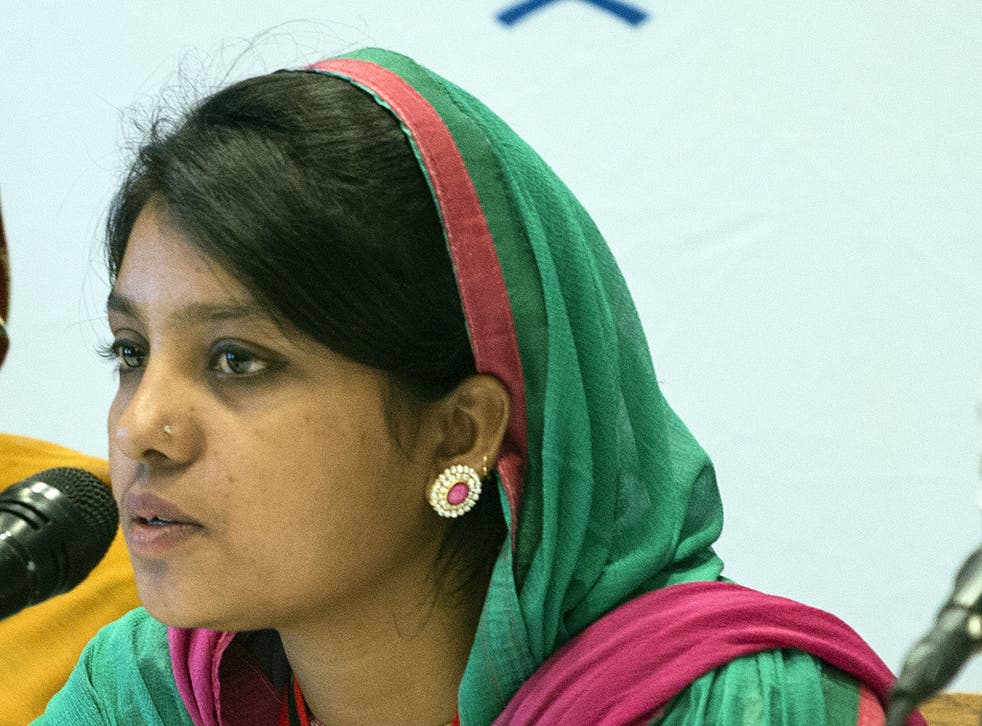 An Indian teenager sat alongside Bill and Melinda Gates and called for an end to child trafficking as officials gathered to launch global targets aimed at improving the lives of women and children.
Anoyara Khatun, from the Sunderbans of West Bengal, had been forced to do domestic work for another family after her father died when she was five.
"I want to advocate for children's rights. The major problem is trafficking in the name of labour and marriage," said the 18-year-old. "I myself have been trafficked and I know how painful it is."
The young woman spoke out as officials from Every Woman, Every Child readied to release new global development targets aimed an improving the lives of millions of young women and children.
The initiative was started five years ago at the direction of UN Secretary General Ban Ki-moon and involved 300 private and government partners. They have made available more than $60bn to address health challenges for young women, including maternal mortality, contraception and disease.
The project says research has shown that the health of women and children is the cornerstone of public health. Healthy women and children create healthy societies, the initiative says.
Bill Gates, co-chair of the Bill and Melinda Gates Foundation, one of the many partners from the world of charity and civil society, said progress was being made on issues that ranged from clean water to tackling polio.
"It's an amazing moment and we in the West have the opportunity to try and reduce the inequality," he said.
Melinda Gates said progress could be measured by data – released earlier this month – that showed child mortality rates have plummeted to less than half of what they were in 1990.
However, she said there was a pressing need to tackle global poverty, which she suggested was the most pressing priority.
"We would not put our own money in, or ask others to, if we were not sure those investment were working and the data shows they are."
The Global Strategy for Women's, Children's and Adolescents' Health will be formally launched by UN Secretary General Ban Ki-moon on Saturday.
Register for free to continue reading
Registration is a free and easy way to support our truly independent journalism
By registering, you will also enjoy limited access to Premium articles, exclusive newsletters, commenting, and virtual events with our leading journalists
Already have an account? sign in
Register for free to continue reading
Registration is a free and easy way to support our truly independent journalism
By registering, you will also enjoy limited access to Premium articles, exclusive newsletters, commenting, and virtual events with our leading journalists
Already have an account? sign in
Join our new commenting forum
Join thought-provoking conversations, follow other Independent readers and see their replies