'It looks like The Walking Dead': Florida's residents assess Irma's damage
Broken trees and debris lines the streets and homes are flooded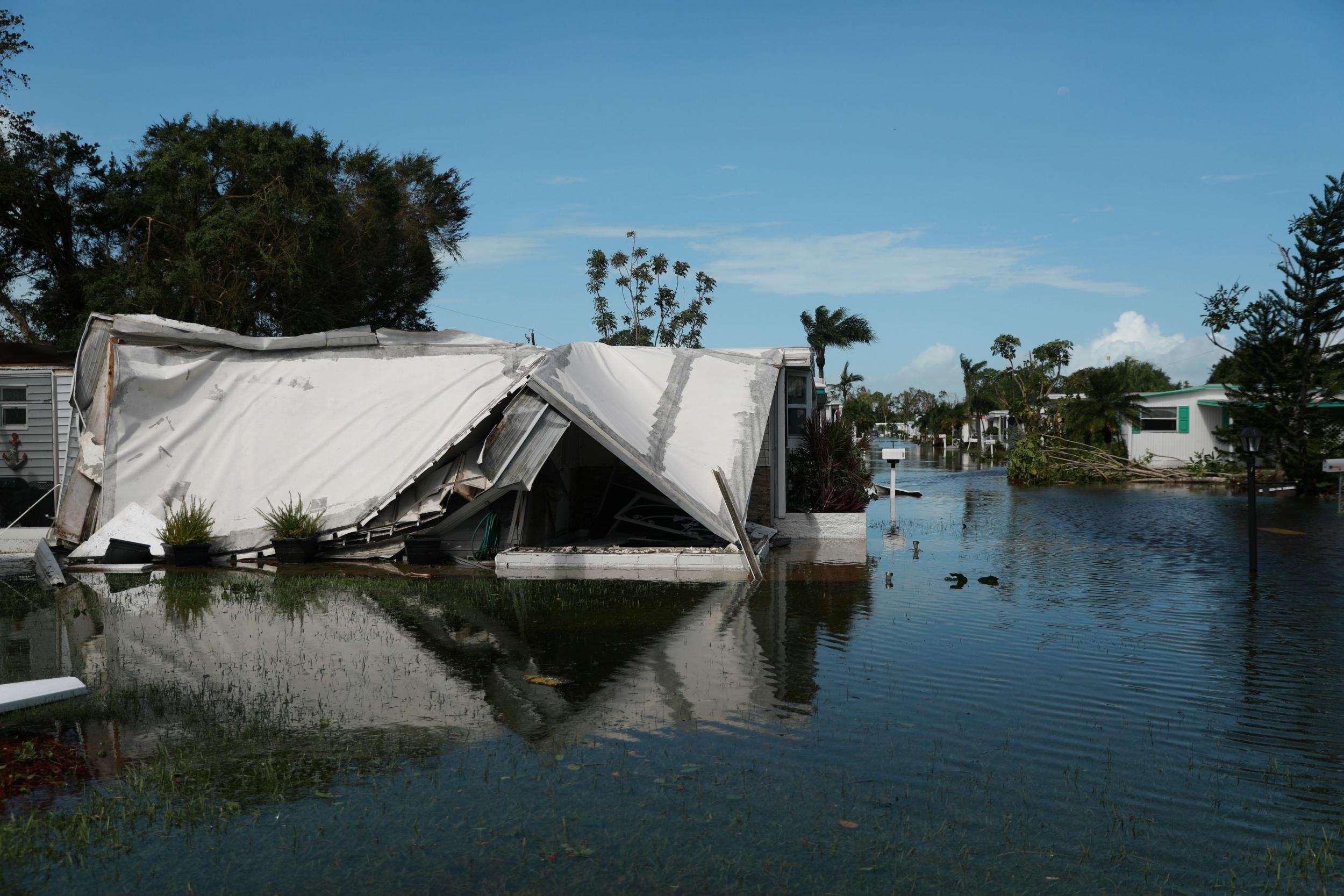 A day after the city of Naples was run over by the eye of Hurricane Irma, locals are assessing the damage left by the 141 mph winds and shaking their heads.
"It's very eery," says one resident, Paige Shirk. "It looks like it could be on the set of 'The Walking Dead'."
After Irma made landfall in the early hours of Sunday in the Florida Keys, it headed northwards and then struck land for a second time at Marco Island – a barrier community linked to this city of 20,000 by a causeway. Informed that they were in the centre of Irma's path, city officials feared they were in for storm surges of up to 15ft (4.6m).
As it was, Naples, along with cities to the north such as St Petersburg and Tampa, escaped the devastation that many had feared. Yet, the destruction that Irma left in its wake is clear to see – downed power lines, trees uprooted and streets of suburban homes left under water. Light fixtures were torn from their housing. In the centre of this coastal community, debris and damaged trees are strewn across the roads.
Ms Shirk says that she is no stranger to storms having lived in Florida all her life, but that Irma was something else.
"The second you thought it was done, it got worse," she says. She recalls pushing mattresses against windows, which were bending owing, for protection.
Hurricane Irma devastates Sir Richard Branson's Necker Island home
"It was definitely the worst," she says, admitting she had not been tempted to evacuate like many others in her neighbourhood.
Others in Naples describe something of a fog as the eye of the storm approached Sunday.
"It's almost like a white out. You can't see," Judy Ligeos says of the half-an-hour before the eye hit. The rain was so dense that she couldn't see more than a foot out from her hurricane-proof windows.
The eyewall of the storm took two hours to make its way through Naples with nearly two hours of howling wind.
"First thing I saw were the trees down," Jesse Hinson, who arrived to check on his house and said he was amazed by his luck, told ABC News
"I was so thankful. I was sitting there watching, I have an app on my phone and we were sitting there watching the radar, and I saw as soon as the eye hit, the bottom of the storm just went away. I mean there was no green or yellow, just a little shade of blue down at the bottom. Man, did we dodge a bullet."
Hurricane Irma – devastation caused in pictures
Show all 45
Irma has now moved northwards, triggering a storm surge in Jacksonville in the north west of the state, and heading into Alabama and Georgia.
Now downgraded to a tropical storm with speeds of around 65mph, it has left up to six million homes and business without power.
Eric Silagy, the CEO of Florida Power and Light, says Irma caused the most widespread damage in the company's history.
The most extensive damage was likely in the Naples area, but a full assessment was ongoing. He says 19,500 electric workers have been deployed in the restoration effort, according to the Associated Press.
Officials have confirmed that at least one man was killed in a traffic collision during the storm. At least 34 people have been confirmed dead.
Join our commenting forum
Join thought-provoking conversations, follow other Independent readers and see their replies