Ishmael Bermudez: Miami resident of Native American heritage will not sell his tiny plot for $1.8m because he believes it is sacred ground
Wooden home and garden is a place of calm within a busy city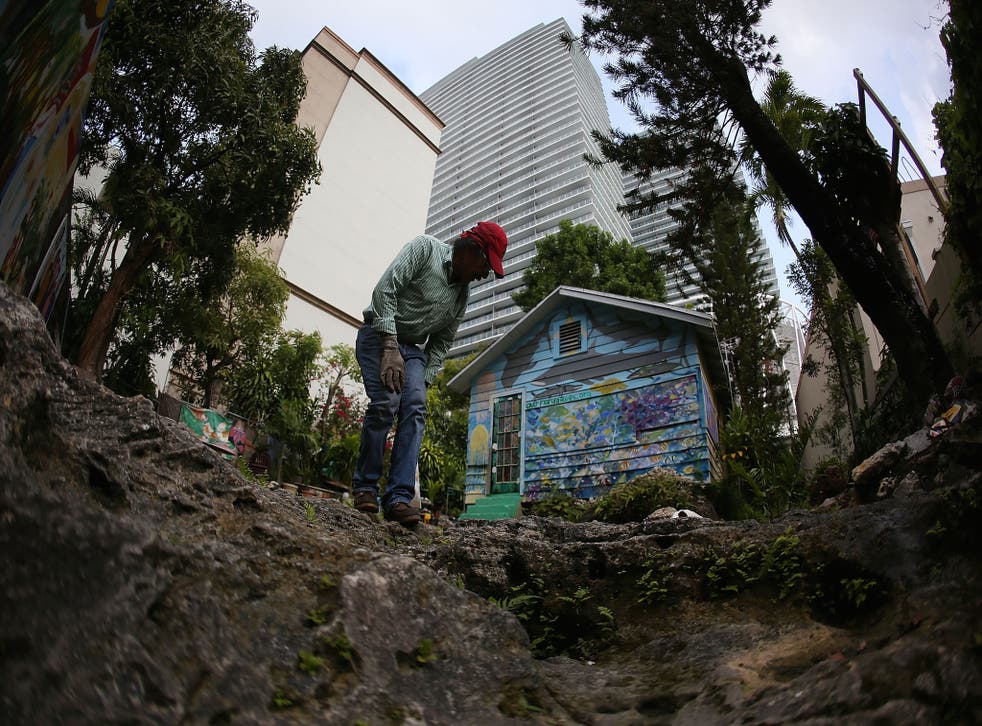 Ishmael Bermudez's small wooden home in the centre of this frantic, frenetic city is an oasis of peace and restfulness. It even has its own spring.
Located close to Brickell Avenue and a metro train stop, the 65-year-old's property is greatly desired by developers. There has been plenty of interest and it's reckoned his modest home and its plot of land could fetch up to $1.8m.
But Mr Bermudez, who has Native American ancestry, is disinclined to sell. The reason? He says the property stands on sacred ground.
In particular, he will not sell unless he can be assured that the buyer will not touch the garden, where several years ago he found a spring.
Mr Bermudez, who calls his garden the "Well of Ancient Mysteries" told the Miami Herald he had discovered a series of remains and artefacts that he believed were used in rituals. He believes the land was a sacred place for member of the Tequesta, one of the first Native American tribes to have contact with Europeans and who were subsequently forced out or killed.
"There's not enough money that can buy what's on this land because it's simply priceless," he told the newspaper. "How can you put a price on the history of humanity? It has none."
He added that he might sell if the location was turned into a museum or an archaeological landmark for the city. "But in these difficult times, it's hard to believe that someone would have a clean enough soul to do something like this because people only care about making money," he said.
Reports say that Mr Bermudez, also known as Golden Eagle, was born in Colombia to a Colombian mother and an American soldier father. His father was a descendant of the Pueblo and Navajo tribes.
The family moved to Miami when he was eight. When he was 12 his sixth-grade teacher told him to search for one of the springs the Tequesta drank from before they escaped from the Europeans during colonisation - which sparked the excavation project in his back garden.
"Many thought I was crazy," Mr Bermudez, who has established a Facebook page to share material about the Tequesta, told the newspaper. "While other children played, I spent the time digging."
Finally, at the age of 19, he discovered a spring of pure water located alongside a mango tree. It has supplied him with water ever since.
Join our new commenting forum
Join thought-provoking conversations, follow other Independent readers and see their replies