Ivan Cazarin Molina: Mexican drug cartel commander arrested while playing football drunk in street outside his Guadalajara safe house
'The Tornado Commander' is believed to control the Jalisco New Generation Cartel's drug-trafficking and money-laundering operations in the city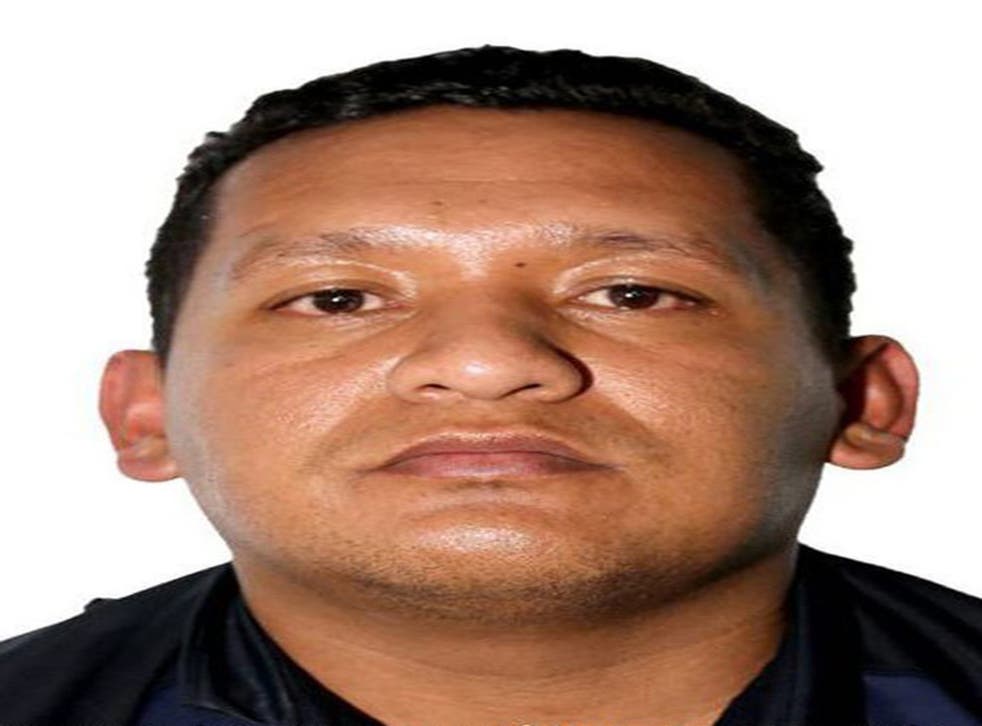 One of Mexico's most wanted criminals, the "Tornado Commander", who is accused of running an all-powerful drug cartel, was drunk and enjoying a game of football on the street outside his safe house in Guadalajara when federal agents swooped.
Ivan Cazarin Molina, alias Víctor Hugo Delgado Renteria, is the suspected second-in-command of the Jalisco New Generation Cartel, one of Mexico's most powerful criminal organisations.
Police believe he controlled the cartel's drug-trafficking and money-laundering operations in the Guadalajara area. They are also investigating his "probable participation" in the downing of a military helicopter on 1 May.
"The arrest of Ivan Cazarin Molina is the result of six months of intelligence, desk and field work," Mexico's federal police announced. "He's linked to at least seven outstanding investigations into federal crimes including drug trafficking and homicides."
Cazarin and three accomplices were captured without a shot being fired at a property on the outskirts of the city that served as their base of operations during the day and a party venue at night, police said. During the raid, federal agents seized nine firearms, four vehicles, communications equipment and a package believed to contain cocaine.
According to one of the popular folk ballads that romanticise the lives of Mexico's most infamous drug barons, Cazarin, or "El Comandante Tornado" (The Tornado Commander) as he is better known, grew up in poverty as the son of a construction worker. "Despite all that he has, he doesn't forget his roots. He used to live in a shack and now he has a mansion. He keeps dealing powder like when he was just a pawn," the song says.
Believed to have been a founding member of the Jalisco cartel, Cazarin was previously arrested at a synthetic drug lab in 2010. Freed two years later, he was apprehended again during a military operation in Guadalajara in 2013. Police did not answer questions this week about when or why he was last released.
Founded in 2010 in the western state of Jalisco, the New Generation Cartel initially kept a relatively low profile as turf wars and government offensives severely weakened many of its rivals.
However, in the last year it has become one of Mexico's most aggressive cartels, openly attacking the state through a series of deadly ambushes on police patrols and wreaking havoc across Jalisco by blockading dozens of roads with burning buses.
Aside from drug trafficking, the cartel is also involved in other rackets such as stealing petrol from pipelines and extorting local businesses, police said. Images published in the Mexican press this year show cartel operatives have even produced execution videos in which they strap dynamite to members of rival gangs and then detonate the explosives from a distance.
The US government warned in September that the cartel "has used widespread violence and corruption to become one of the most powerful drug-trafficking organisations in Mexico". In response to its rapid rise, the US Treasury Department recently blacklisted a diverse array of businesses allegedly used by the cartel to launder its money, including a boutique hotel frequented by Hollywood stars, a gynaecological clinic and a tequila company.
Register for free to continue reading
Registration is a free and easy way to support our truly independent journalism
By registering, you will also enjoy limited access to Premium articles, exclusive newsletters, commenting, and virtual events with our leading journalists
Already have an account? sign in
Register for free to continue reading
Registration is a free and easy way to support our truly independent journalism
By registering, you will also enjoy limited access to Premium articles, exclusive newsletters, commenting, and virtual events with our leading journalists
Already have an account? sign in
Join our new commenting forum
Join thought-provoking conversations, follow other Independent readers and see their replies