Ivanka Trump and Jared Kushner 'struggling to control Donald Trump as their influence wanes'
President's son-in-law reportedly angry over new leader's saga with Mexico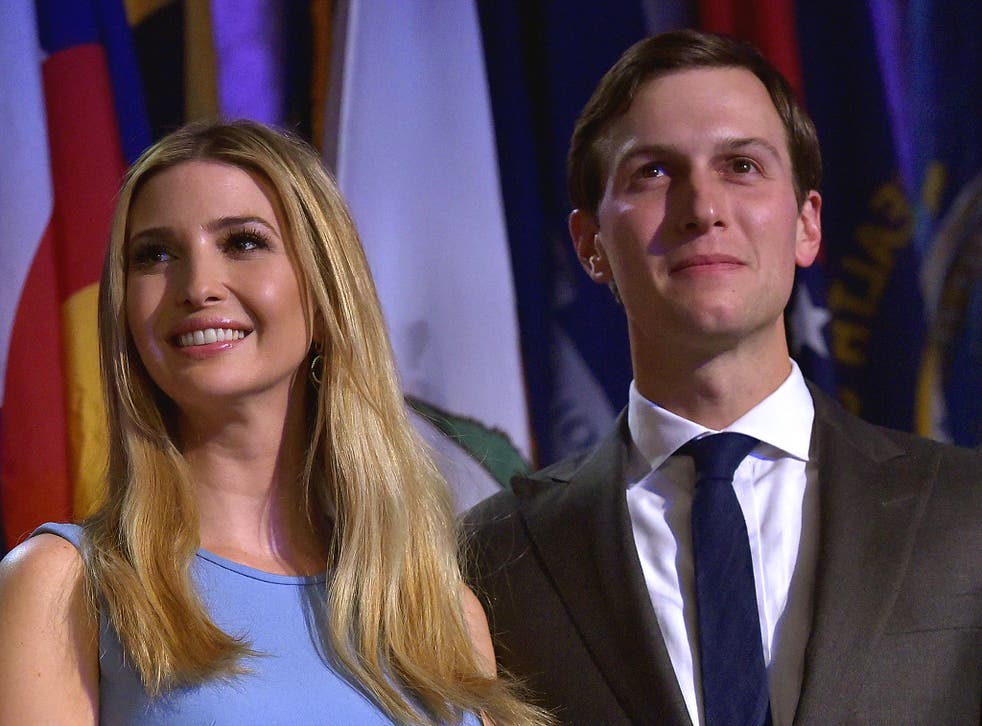 Jared Kushner and Ivanka Trump have long been said to be a calming influence on Donald Trump. While the President is known for his brash, off-the-cuff remarks, the immaculately turned out couple are reported to be a moderating force behind the scenes.
Mr Kushner, a property developer who is both Mr Trump's senior advisor and son-in-law, played a pivotal role in his presidential campaign and was often the last person the Republican consulted before making key decisions.
However, Mr Kushner's influence on Mr Trump is reported to be waning inside the White House. The businessman, who married Ivanka in 2009, is said to have had his patience tested in recent days.
This is reported to have reached a head after Mexico's President Enrique Pena Nieto called off his meeting with Mr Trump last week. The cancellation was prompted by the President tweeting: "If Mexico is unwilling to pay for the badly needed wall, then it would be better to cancel the upcoming meeting".
The Obamas and Ivanka Trump will be neighbours in DC's Kolorama
Mr Kushner, who had spent 24 hours trying to arrange a meeting between the pair, is said to have been incensed his first triumph in the Oval Office fell through.
"Kushner was f****** furious," a source said to be familiar with the situation told Vanity Fair. "I'd never once heard him say he was angry throughout the entire campaign. But he was furious."
The source, who suggested Mr Kushner's influence on his boss might be diminishing, said he had been so invested in the meeting he considered getting on a plane to Mexico in an attempt to convince the President to meet with his father-in-law.
The property developer has previously been viewed as a mediating influence on the President. Like others, former Governer Richard Codey, a state senator from Essex County who is a Kushner family friend, predicted he would be a "calming" influence on Mr Trump and a counterbalance to other influences.
Mr Kushner not only advised Mr Trump on strategy, drafted his speeches and ran his digital media campaign, but has also been a bridging figure.
The developer, whose key contacts include Henry Kissinger and Rupert Murdoch, accompanied him on his first visit to the White House after winning the election and helped him secure a meeting with Jeff Bezos, Sheryl Sandberg, and other tech titans in December. He is also reported to have secured the meeting with Mr Trump and Mr Murdoch, who was formerly an outspoken critic of him.
Mr Kushner's ability to negotiate is unsurprising given that he was left to take over his family's real-estate business at the age of 25, after his father was sentenced to prison for 18 counts of tax evasion, witness tampering and making illegal campaign donations.
Likewise, Ivanka's influence on her father could be waning. The President's third child, who is said be his "favourite", was subject to a torrent of memes and broadsides at the weekend after she shared a "date night" photo with Kushner while her father's immigration ban unleashed chaos in airports across America. People accused her of "extreme insensitivity" and labelled the photo "wildly offensive", "inappropriate" and "tone deaf".
A source said to be familiar with the situation told Vanity Fair that Ivanka felt terrible about the post and did not want something like that to happen again. If true, this suggests the first daughter may not be best pleased with Mr Trump's executive order, which has temporarily banned travellers from seven majority-Muslim nations.
The so-called power couple have already been put in the awkward position of having the preschool attended by their three-year-old son publicly condemn Mr Trump's "Muslim ban".
Adas Israel Congregation, a Conservative synagogue in Northwest Washington where Mr Trump's grandchild Joseph Kushner attends preschool, released a statement on Sunday rebuking the President's controversial immigration ban.
"The leadership and clergy of Adas Israel Congregation stands with the entire Conservative movement and other local organisations such as the Jewish Community Relations Council of Greater Washington in advocating for the rights of immigrants," the synagogue said in a statement on Facebook and in an email sent to synagogue members.
"And rejecting the targeting of individuals based on religion, and calling on the US government to reject policy proposals that would halt, limit, or curtail refugee resettlement in the US or prioritise certain refugees over others."
Ivanka and Mr Kushner, both practising Jews, are in the awkward position of existing in a community which for the most part rejects the Trump presidency.
Just 24 per cent of Jews voted for Mr Trump and many leading Jews and Jewish organisations have voiced their concerns about Mr Trump's policies and the issue of anti-Semitism among some of his supporters.
While Mr Kushner was brought up in the Modern Orthodox tradition, Ivanka converted to Orthodox Judaism before they got married. Prior to marrying, the couple reportedly broke up for a short period because Mr Kushner's parents hoped he would marry a Jewish woman.
A representative for the Trump team did not immediately respond to a request for comment
Join our new commenting forum
Join thought-provoking conversations, follow other Independent readers and see their replies