Jamaica has planted its first legal marijuana plant
Government said it is the first step toward a legal cannabis industry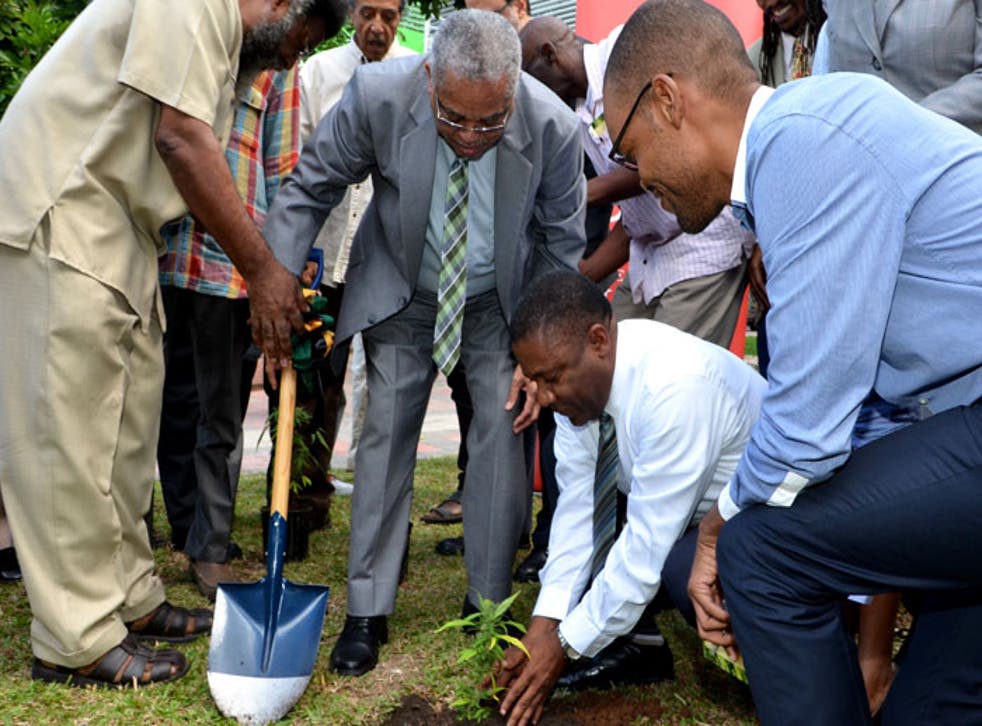 Jamaica's Justice Minister firmed a cannabis plant into the soil at the University of the West Indies Mona campus last Monday, in a ceremonial planting.
It was the first ganja seedling to be legally planted in the country, following the passage of the Dangerous Drugs (Amendment) Act 2015, which legalises the production of medical marijuana.
The university has been granted permission by the government to cultivate the drug for research and to "set the pace for the development of a legal cannabis industry."
"I want to know when you start to do the experimentation, and what is found in the plant," Science Minister Philip Paulwell, who was also there, told researchers. "We have to start this way, so that we can set the stage for full commercialization."
Jamaica's University of Technology will also begin growing marijuana and carrying out research.
"Now that they can actually cultivate for research purposes, we can expect that the outcomes of the endeavours will be more profound, and with the economic opportunities that this will bring, we see this as part of what, I hope, will be a transformational industry for Jamaica," Justice Minister Mark Golding said.
Jamaica's legislative changes also include partial decriminalisation of possession of small amounts of the drug.
Ireland meanwhile, has just begun a discussion over possible decriminalisation or legalisation of marijuana.
Register for free to continue reading
Registration is a free and easy way to support our truly independent journalism
By registering, you will also enjoy limited access to Premium articles, exclusive newsletters, commenting, and virtual events with our leading journalists
Already have an account? sign in
Register for free to continue reading
Registration is a free and easy way to support our truly independent journalism
By registering, you will also enjoy limited access to Premium articles, exclusive newsletters, commenting, and virtual events with our leading journalists
Already have an account? sign in
Join our new commenting forum
Join thought-provoking conversations, follow other Independent readers and see their replies