California Black Lives Matter activist convicted of 'felony lynching'
'It's more than ironic, it's disgusting' her lawyer said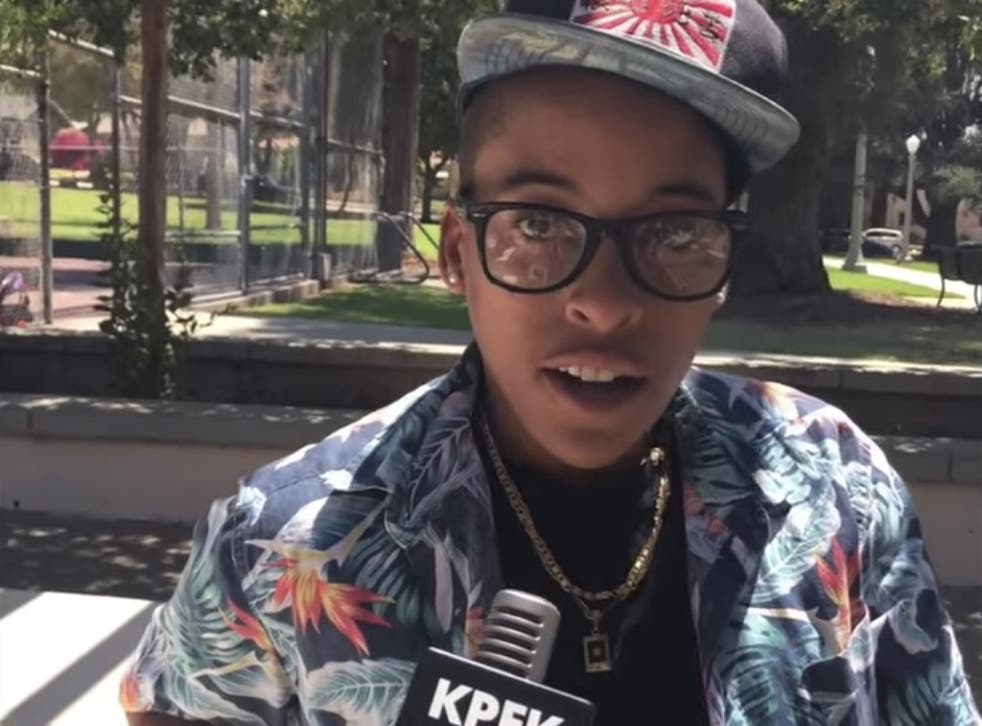 A California Black Lives Matter organiser faces up to four years in state prison after being convicted of what was called "felony lynching".
Jasmine Richards, 28, was arrested after an August 2015 protest in Pasadena, when police accused her of attempting to remove somebody at the demonstration from police custody - what the state defined as "lynching" until weeks before her arrest.
Ms Richards' lawyer, Nana Gyamfi, denied that she made such an attempt.
"What's very important to note here is that there's a requirement that there be a riot, that there basically be a lynch mob that is assisting you in the lynching of the person that you're trying to take from the police," Ms Gyamfi told Democracy Now. "And in this case, there was no riot."
The law was established in 1933 as a legislative effort to protect black and Latino Californians from lynch mobs. By 1933, hundreds of people had been extrajudicially executed by these racist groups in the state - and thousands more across the US.
But Ms Richards was campaigning against the very racialised violence that "lynching" laws were made to prevent.
Ms Gyamfi continued: "To take this law, that was used allegedly to protect black people from being lynched, and to turn around and use this law against a black person who is actually speaking about the lynchings ... that are going on at the hands of police - not just in Pasadena, but all over this country - is more than ironic, it's disgusting."
California lawmakers struck the word "lynching" from law books in the summer of 2015, following the furor that erupted following the January arrest of activist Maile Hampton during a Black Lives Matter peaceful demonstration in Sacramento.
State Sen Holly J Mitchell led the way for the term to be removed from the language of the penal code.
"To most people 'lynching' is what a mob does when it seizes and kills a person without a trial, usually by hanging – and it has been especially heinous in the history of African Americans," Ms Mitchell said in a statement.
"But California law defines lynching as illegally removing someone from police custody during a disturbance. Whether obsolete, perverse or just wrong, it's time for that law to change."
Critics of the law, however, still accuse California police of using the law to target and punish activists involved in demonstrations.
"Jasmine was absolutely targeted in this arrest and many other arrests," said Medina Abdullah, professor of Pan-African studies at Cal State, Los Angeles. "Pasadena is a relatively small suburb of Los Angeles. Jasmine's activism is hugely significant, because she comes out of an area of northwest Pasadena where it's deprived of resources."
Black Lives Matter hunger strikers take their case to SF City Hall
Supporters of Ms Richards have spoken out on social media using the #FreeJasmine hashtag. They also began circulating a petition calling for no jail time for the activist.
Sentencing is set for 7 June.
Jasmine Richards began her activism work after participating in a "freedom ride" from Pasadena to Ferguson after the killing of black teenager Michael Brown by white police officer Darren Wilson. The officer did not face charges in the killing.
Ms Richards has devoted much of her work around the case of Kendrec McDade, a 19-year-old black Pasadena man, killed by two police officers in March 2012. The officers also did not face charges.
"Our police have been notorious for bullying. Since I was a child, these police have scared me. They've harassed me, they've scared me. I know their first and last names," Ms Richards said in a video. "I felt like we needed a group out here that stood up to that injustice.
"Instead all of us being scared and just doing—wasting our time and not organizing and sitting at the park without any programs to help us, I felt like I should do something."
Join our new commenting forum
Join thought-provoking conversations, follow other Independent readers and see their replies