Jason Chaffetz said he would investigate Flynn and Russia - but he's investigating media leaks instead
The committee chairman who was shouted down at a recent town hall said he was 'taking the lead' on issues surrounding disgraced Michael Flynn - but what is he actually investigating?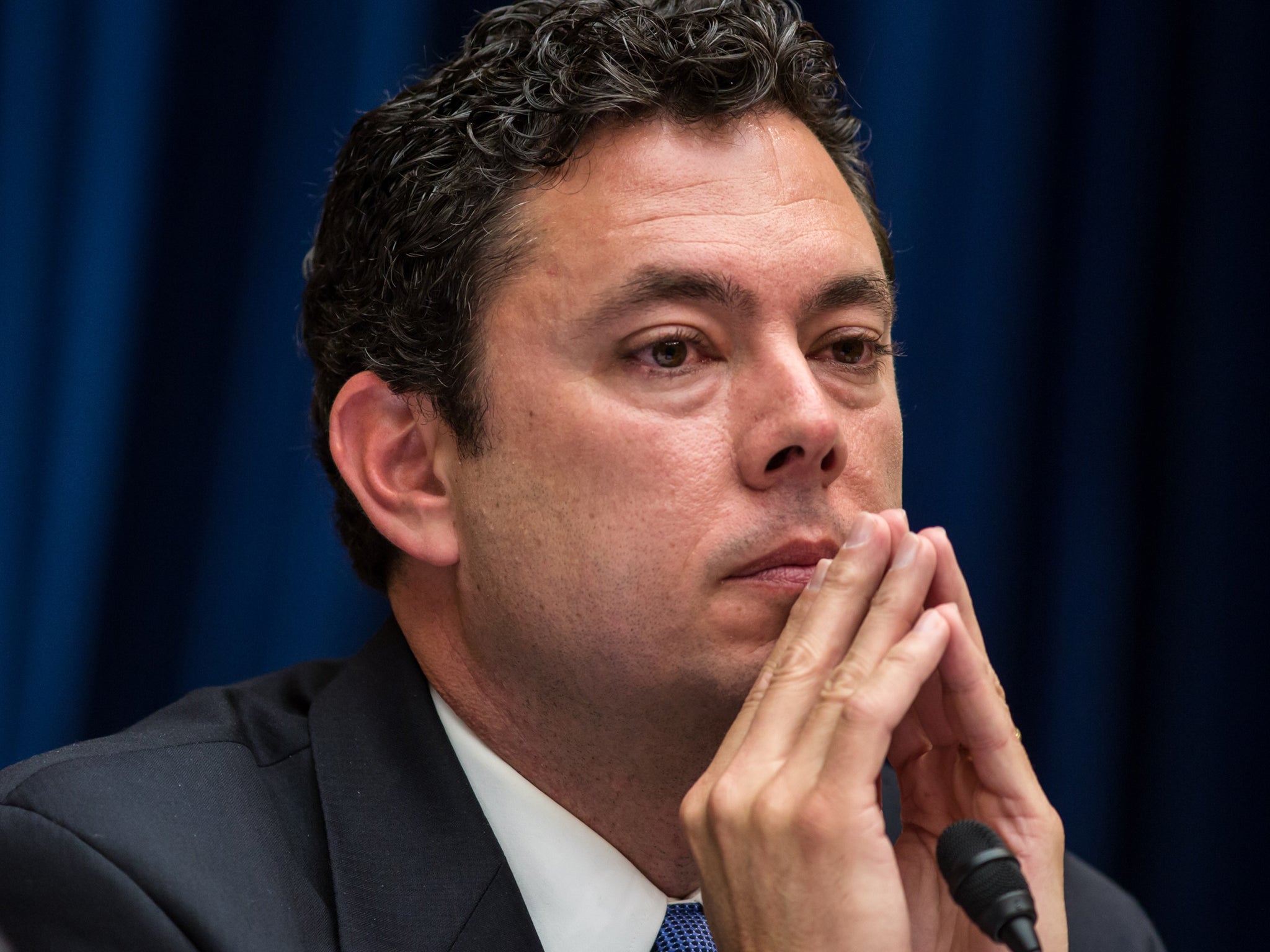 Amid a series of controversies around Russia-US links, the Republican-led House Committee on Oversight and Government Reform has vowed to take action, but has ended up investigating freedom of the press instead.
Jason Chaffetz, chairman of the committee, proudly tweeted on Friday that his team was "taking the lead" on Russia intelligence, as well as the "mishandling of classified material" and issues surrounding former national security adviser Michael Flynn.
A brief glance would suggest that Mr Chaffetz is holding his own government to account. A closer look, however, reveals where the Republican-dominated committee's priorities lie.
About a week after Mr Chaffetz vowed to investigate Kellyanne Conway's inappropriate encouragement to Fox News viewers to buy items from Ivanka Trump's fashion line - "what she did was wrong, wrong, wrong", said Mr Chaffetz - he has announced several other investigations, including looking into potential security breaches at Mr Trump's Mar-a-Lago estate.
One is to pursue a former aide of Hillary Clinton, Bryan Pagliano, in Mr Chaffetz's quest to "investigate" Ms Clinton's alleged misuse of her personal email server when she was secretary of state. On Inauguration day, he shook Ms Clinton's hand and thanked her for her service, then later tweeted that the "investigation continues".
Mr Pagliano allegedly failed to appear before the committee twice last year, and Mr Chaffetz asked this week for Attorney General Jeff Sessions to convene a grand jury or to charge Mr Pagliano for refusal to appear.
"Because Pagliano's job functions included supporting mobile computing issues across the Department, he was uniquely positioned to answer questions regarding State Department policies and practices for preserving records, as well as the technological procedures utilized to do so," read the committee's letter to Mr Sessions.
The second investigation is around how the press managed to expose the fact that General Flynn allegedly misled Vice President Mike Pence about his phone calls to the Russian ambassador to the US last year to reassure the Russians about sanctions. Mr Trump had known for three weeks and Mr Pence had known 11 days once the reports surfaced, and Mr Flynn was forced to resign.
Rather than investigate Mr Flynn's and Mr Trump's apparent ties to Russia, Mr Chaffetz has zeroed in on journalists' obtaining of so-called classified information.
He told Fox News: "No matter where you are on the political spectrum, you cannot have classified information migrating out into a non-classified setting."
Mr Chaffetz also tweeted a link to explain the "difference" between whistle-blowing, which he said he wanted to protect, and leaks to the media, which he did not agree with.
Democrat ranking member of the committee, Elijah Cummings, wrote in a statement on Facebook that Mr Chaffetz appeared to be taking "marching orders" from the President.
"Instead of investigating General Flynn's lies to the Vice President and the American people, as well as his troubling ties with Russia, the Chairman chose to target those who brought them to light," he wrote.
"Congress should be doing independent oversight of the Executive Branch and protecting whistle-blowers, not running interference while the White House conceals their abuses and misleads the American people for weeks. Chairman Chaffetz said he didn't want to go on 'fishing expeditions,' but that's exactly what he's doing here," he added.
The newly-announced investigations come shortly after Mr Chaffetz attended a town hall in Utah, where the audience booed, jeered and shouted "do your job!"
Mr Trump and Press Secretary Sean Spicer have repeatedly blamed the press for leaks from the intelligence community following the firing of Mr Flynn.
The President said classified information was being given out like "free candy" and insisted that media headlines about Russia were all "fake news".
Join our commenting forum
Join thought-provoking conversations, follow other Independent readers and see their replies