Jeff Sessions 'amazed judge sitting on an island in the Pacific' can stop Donald Trump's travel ban
The US Attorney General was complaining about a district judge's decison to block the president's second executive order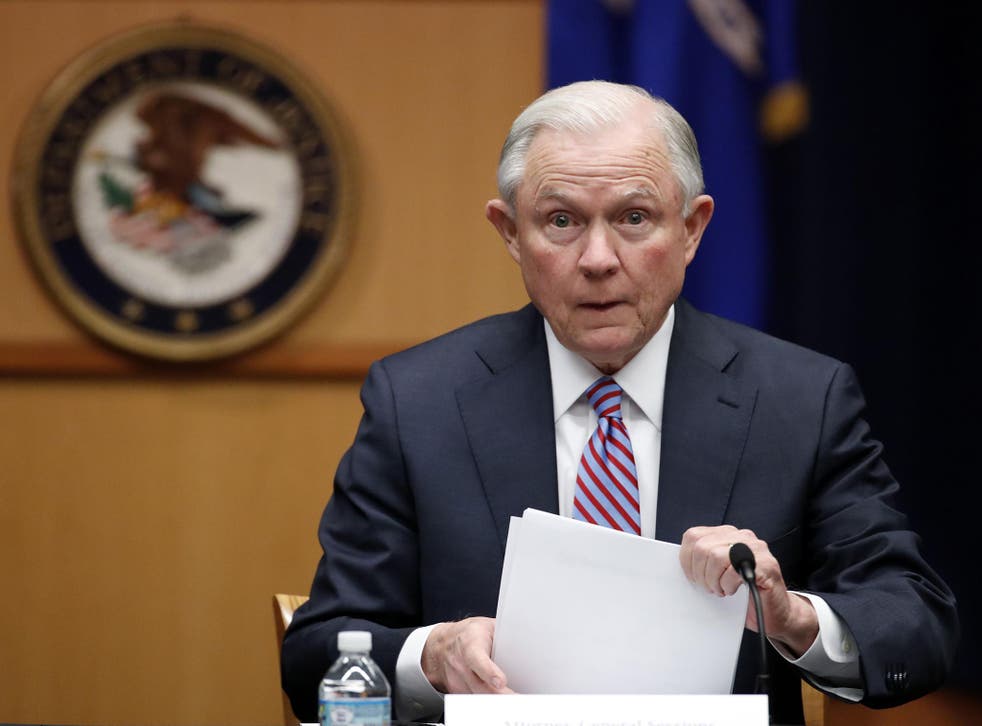 The US Attorney General has come under fire for dismissing Hawaii - America's 50th state - as an "island in the pacific".
Jeff Sessions was complaining about district judge Derrick Watson's decision to block Donald Trump's executive order prohibiting new visas for people from six Muslim-majority countries and temporarily halting the US's refugee program.
"This is a huge matter," he told conservative talk show host Mark Levin. "I really am amazed that a judge sitting on an island in the Pacific can issue an order that stops the President of the United States from what appears to be clearly his statutory and Constitutional power."
He added that he was confident Mr Trump's administration will prevail with its appeal of Judge Watson's travel ban ruling.
His comments were picked up upon politicians and citizens on the archipelago, who criticised the Attorney General for his apparent lack of knowledge of US geography and history.
Hawaiian senator Mazie Hirono took to Twitter to chastise the Attorney General.
"Hey Jeff Sessions, this #IslandinthePacific" has been the 50th state for going on 58 years. And we won't succumb to your dog whistle politics," she said.
She added: "Hawaii was built on the strength of diversity & immigrant experiences – including my own," branding Mr Sessions's comments "ignorant and dangerous".
Her colleague and fellow Hawaiian Senator, Brian Schatz, pointed out that Mr Sessions had even voted as a senator to confirm Mr Watson as a judge.
"You voted for that judge. And that island is called Oahu. It's my home. Have some respect," Mr Schatz tweeted.
Others posted images of the beautiful images of the state, while some pointed out Hawaii's history.
A US Justice Department spokesman defended Mr Sessions's comments, saying the Attorney General's point was to question one judge's ability to block the President's executive order for the travel ban.
"Hawaii is, in fact, an island in the Pacific," he told the Associated Press in an email. "A beautiful one where the Attorney General's granddaughter was born," Mr Prior added.
"The point, however, is that there is a problem when a flawed opinion by a single judge can block the President's lawful exercise on authority to keep the entire country safe."
Mr Schatz criticised the DOJ's statement, demanding an apology.
"Try: 'I'm sorry. That was offensive. I disagree with the ruling, but I respect the judiciary and shouldn't have taken such a cheap shot'," he tweeted.
World news in pictures

Show all 50
Douglas Chin, Hawaii's attorney general, said in a statement he was disappointed Mr Sessions failed to acknowledge that the federal courts are co-equal partners with Congress and the President".
"Trump previously called a federal judge in California a so-called judge," Mr Chin wrote. "Now U.S. Attorney General Sessions appears to dismiss a federal judge in Hawaii as just a judge sitting on an island in the Pacific," he said.
A clerk for the US District Court in Hawaii said Mr Watson declined to comment.
Register for free to continue reading
Registration is a free and easy way to support our truly independent journalism
By registering, you will also enjoy limited access to Premium articles, exclusive newsletters, commenting, and virtual events with our leading journalists
Already have an account? sign in
Register for free to continue reading
Registration is a free and easy way to support our truly independent journalism
By registering, you will also enjoy limited access to Premium articles, exclusive newsletters, commenting, and virtual events with our leading journalists
Already have an account? sign in
Join our new commenting forum
Join thought-provoking conversations, follow other Independent readers and see their replies