Jill Stein demands vote recount after reports of potential hacking and manipulation in several swing states
'These concerns need to be investigated,' she said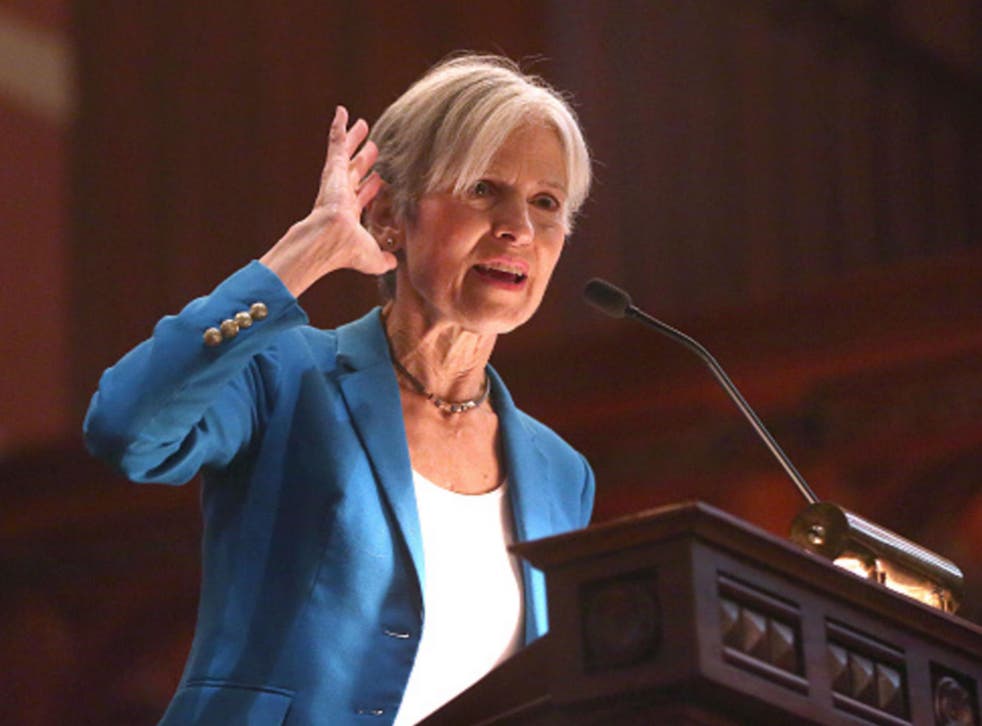 Green party's presidential candidate Jill Stein has requested the 2016 election votes be recounted following reports that certain swing state results were hacked.
Her calls come after a group of data scientists and electoral lawyers said they found "strong evidence" that election results in three swing states - Michigan, Wisconsin and Pennsylvania - were potentially manipulated. All three states, likely to include Michigan when it has officially been called, are victories for Donald Trump.
The green party's candidate launched an online fundraising page to gather $2 million which she said was needed to request reviews of the results.
Ms Stein said in a statement: "After a divisive and painful presidential race, reported hacks into voter and party databases and individual email accounts are causing many Americans to wonder if our election results are reliable.
"These concerns need to be investigated before the 2016 presidential election is certified. We deserve elections we can trust."
Her call echoes that of Hema Abedin, the sister of Huma Abedin, Hillary Clinton's top aide. She urged people on Facebook to ring the Justice Department and ask for an independent investigation.
Ms Stein also wants to scrap "discriminatory" voter ID laws, ending big money in politics and allowing voters to rank their choices on the ballot, knowing that if their first choice loses, the ballot will automatically pick the second preferred candidate.
Hillary Clinton has a lead of more than 2 million votes in the popular count. She lost the election via the electoral college system, which has dictated who wins for more than two hundred years by assigning a certain number of electoral college votes to the candidate who wins the popular vote in each state.
The scientists concluded that Ms Clinton would need for the vote in Michigan to be called in her favour, as well as overturn the results in Pennsylvania and Wisconsin, to win the election.
Dr. Jill Stein Accepts Green Party Presidential Nomination
In a blog, J Alex Halderman, professor of computer science, University of Michigan, wrote in a blog that only 70 per cent of states also used paper ballots as a physical back-up, but the ballots were not checked vigorously anyway.
He added that US voting machines came with "serious cybersecurity problems" and paper was the most reliable way to avoid a rigged election.
"The only way to know whether a cyberattack changed the result is to closely examine the available physical evidence — paper ballots and voting equipment in critical states like Wisconsin, Michigan, and Pennsylvania.
"Unfortunately, nobody is ever going to examine that evidence unless candidates in those states act now, in the next several days, to petition for recounts."
Deadlines to demand a recount are between Friday and next Wednesday.
Pennsylvania awarded 20 electoral college votes to Mr Trump, Michigan has 16 electoral votes up for grabs and Wisconsin has 10, which all helped to push the Republican over the crucial threshold of 270 on 8 November.
Ms Clinton ended up with 232 votes, despite gaining a larger lead in the popular vote than the last five presidents who won the election.
She has given no indication of her desire to challenge the results, given the White House is keen for a smooth transition.
She even said during the third presidential debate that Mr Trump's suggestion that he would challenge the results - if he lost - was "horrifying".
Join our new commenting forum
Join thought-provoking conversations, follow other Independent readers and see their replies