John Geddert: Former USA gymnastics coach under criminal investigation after Larry Nassar sentencing
Geddert owned and operated the gym out of which Nassar frequently worked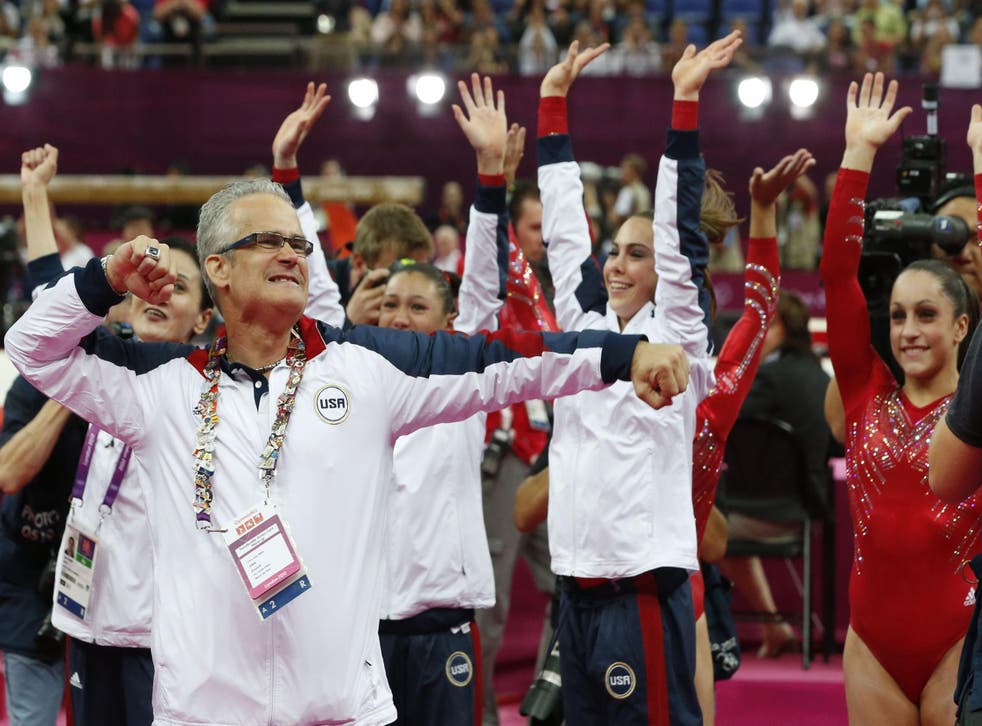 Authorities have launched a criminal investigation into former US Olympic gymnastics coach John Geddert following the sentencing of Larry Nassar, a former gymnastics team doctor who recently confessed to molesting female team members under the guise of medical care.
The Eaton County Sheriff's Office said they were investigating complaints against Mr Geddert filed in the wake of Mr Nassar's sentencing hearing, where more than 250 women testified that the doctor had abused them. The sheriff's office did not specify the number or nature of the complaints against Mr Geddert.
Mr Geddert owned and operated Twistars, the Michigan-based gym out of which Mr Nassar frequently worked. At Mr Nassar's sentencing hearing, several ex-Twistars gymnasts accused Mr Geddert of being physically abusive, ignoring their injuries, and preventing them from seeing other doctors.
Makayla Thrush, a former Twistars gymnast, accused the coach of pushing her into a training apparatus so hard she suffered torn stomach muscles. Another gymnast, Bailey Lorencen, said Mr Geddert had forced her to continue training during a practice where she broke a bone in her back.
One woman claimed Mr Geddert knew that Mr Nassar had performed an "inappropriate procedure" on her in the late 1990s, when she was 16. Others claimed Mr Geddert made them feel as if they had no choice but to be treated by Mr Nassar.
"[Mr Geddert's] abuse was your fuel," Ms Lorencen told Mr Nassar during the hearing. "You used his abuse to mask your own pathetic pleasure."
Father of victim lunges at Larry Nassar in shocking courtroom footage
More than a dozen of Mr Nassar's accusers filed a lawsuit against Mr Geddert last year, claiming he failed to report parents' concerns about sexual abuse. In response to the suit, Mr Geddert's lawyer said in court filings that the former coach was "just one person in an extremely long line of people who were fooled by Nassar."
Mr Geddert has previously claimed he had "no knowledge" of what Mr Nassar was doing.
The former coach was suspended by USA Gymnastics pending an investigation last month. He announced his retirement shortly thereafter.
Winter Olympics 2018: 9 British medal hopefuls to watch

Show all 9
News of the criminal investigation comes as the fallout from Mr Nassar's trial extended beyond the doctor, to those who worked around him.
Every member of the USA Gymnastics board resigned their positions last week, after the United States Olympic Committee called on them to step down. Lou Anna Simon – the former president of Michigan State University, where Mr Nassar worked for nearly two decades – also resigned last month.
Mr Nassar was sentenced to 60 years on federal child-pornography charges in December. This year, judges sentenced him to 40 to 175 years for abusing women and girls at Michigan State, and another 40 to 125 years for molesting young gymnasts at Twistars.
Additional reporting by the Associated Press
Register for free to continue reading
Registration is a free and easy way to support our truly independent journalism
By registering, you will also enjoy limited access to Premium articles, exclusive newsletters, commenting, and virtual events with our leading journalists
Already have an account? sign in
Register for free to continue reading
Registration is a free and easy way to support our truly independent journalism
By registering, you will also enjoy limited access to Premium articles, exclusive newsletters, commenting, and virtual events with our leading journalists
Already have an account? sign in
Join our new commenting forum
Join thought-provoking conversations, follow other Independent readers and see their replies