Larry Nassar latest: 265 young women say they were abused by former USA Gymnastic doctor, judge says
It was previously believed the total number of victims was closer to 200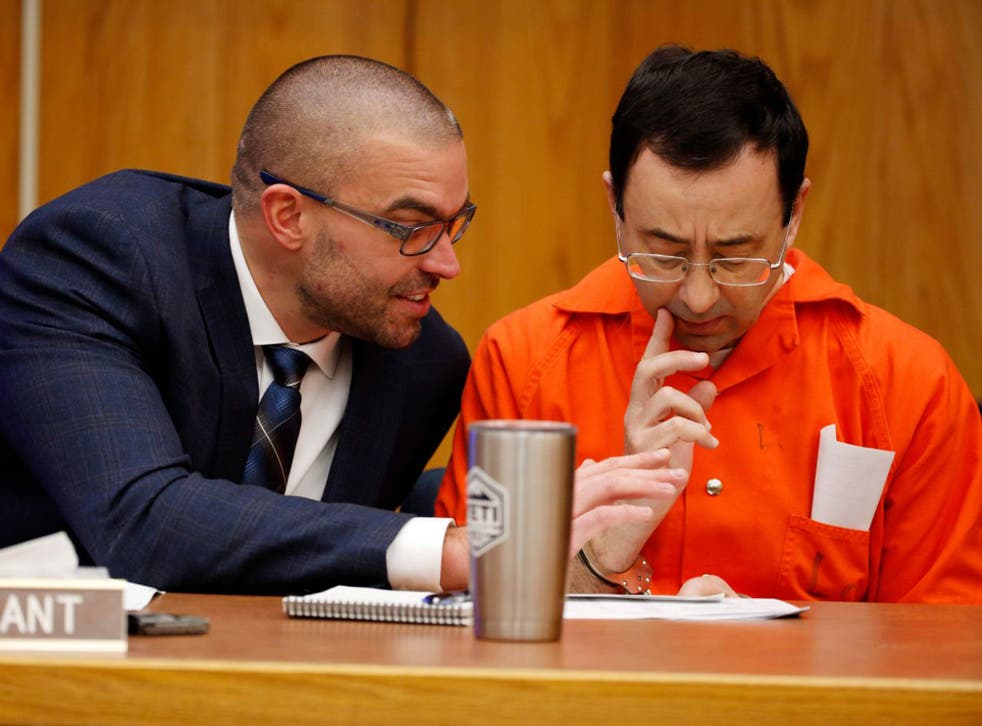 More than 265 people have come forward to say they were sexually abused by the disgraced former gymnastics doctor Larry Nassar, a judge has said.
As Nassar's third sentencing hearing got underway on Wednesday in Eaton County, Michigan, Judge Janice Cunningham said dozens of women and girls were expected to deliver statements in court. "Some of the victims have chosen not to be identified," she said.
During a seven-day hearing that concluded last week in nearby Ingham County, more than 150 young women delivered powerful statements confronting Nassar and telling him of the devastating impact he had on their lives.
As of Wednesday, 65 women were expected to speak at the subsequent hearing in Eaton County, but officials said the number could grow if more people decided they wanted to come forward.
One of the first to confront Nassar was 17-year-old former gymnast Jessica Thomashow, who told the court he took advantage of her "innocence and trust" and that he molested her when she was 9 and 12 years old.
She told Nassar that what he had done to her was "twisted" and she could not understand why he had done so.
The Associated Press said another woman, Annie Labrie, testified Nassar did things to her that "made my skin crawl" but said adults had assured her that he was the only option as a doctor.
As the hearing continued, it was reported that the entire board of directors of USA Gymnastics, which Nassar served as a team doctor for 20 years, had stood down after being told they would otherwise be fired.
Larry Nassar sentenced to 175 years in prison
Last week, Nassar was sentenced to between 40 to 175 years in prison when he appeared before Ingham County Circuit Court Judge Rosemarie Aquilina.
Under a deal reached with the 54-year-old last year, the former doctor pleaded guilty to 10 sexual assault charges divided between two Michigan countries – seven in Ingham County and three in Eaton County. Both plea deals included agreements that his minimum sentence would be between 25 and 40 years.
The three charges in Eaton County relate to incidents involving two girls aged between 13 and 15 and one aged younger than 13.
World news in pictures

Show all 50
It said the abuse occurred between September 2009 and September 2011 at the Gedderts' Twistars Gymnastics Club.
Separately, a federal judge in December sentenced Nasser to 60 years in prison for three child pornography charges.
Last week, more than 150 victims offered excruciating accounts of his sexual assaults in the courtroom in Lansing. The latest proceeding in Eaton County is playing out as fallout from the scandal continues.
Around 140 victims have filed a lawsuit against Nassar, USA Gymnastics (USAG) and Michigan State University (MSU), claiming the institutions knew about allegations of abuse years ago and failed to act.
USAG said last week after Olympic officials threatened to decertify the organisation as the sport's US governing body that its entire board had resigned and sponsors have already backed away ahead of the 2020 Olympic Games.
The United States Olympic Committee, which has been criticised by victims as well, has announced an independent investigation into both its own conduct and that of USAG.
The Michigan attorney general's office, which prosecuted Nassar, is pursuing a criminal probe into the college over its handling of allegations against Nassar. The university's president and athletic director stepped down in the wake of Nassar's sentencing last week.
And at least one congressional committee plans to hold hearings on the scandal. The US House of Representatives passed legislation on Monday and the Senate on Tuesday to require USOC officials to immediately report any allegations of abuse to law enforcement.
Nassar faces a minimum of 25 years in prison in Eaton County, although he is already assured of spending the rest of his life in prison. When he appeared last week in Ingham County Circuit Court, Judge Aquilina told Nasser she had signed his "death warrant".
"You don't deserve to walk outside a prison again," she told him. "You have done nothing to control these urges and wherever you go there will be destruction."
Join our new commenting forum
Join thought-provoking conversations, follow other Independent readers and see their replies