John McCain: The veteran campaigner
He has survived torture in Vietnam – and the brutality of George Bush's electoral machine. Now John McCain is favourite to win the Republican nomination. David Usborne reports from Boston
Tuesday 05 February 2008 01:00 Comments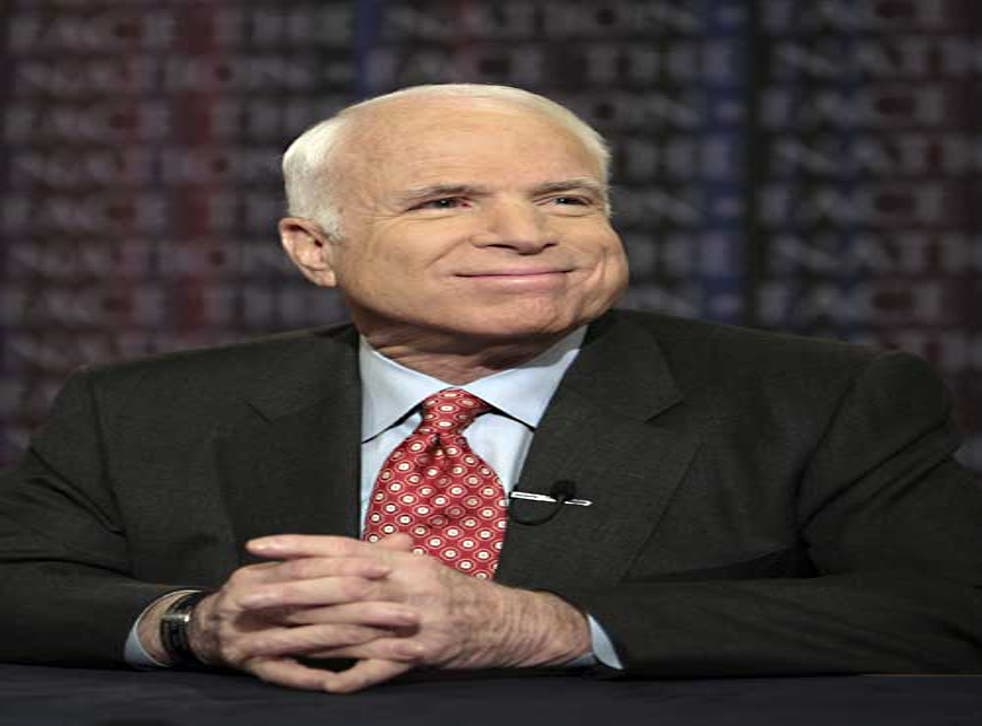 It is early but the candidate is, as on most days recently, already far down the path of hyper-caffeination, repeatedly tensing his torso, pacing back and forth on the stage. His arms, which he cannot raise above his shoulders because of injuries sustained while in the torture chambers of North Vietnam, rarely rest and nor do his fingers. John McCain has distractingly fiddling fingers. At this stop in Faneuil Hall in downtown Boston, he is wearing a narrow green stretchy band on his left wrist and he can't stop pulling on it.
"My friends," he begins, as he has almost every speech on the campaign trail since the summer, "I have some straight talk for you." Some time later, he exhorts: "I am going to tell you, and look you in the eye, my friends." Whatever it is he is about to say, you had better pay attention, friend or not.
You might think, as the out-and-out favourite to win the Republican nomination race, he would be more relaxed. If the polls and pundits are correct, this may be the day when the dream that Mr McCain saw thwarted eight years ago – thanks to vicious attacks by his foe at that time, George W. Bush – finally comes true.
It is Super Tuesday, when more than 20 states get to help select the nominees of both parties and, while nothing may be resolved on the Democrat side, Mr McCain may be poised to win enough delegates tonight to declare himself the Republican victor.
A couple of days ago, he was rapped by the media for daring publicly to predict he was about to win and see off his last serious rival, Mitt Romney, the former governor of Massachusetts. By campaigning here yesterday – in the shadow of the State House that Mr Romney until recently presided over – he seemed to be conveying some of the same cockiness. But inserting thorns in other people's sides seems to come naturally to Mr McCain. He does it to his own party all the time.
There are multiple reasons why many mainstream Republicans will have to dig deep in their souls to muster support for him if indeed he becomes the nominee. If he is often labelled a maverick – even idiosyncratic – it is because he has never hesitated to go against the grain of party wisdom on subjects ranging from immigration, global warming, gay marriage and campaign funding.
No wonder he has found himself excoriated on America's airwaves even in recent days by the likes of the radio talk-show host Rush Limbaugh, who said Mr McCain would "destroy" the party if nominated, and the commentator Ann Coulter who let it be known that she would rather vote for Hillary Clinton if he takes the nomination.
Because he is a bruiser in the Senate chamber and because he has always had trouble not becoming personal when fighting his political battles, the Arizona Senator finds himself also disliked by some senior colleagues on Capitol Hill. "The thought of his being president sends a cold chill down my spine," was the response of Senator Thad Cochran of Mississippi. "He is erratic. He is hot-headed. He loses his temper and he worries me."
But if he wins the nomination, Mr McCain will also essentially take the flag of the party from Mr Bush and establish himself as the de facto leader of the Republican Party possibly for years to come. His foes, therefore, had better swallow their private feelings and quickly.
After Mr McCain began winning crucial contests in the primaries – first New Hampshire and then South Carolina and Florida – most Republicans began to rally behind him for the simple reason that he appeared the most electable of all their party's runners. More than that, polls showed that only he stood any serious chance of beating a Democrat in November, whether Mrs Clinton or Barack Obama.
The media have filled his sails too, because his story, after all, is remarkable.
It began, of course, with his doomed mission over the skies of Hanoi in 1965 when he was shot down. He survived but spent five-and-a-half years in captivity and suffered terrible physical abuse.
That, of course, is part of what makes Mr McCain a natural hero to so many American voters. (And why he is able to attract independents and maybe a few Democrats too.) It is also the bedrock of his reputation as by far the strongest of the Republican candidates on matters of national security and foreign policy. If there is a danger in this, it is that Mr McCain sometimes gives the impression that these are the only topics he really likes to talk about. For sure, he made brief reference to the economy here in Boston too but, as usual, he lingered far longer on what he likes to call the "transcendent challenge of our times – radical Islamic extremism".
The narrative of this election season is compelling too, because it was only a few months ago when Mr McCain, after starting out as the putative front-runner, suddenly saw his campaign sputter, starved of support and of cash. Indeed, there was a period in late summer last year when all the chatter was that he would throw in the towel.
The transformation in his fortunes has been probably been too rapid even for Mr McCain to grasp. He only managed to raise enough money to stay in the race last summer by taking out a special life insurance policy to satisfy a lender who was afraid the candidate might die before the campaign was over. "My life has been one of several narrow escapes to say the least," he tells Faneuil Hall.
How different things were for McCain even just two weeks ago, before his breakthrough in South Carolina. No longer does he rattle across American landscapes in his "Straight Talk Express" bus, whichwas short on all luxuries, with coats and TV cameras piled into the on-board lavatory. Travel with him now and you are almost in White House Class. Food and drink flow generously and instead of balancing himself in the aisle of a bus, the candidate is milling with reporters in the aisle of his newly chartered jet.
You do not have to dig too far into Mr McCain's record to find examples of him flame-torching his own colleagues. In a legal deposition, he once accused the current Senate Minority Leader Mitch McConnell of trying to stave off legislation harmful to the tobacco industry because of the generous donations it gave to Republican legislators. He has been heard to throw curse words at another senator for apparently failing to do his homework properly on immigration legislation and to accuse another of "egregious behaviour" in connection with a particular defence contract.
On the stump even now, one of his favourite themes is the habit of colleagues – from both parties – to attach so-called pork-barrel earmarks to spending bills, designed to funnel federal money to pet projects in their own states. The most famous case he always mentions is "the bridge to nowhere" – $30m (£15m) engineered by Ted Stevens, the Republican Senator from Alaska, for a bridge to an island with 50 inhabitants. On this and other issues you glimpse that passion that can put fear into others so often back in Washington.
Here in Boston, he conjures the word "evil" twice, once in connection with Islamic terrorists and Osama bin Laden – "If I have to follow him to the gates of Hell I will get Osama bin Laden and bring him to justice" – and the second time on the plague of earmarks, which in the past two years, he claims, have cost US taxpayers $35bn. "When that kind of spending goes on, it breeds evil," he says.
Arguing forcefully and losing your cool are two different things. In 2000, questions about his temperament stalked him everywhere until his campaign finally crashed in South Carolina. This time, it has been less of an issue. In 2008, in fact, all that crustiness has been part of what has recommended Mr McCain to voters. He has none of the eloquence of some of the other candidates and resorts to a teleprompter for speeches on big nights. But at his events across the land, Mr McCain shows himself accessible and actually eager to engage. He takes questions and has frequently found himself locked in debate with a single audience member for as long as it takes to get whatever issue it is settled. He is similarly open to debating with reporters among his travelling press corps on the bus and plane. He talks and talks and talks.
But if Mr McCain indeed sews up the nomination today, he will also know that he has been lucky.
Polls, as we know, can deceive and there remains a chance that either Mr Romney or Mike Huckabee will do better than expected. That could mean extending the battle for a majority of nominating delegates beyond this week. But if it does come tonight, victory for Mr McCain will be extraordinarily sweet. The lucky penny he keeps warm in his left-hand trouser pocket should not be set aside but mounted in a silver frame to be hung one day – well, who knows? – on the wall of the Oval Office. But as the uncrowned nominee – it only becomes official at the party convention in the summer – Mr McCain knows he will come in for some instant and intense additional scrutiny.
And there is much to look at. In the coming days, he will set out a new economic programme, but critics (including Mr Romney) continue to contend that as the American economy shows signs of an imminent slump, Mr McCain has little expertise or experience to handle it. He has publicly acknowledged the economy is not his strong suit. Nor, best we can tell, is health care or education.
Even on foreign policy, there are areas where additional examination may be called for. When questioned what the US should do, Mr McCain adapted the Beach Boys classic anthem "Barbara Ann", answering: "Bomb Iran. Bomb bomb bomb bomb bomb... Iran." And then there's Iraq.
His support for the surge last summer was one of the factors that almost sank his campaign almost before it had started. Today, with at least a relative decline of violence in that country, Mr McCain trumpets the decision he made, saying repeatedly that he "would rather lose an election than lose a war".
Yet, whichever Democrat he may face in November – particularly if it is Mr Obama – they will want to examine his earlier record on Iraq, embedded with the Neocons, arguing for regime change in Iraq even before the terror attacks of 11 September 2001 and insisting on the existence there of weapons of mass destruction.
Mr McCain, however, would be expected to move quickly to reinforce his foreign policy credentials. In fact, he will start this coming weekend, when he is expected to travel to Germany for an annual Nato meeting in Munich on security policy. It is a trip, moreover, that may include private meetings with the British Prime Minister Gordon Brown and with the French President Nicolas Sarkozy.
But as the crush of primary campaigning reaches a new climax, next weekend must still seem worlds away to John McCain. From Boston he travelled to New Jersey and New York before finally heading home to Arizona for Super-Tuesday results tonight. No one can predict what will happen exactly. But what we can say is this: the first two words of the speech he gives tonight will be: "My friends."
Register for free to continue reading
Registration is a free and easy way to support our truly independent journalism
By registering, you will also enjoy limited access to Premium articles, exclusive newsletters, commenting, and virtual events with our leading journalists
Already have an account? sign in
Join our new commenting forum
Join thought-provoking conversations, follow other Independent readers and see their replies