Jose becomes a hurricane, heading for Caribbean on heels of Irma
The storm isn't expected to be as dangerous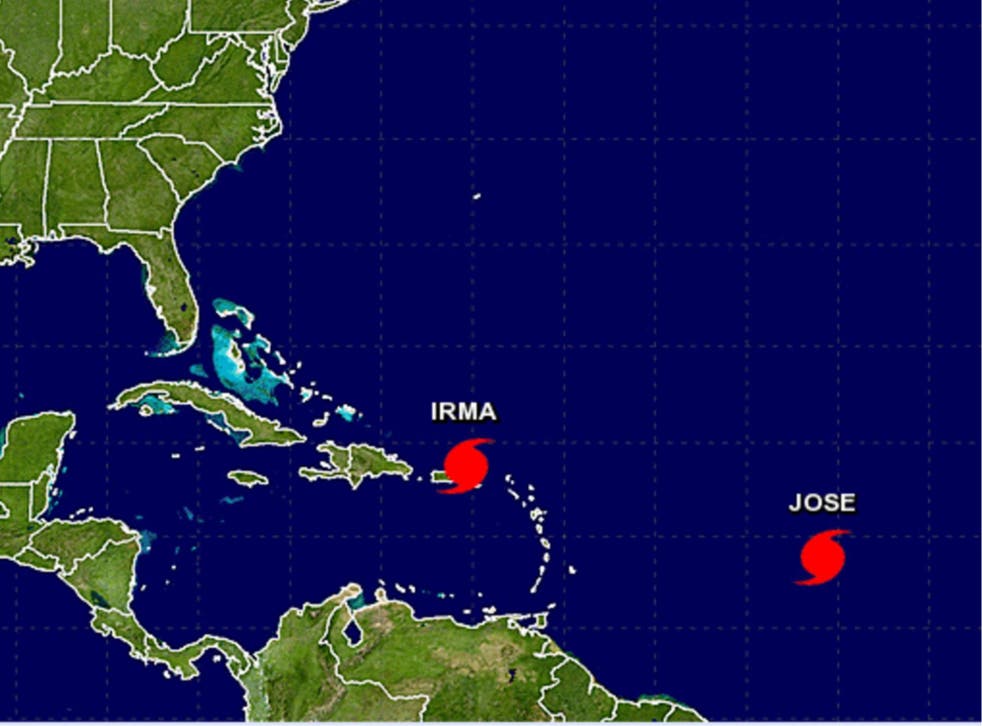 Tropical storm Jose has been upgraded to a hurricane in the Atlantic, far east of Hurricane Irma but posing no immediate threat to land at the moment.
The upgrade comes as Jose has picked up wind speed over the past few hours, reaching 75 mph (120 kph). The storm shows signs of quickly strengthening.
Jose had been expected to become a hurricane, and was following Irma in a path toward the Caribbean. It is too early to determine if Jose might ultimately make landfall in the Caribbean, or in the Americas, as weather projections are difficult when storms are so far out.
Still, forecasts for Jose indicated that it might not pose the same threat as Irma. Jose, the 10th named storm of this year's hurricane season, was expected to veer northwest towards Bermuda over the coming weekend before slowing down.
"This one doesn't pose as much of a threat to the direct southeastern United States as Irma does," Weather Channel meteorologist Ari Sarsalari said. "But hte Leeward Islands would end up with another one-two punch... This could be pretty bad for them."
Irma has already hit the Leeward Islands, located east of Puerto Rico.
Hurricane Irma – devastation caused in pictures

Show all 45
Forecasters say that it is unlikely that Jose will reach the ferocity of Irma, either. Irma is the most powerful hurricane in recorded history, and was approaching Puerto Rico, the Dominican Republic, and Haiti before potentially hitting Florida, where officials have issued strongly worded warnings to residents. Many in Southern Florida are already experiencing mandatory evacuation orders, and markets there have already been fleeced of essential goods including water and non perishables. Florida Governor Rick Scott said Wednesday that officials were in touch to make sure that more supplies were delivered before Irma's potential expected landfall over the weekend.
Join our new commenting forum
Join thought-provoking conversations, follow other Independent readers and see their replies