Julian Assange praises whistleblower Edward Snowden who faces extradition from Hong Kong back to US over NSA Prism revelations
Fears for fate of Edward Snowden as politician warns that extradition treaty with the United States will be observed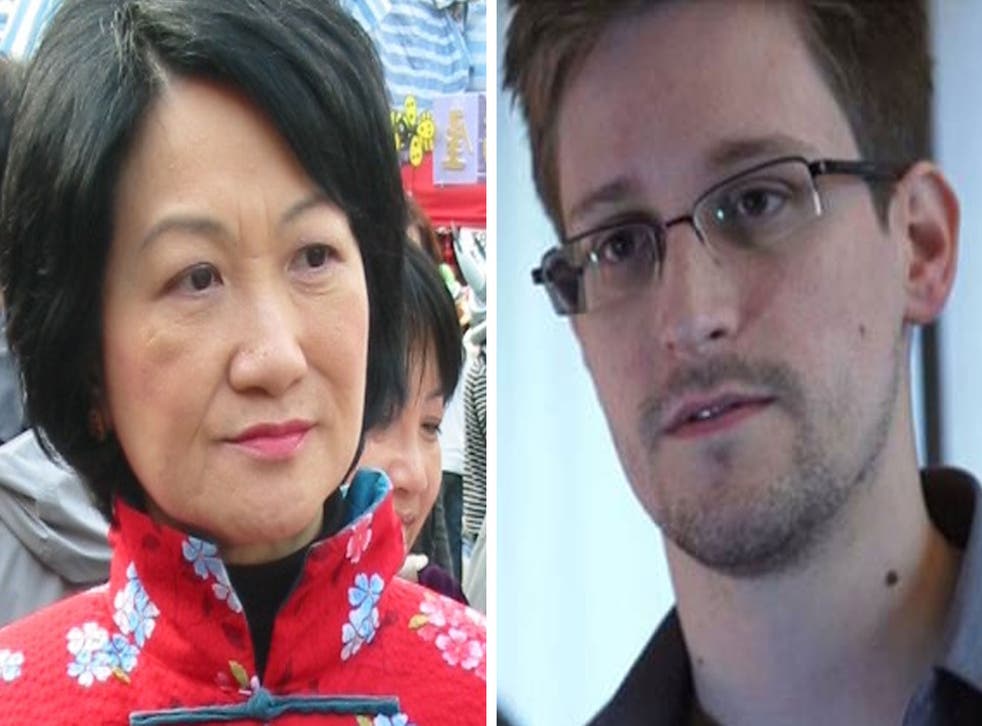 One of Hong Kong's top politicians has advised the NSA whistle-blower Edward Snowden to leave the city, where he is thought to be in hiding, saying he would not be safe from extradition to the US if he stayed.
Regina Ip, chair of the pro-Beijing New People's Party and formerly Hong Kong's security secretary, said the city was "definitely not a safe harbour" for the NSA contractor, whom Washington lawmakers have demanded be returned to the US for prosecution.
Ms Ip told reporters the city would be "obliged to comply with the terms" of the extradition treaty between Hong Kong and the US, which was signed in 1997, should the US submit an official extradition request. "It's actually in his best interest to leave Hong Kong," she said.
Mr Snowden, 29, made his identity public on Sunday, after leaking details of the NSA's vast electronic surveillance programme to The Guardian and The Washington Post. He said he had chosen to flee the US for Hong Kong due to its "commitment to free speech and the right of political dissent".
Speculation was rife about which of a string of luxury hotels near the city's US consulate on Hong Kong Island Mr Snowden might be holed up in, after he mentioned that a CIA station was "just up the road".
Mr Snowden is reported to have left his "plush hotel" just three times in his three-week stay. He said he feared for his safety, worried that he could be rendered by the CIA or dealt with by the Chinese triads.
Last night it became clear Mr Snowden had spent at least some of his time on Hong Kong's mainland. The Independent spoke to duty manager Kevin Ko at the Mira Hotel, in the centre of Hong Kong's Tsim Sha Tsui shopping district, who confirmed that a guest by the name of Edward Snowden had checked in at 6am on Monday but left shortly afterwards. Mr Ko was unaware of the notoriety of the Mira's guest and was bemused by the attention the hotel was receiving. "We thought he was an ordinary guest," Mr Ko said.
In sharp contrast to the media scrum forming around Hong Kong's top hotels, most people on the street were completely unaware of the former CIA technical agent, or the global interest that was forming around Hong Kong as a result. "You think an American spy has been staying there?" said a property consultant Lucifer Chung, who works in a building opposite the Mira. "No way. Everyone would know!"
Julian Assange told Sky News that Snowden is a "hero". The WikiLeaks founder said the NSA whistle-blower was "in a very, very serious position, because we can see the kind of rhetoric that occurred against me and Bradley Manning back in 2010, 2011, applied to Snowden".
In the US, politicians' condemnation of Mr Snowden was tempered by public support for his actions. Peter King, the Republican chairman of the Subcommittee on Counterterrorism and Intelligence, demanded Mr Snowden's extradition, saying in a statement: "The United States government must prosecute him to the fullest extent of the law."
Shawn Turner, a spokesman for the Director of National Intelligence, James Clapper, said Mr Snowden's case had been referred to the US Justice Department for investigation. Mr Snowden's last employer, the defence contractor Booz Allen Hamilton, released a statement promising to co-operate with any investigation.
Rand Paul, a Republican senator, by contrast claimed he was considering suing the federal government for the intrusive surveillance programmes detailed in Mr Snowden's leaks. At a White House press briefing, President Obama's spokesman Jay Carney defended the administration's record on transparency, calling its policies "broad and significant", and saying Mr Obama "welcomes a debate" about the balance between privacy and security.
But Mr Carney would not be drawn on the specifics of Mr Snowden's case, despite a petition on the White House website calling for him to be pardoned, which had attracted some 16,000 signatures by lunchtime on Monday.
Trevor Timm, executive director of the Freedom of the Press Foundation, told The Independent: "There is a huge groundswell of support for Edward and what he did. People feel like they were kept in the dark about this massive surveillance programme, and he says he acted not for monetary gain, but to protect Americans' rights."
Mr Snowden suggested he might seek asylum in Iceland, though the nation also has an extradition treaty with the US. On Sunday the Icelandic MP Birgitta Jonsdottir said she had begun work on an asylum application on Mr Snowden's behalf, aided by Smari McCarthy of the Icelandic Modern Media Initiative. "We feel it is our duty to offer to assist Mr Snowden," they said in a statement.
The Progressive Change Campaign Committee has started a fund to cover Snowden's potential legal costs.
A whistleblower in quotes
"I will be made to suffer for my actions, [but] I will be satisfied if the federation of secret law ... and irresistible executive powers that rule the world ... are revealed even for an instant."
"Yes, I could be rendered by the CIA ... or any of the third-party partners. They work closely with a number of other nations. Or they could pay off the Triads ... That is a concern I will live with for the rest of my life, however long that happens to be."
"I am not afraid, because this is the choice I've made. The only thing I fear is the harmful effects on my family, who I won't be able to help any more."
"I had an authority to wiretap anyone, from you or your accountant to a federal judge or even the President, if I had a personal email.
"You don't have to have done anything wrong, you simply have to have eventually fall under suspicion ... and then they can use this system to go back in time and ... derive suspicion from an innocent life"
Join our new commenting forum
Join thought-provoking conversations, follow other Independent readers and see their replies