Julian Assange messages fake Sean Hannity Twitter account offering 'news' on Democrat senator investigating Trump-Russia links
Dell Gilliam's profile impersonating Fox News host gains more than 20,000 followers
Tom Embury-Dennis
Tuesday 30 January 2018 19:05 Comments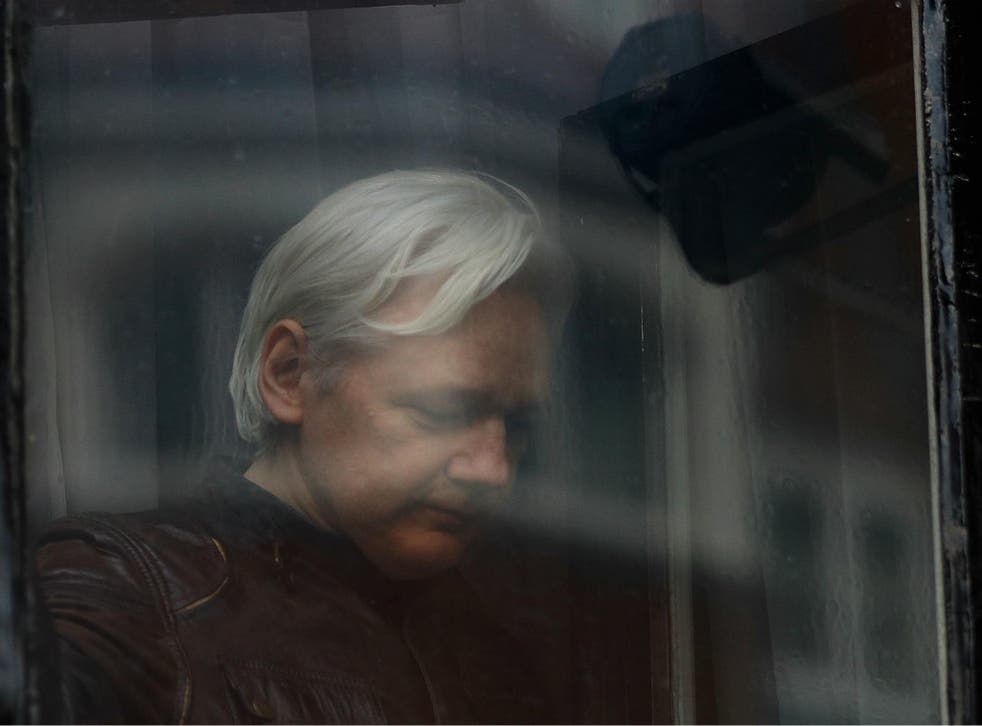 WikiLeaks founder Julian Assange reportedly sent messages to a fake Sean Hannity Twitter account offering "news" on a Democratic senator investigating links between the Trump campaign and Russia.
"Have some good news about Warner," he allegedly wrote to Dell Gilliam, a woman from Texas who set up a Twitter profile impersonating Mr Hannity after the Fox News host's account was temporarily deactivated.
Mr Assange appeared to encourage Ms Gilliam, who named her new Twitter handle @SeanHannity__, to contact him over "other channels" to discuss Mark Warner, the top Democrat on the Senate Intelligence Committee investigating Russian interference in the 2016 US election.
"I felt bad. He really thought he was talking to Sean Hannity," Ms Gilliam told The Daily Beast. She said within hours of launching her new account she sent a private message to Mr Assange.
"I'd like to set up a time for us to talk. When may be good for you?" Ms Gilliam wrote, posing as Mr Hannity.
Mr Assange, who has been holed up in London's Ecuadorian embassy since 2012, answered, saying they could talk "today", according to screen grabs shared with The Daily Beast.
"I can't believe this is happening. I mean… I can. It's crazy. Nothing can be put past people," Ms Gilliam wrote back. "I'm exhausted from the whole night. What about you, though? You doing ok?"
Sean Hannity makes painful u-turn on whether Donald Trump wanted to fire Robert Mueller
"I'm happy as long as there is a fight!" Mr Assange allegedly said.
After Ms Gilliam suggested setting up a call, Mr Assange agreed, adding again they could message over "other channels" and that he had "some news about Warner".
The Independent was unable to reach Mr Assange for comment.
Fox News 'finest moments'

Show all 13
During the 2016 election, WikiLeaks dumped thousands of Democratic emails that US intelligence services said had been stolen by Russian hackers. CIA chief Mike Pompeo accused the website of being a "hostile intelligence service".
Mr Hannity's Twitter account disappeared on Friday evening shortly after it posted a cryptic message reading: "Form Submission 1649 | #Hannity."
Despite his account being reinstated by Sunday morning, Ms Gilliam's parody account currently has more than 23,000 followers.
"I'd say it's one-third hate mail, one-third hero worship, one-third people saying they figured it out. His followers are disturbingly angry," she said of the messages the account receives.
"Reading the messages, I can see how believing in this false reality would be really easy to do. I was starting to get really nervous about what was really happening. It all sucks you into a level of paranoia I'd never seen before."
Mr Warner has been contacted for comment.
Register for free to continue reading
Registration is a free and easy way to support our truly independent journalism
By registering, you will also enjoy limited access to Premium articles, exclusive newsletters, commenting, and virtual events with our leading journalists
Already have an account? sign in
Join our new commenting forum
Join thought-provoking conversations, follow other Independent readers and see their replies