Secret FBI informant drew gun to stop Trump-backing militiaman shooting Muslim women dead in street, court hears
Dan Day fights back tears as he tells court of reaching for his own weapon when Patrick Stein grabbed his gun and said 'I could kill 'em right there'.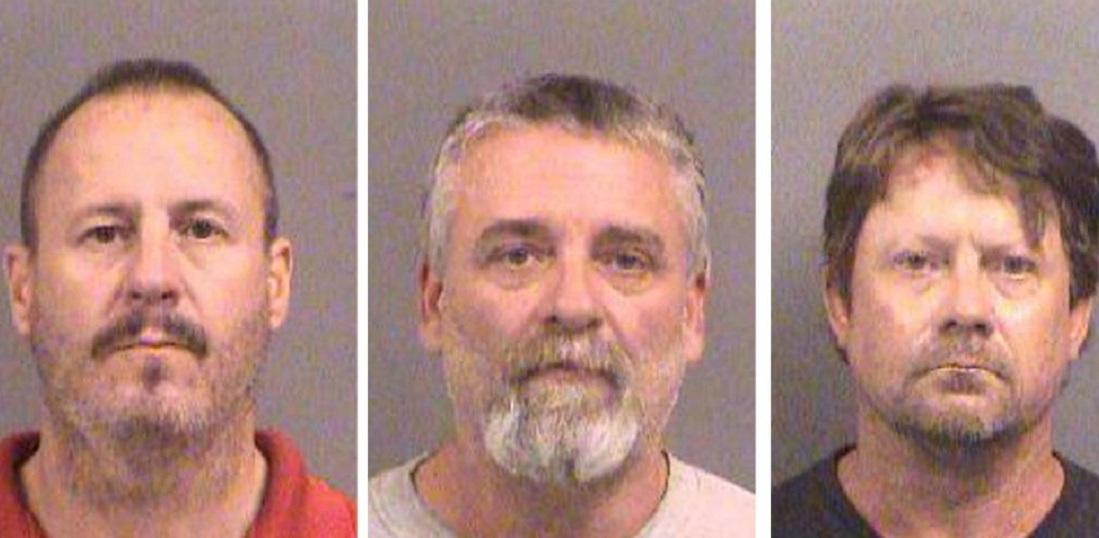 An FBI informant thought he was going to have to kill a Trump-backing militiaman to stop him shooting dead two Muslim women, a court has heard.
Dan Day said that as they drove past the headscarf-wearing women, Patrick Stein – a member of a group called the Crusaders – grabbed a handgun from the back of the truck, called the women "raghead bitches", and said: "I could knock 'em off, kill 'em right there."
"As he was pulling out his weapon, I was actually pulling out my weapon also," Day told the federal court in Wichita, Kansas.
He fought back tears as he explained: "I was not going to let him kill these innocent women because they were who they were, because they were Somalis or Muslims.
"It was very scary. I thought I might have to kill somebody. I'm not a killer."
Day said the incident on February 27 2016 in Garden City, Kansas, ended without bloodshed because he was able to calm Stein down. They drove away but, the Huffington Post reported, Day said he saw "fear" in the eyes of the two women, who had heard Stein calling them "raghead bitches".
Stein, 47, and his co-defendants Curtis Allen, 49, and Gavin Wright, also 49, are on trial accused of plotting to bomb a Garden City apartment complex that housed Somali refugees in order to send a message that Muslims were unwelcome in America and to "exterminate cockroaches".
The prosecution alleges that the three men planned to delay the attack until the day after the Presidential election, so as to avoid damaging Donald Trump's chances of victory.
When the trial opened earlier this month, however, Allen's defence lawyer Rich Federico said there had never been any intention to translate words into violent action.
It had all just been "locker room talk," Mr Federico said, echoing one of Mr Trump's defences of the pussy grabbing comments which became public during the election campaign.
Stein's defence lawyer Jim Pratt argued that what happened had to be seen in the context of a heated presidential election campaign when "hate ruled the day and the ratings".
Mr Pratt said that rather than really plotting violence, the men were just talking through the issues raised by conservatives accusing President Barack Obama of letting in refugees without vetting them, and the liberal media saying Donald Trump was going to deport immigrants.
"The FBI, rather than try to calm these fears, fomented them and inflamed them through [informant] Dan Day," Mr Pratt said.
But prosecutor Risa Berkower said it wasn't just talk, insisting: "The evidence will show that these weren't just words. These hours of planning were not just talk. It was action."
On Thursday the court was told that Stein started trying to recruit others to kill Muslim immigrants after the Pulse nightclub attack of June 2016, in which Isis claimed responsibility for Omar Mateen shooting dead 49 people in Orlando, Florida.
Day told jurors that Stein called him a couple of days after the Florida attack to say he was "ready to take action" and wanted to hold a recruitment meeting to see who else in the militia group was with him.
But by then Day had become so alarmed by what was going on in the Crusaders, a splinter group from the Kansas Security Force militia, that he had contacted the FBI, who had persuaded him to wear a wire.
World news in pictures
Show all 50
The June 2016 recruitment meeting was the first to be secretly recorded by Day, who wore a wire for five months.
Day testified that Stein and Allen held two more meetings to try to recruit other members to their plot. He said that in other meetings, the group downloaded bomb-making instructions from the internet and discussed writing a manifesto to inspire other Americans to join their cause.
The court heard Stein called himself "Orkin man" in a reference to the pest control chain, and told Day: "Muslims are like cockroaches. You can't kill one of them. You have to kill all of them. They keep coming back. You have to exterminate them all."
The court heard that in one secretly recorded conversation, Stein declared: "The only good Muslim is a dead Muslim. If you're a Muslim, I'm going to enjoy shooting you in the head."
Wright was quoted in a wiretap transcript as saying he hoped an attack on the Somalis would "wake people up" and inspire others to take similar action against Muslims.
Stein, Wright and Allen were arrested in October 2016. They have denied charges of conspiracy to use a weapon of mass destruction and conspiracy against civil rights. Stein also denies two additional weapons-related charges and Wright denies a charge of lying to the FBI.
After the trio were arrested, the Kansas Security Force distanced themselves from the men. The court has heard that Kansas Security Force member Trish Burch had steadfastly refused to join the plot, telling the three alleged conspirators that militias were only for defensive actions.
Before the trial began, defence lawyers asked for more Trump voters in the jury pool.
The trial continues.