She lost her transgender son to suicide. She isn't giving up fighting for him
Weeks after her son's death, Kentucky state Senator Karen Berg confronted the very same legislation that he warned was coming. Her love and her grief fuel her fight against a 'desperate last stand' of political attacks, she tells Alex Woodward
Wednesday 28 June 2023 16:39 BST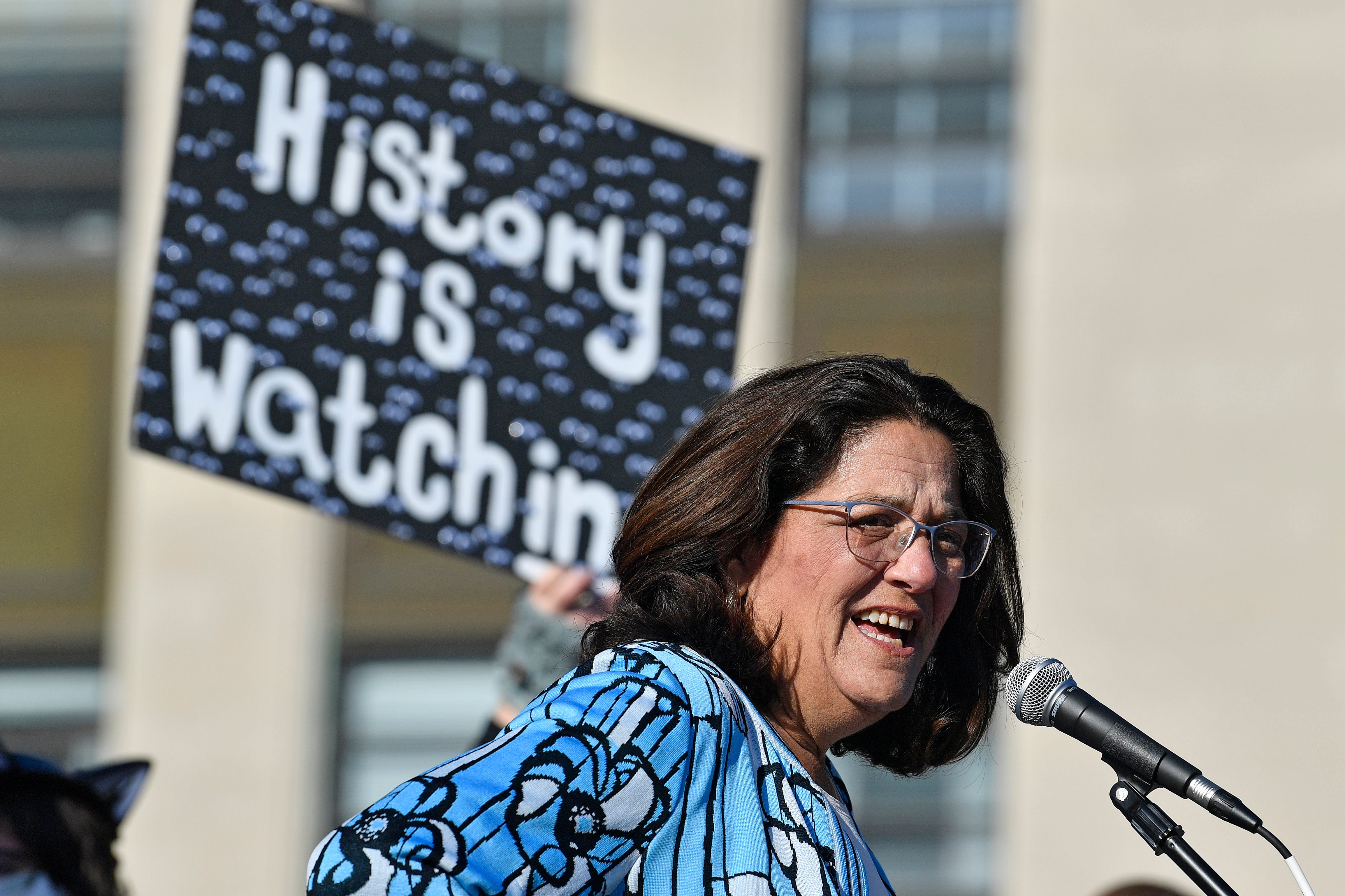 Henry Berg-Brousseau was 16 years old when he sat at a table in front of a committee at the Kentucky State Capitol to speak against a bill that would prevent transgender students from using bathrooms and locker rooms that match their gender.
"If you don't know a transgender kid already," he told the panel in 2015, "you do now."
"You know me, Henry," he said. "And I'd be honoured to continue to work with you and help educate you on all trans issues. I'd be even more honoured to call you all friends."
That bill ultimately passed through the state Senate, but it was defeated in the state House.
Within a few years, Henry helped establish the LGBT+ college fraternity Delta Lambda Phi at George Washington University in Washington DC and landed a job in the nation's capital as a deputy press secretary at the nation's largest LGBT+ civil rights organisation.
He spent last year tracking a historic number of bills targeting trans Americans like him while anticipating another record-breaking year of legislation in the months to come.
On 16 December 2022, Henry died by suicide. He was 24.
Weeks later, still mourning the death of her son, Henry's mother Karen Berg returned to her seat in Kentucky's state Senate to confront the very same bills that her son knew would be waiting for her.
"He was definitely the wind beneath my wings. No question about it," Ms Berg tells The Independent from her home in Kentucky.
It was Henry who inspired her to run for office in the first place.
The doctor-turned-Democratic state senator won re-election to her seat last November while Henry was visiting. After her victory, they said goodbye at the airport with a hug. That was the last time she saw her son.
He returned to Washington DC buoyant with the passage of President Joe Biden's landmark Respect for Marriage Act, which Henry helped usher behind the scenes through Congress to codify marriage equality protections affirmed by the US Supreme Court.
In what would be his final press release for the Human Rights Campaign, he addressed the stark realities of anti-trans hate and a flood of legislation aimed at restricting the rights of LGBT+ people across the country, including in his home state.
"We thought that he was getting scared, and that he was starting to feel like it might not be safe to be walking in the streets anymore," Ms Berg says. "I told him, 'If you need to take a step back, and let someone else take over for a while, it's OK to take a break.'"
Henry Berg-Brousseau testifies against Kentucky bathroom bill in 2015
Ms Berg joins lawmakers with trans and LGBT+ children across the country who are standing up against a tidal wave of state measures that have consumed debates in state capitols over the last two years, combatting legislation from their own colleagues that amount to attacks against their own families.
Henry's life and her loss will remain forever enmeshed in her fight, strengthened by a vast network of support from LGBT+ advocates and protesters joining her at the state capitol and across the country.
"I think a part of him thought, 'I'm gonna go out on a high. We just had a major, major win, we're getting ready to go in to fight for our lives, and I'm tired,'" Ms Berg says through tears. "I can't believe I would ever, ever say this, but I'm glad he hasn't been able to see what they did to my state. I'm so glad he didn't know what happened at home."
'The cruelest session'
Henry – wearing a gray suit and blue-and-green striped tie – explained to lawmakers in 2015 how something as simple as using a school bathroom can be a scary experience for a trans person. School officials made him use the girls' bathroom, where he was harassed and picked on.
"Because the school administration did not support my gender identity, by letting me use the restrooms that coordinated with my gender identity, the kids at my school bullied me," he said. "The kids thought that, because the administration didn't support my gender identity, they didn't have to either.
"A lot of folks think that having a separate and private restroom for trans kids is the way to go. While that might work for some, when somebody tells us that we're so different that the only way to accommodate is to create a 'special' restroom, the message is clear: That we don't belong."
Three years later, Ms Berg ran against an incumbent Republican who held a seat representing Louisville in the state senate for more than 20 years. She lost.
Two years later, she tried again. Henry joined her campaign as treasurer and adviser.
"Real public service, which was what I was running to do," she says. "It was the time in my life that I had the opportunity to give back. I believe in healthcare, I believe in medicine – I wanted a chance."
She never intended to run on a platform centring LGBT+ people and trans rights. Nor did she predict the growing fever in state capitols across the country to dismantle them.
"I never thought, 'Oh, my God, we're gonna take two steps forward, and then 100 years back'," she says. "I did not see it. Henry did, way before I did. He had known and he was telling me this was coming for a year and a half or more, maybe. He was dreading the state session."
After her son's death, she prepared for the eight-week legislative session ahead of her – the arguments she would make to her colleagues, the remarks she would deliver on the floor, what Henry would say.
"Henry was a light – deeply passionate, deeply engaged, and deeply caring," Human Rights Campaign President Kelley Robinson said in a statement after his death. "No one was more aware of the harm that anti-transgender rhetoric, messaging, and legislation could have on his community. He was brave."
Hundreds of bills aimed at LGBT+ people, particularly young trans people, have been filed in nearly every state within the last several years, part of a growing campaign among Republican lawmakers wielding anti-trans attacks that have dominated elections and legislative sessions heading into 2024.
By the end of May, state lawmakers this year had introduced more than 500 bills impacting LGBT+ people, including 220 bills specifically targeting trans and nonbinary Americans, according to an analysis from the Human Rights Campaign. More than 70 such bills have been signed into law.
More than a dozen states have enacted laws or policies banning affirming healthcare for young trans people.
Republican members of Congress have also introduced federal legislation that mirrors some of the proposals in the states. One measure would impose national restrictions on trans athletes, and another bill would impose a similar but more-expansive version of what critics have called state-level "Don't Say Gay" bills used to restrict classroom discussion of LGBT+ people and events.
That flood of legislation and the debates surrounding it have also negatively impacted the mental health of an overwhelming majority of young trans and nonbinary people, according to polling from The Trevor Project and Morning Consult.
A separate survey from The Trevor Project found that 41 per cent of trans and nonbinary youth have seriously considered attempting suicide over the last year. Two-thirds of young LGBT+ people reported that political debates surrounding their identities have made their mental health worse.
Kentucky's Senate Bill 150 – denounced by LGBT+ advocates as one of the most extreme and dangerous state-level bills targeting trans people amid an explosion of similar proposals across the country – bans gender-affirming care for trans youth and prohibits students from using pronouns and names in school other than those assigned at birth. It also prohibits discussion of sexual orientation and gender identity in schools, adopting elements of so-called "Don't Say Gay" language in similar bills across the US.
It also includes a similar "bathroom" measure that lawmakers rejected after Henry's testimony eight years earlier.
In March, Kentucky's Democratic Governor Andy Beshear vetoed the bill. Days later, the state's GOP-dominated state legislature, with veto-proof supermajorities that can obstruct the governor's actions, voted to override the governor's veto.
Last month, the ACLU of Kentucky and the National Center for Lesbian Rights asked a federal court judge to block the law before it goes into effect on 29 June.
Federal judges in several states have struck down, at least temporarily, similar laws banning gender-affirming care for trans youth, with a series of rulings that eviscerate arguments from Republican officials and their abject failure to recognise medical authority.
Ms Berg similarly does not believe Kentucky's law will survive in court.
Kentucky lawmaker Karen Berg urges colleagues to vote against anti-trans law
During legislative debate, she denounced the "absolute willful, intentional hate for a small group of people, who are the weakest and the most vulnerable among us."
"You need to come back to these people and you need to ask them: Why did you get elected? What are you doing here? What was your purpose in choosing to serve?" she asked lawmakers. "Because if it was to help the least among us, you are failing miserably."
She called on her colleagues to "avoid politicising issues that are literally killing our children, that are literally putting them into the grave," and urged them to consider "who you're putting in the centre of this fight."
Several Republican staff members resigned by the end of the session.
"Everybody said this was the cruelest session they had ever witnessed," Ms Berg tells The Independent.
One Republican state senator, Danny Carroll, attempted to file an amendment that would narrow the scope of a bill banning gender-affirming care for trans youth. That break from what had become Republican orthodoxy "gobsmacked" the state's leadership to the point where the proposal was indefinitely delayed, Ms Berg remembers.
Mr Carroll was the only Republican state senator who voted against Senate Bill 150.
"I think we've made a mistake here," he told the chamber in March. "We forgot what's important in this. People. People are important in this. My concern is for the children. … If it saves one kid – one – what does it hurt? I don't understand."
One former Republican lawmaker returned to the Capitol to urge lawmakers to vote against it.
"This bill condemns vulnerable children to an even more difficult life than they've already been born into," Jerry Miller told a Senate committee that month. "Please don't let a parent's right to protect their children be collateral damage in the culture wars."
Their remarks are unusual among Republican state lawmakers who have prioritised, despite overwhelming medical guidance from care providers and major medical groups, a suite of legislation that strips access to care from those children.
That legislation puts doctors in a "tremendous ethical conflict between following the law and actually following medicine the way we're supposed to," Ms Berg tells The Independent.
"The votes in my chamber underscore unequivocally that it is possible to reject it," she says.
A refusal among Republican leadership to even consider Mr Carroll's amendment "is a testament to the fact that this is a political fight," she says. "This is not about how we take care of vulnerable children. They know they're wrong on that one."
'A desperate last stand'
The evolution among Republican lawmakers in Kentucky toward an agenda targeting gender-affirming care and the rights of LGBT+ people mirrors the GOP's campaign at large, one that Ms Berg says is "all they have to win the election."
It's a path paved by conspiracy theories, bigotry and anti-intellectualism, Ms Berg says, underscored by the grim irony of Kentucky residents electing the first female physician to the state legislature where she is then forced to defend medicine from baseless attacks from her own colleagues.
"We've been working towards a more perfect union, we've been trying to get better – we have not succeeded by any means – but the goal that we seem to be at least in the right direction. And then it was like Pandora's box got opened," she says. "There are really honest to God politicians in this country who are running on hate. That is their platform. That is what they are using to attract voters. And it's bewildering."
The bills are nearly universally the same, drafted by influential right-wing organisations like Alliance Defending Freedom and various Family Foundations – well-funded special interest groups that also fund legal efforts to defend the legislation they helped create.
Ms Berg sees the fight for LGBT+ rights in state legislatures as part of a broader antidemocratic threat, one that has sought to undermine elections and reproductive rights.
"We need to make sure people really understand it's just not homegrown. This is not coming from within. We were fine. We had not had a single complaint about a trans child using a bathroom in this state," Ms Berg says. "They are fomenting division. They are trying to divide us because they think it is the only way to win at this point. And no, the American people will see this for what it is. It is a desperate last stand."
Hundreds of people, mostly students, rallied at the capitol on Frankfort to protest Senate Bill 150. Ms Berg addressed them from the steps.
"You are perfect the way God made you," she told them. "Remember that every moment of your life."
The crowd also chanted the names of Zachee Imanitwitaho – a trans woman who was fatally shot earlier this year – and Henry:
"Henry, Zachee, they should be with us today."
If you are based in the US and seek LGBT+ affirming mental health support, resources are available from Trans Lifeline (877-565-8860) and the LGBT Hotline (888-843-4564), as well as The Trevor Project (866-488-7386, or text START to 678-678).
If you are experiencing feelings of distress, or are struggling to cope, you can speak to the Samaritans, in confidence, on 116 123 (UK and ROI), email jo@samaritans.org, or visit the Samaritans website to find details of your nearest branch.
If you are based in the US, and you or someone you know needs mental health assistance right now, call or text the 988 Suicide & Crisis Lifeline at 988. This is a free, confidential crisis hotline that is available to everyone 24 hours a day, seven days a week.
If you are in another country, you can go to www.befrienders.org to find a helpline near you.