Kelly Gissendaner: Georgia postpones execution of death row woman for second time over 'cloudy' lethal drug
Gissendaner is expected to be the first woman to be executed in the state for 70 years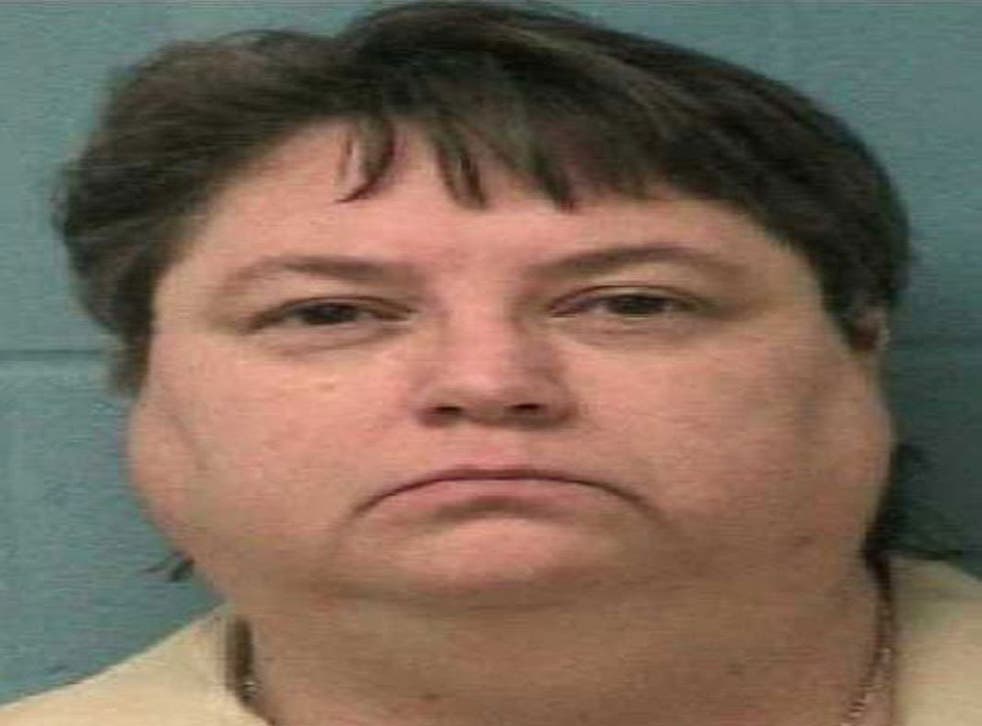 The first woman set to be sentenced to death in the US state of Georgia for 70 years has had her execution postponed for a second time as the drug set to be used for her lethal injection appeared cloudy.
Kelly Gissendaner, 46, was due to be executed at 7pm on Monday for plotting to kill her husband in 1997, but the execution was put on hold late in the day over concerns with the drug.
The drug in question, pentobarbital - the only lethal drug used in executions on Georgia - was sent to an independent lab to check its potency, which was found to be at an acceptable level, but during subsequent checks it appeared cloudy, according to Georgia Department of Corrections spokeswoman Gwendolyn Hogan.
She said corrections officials called the pharmacist and decided to postpone the execution "out of an abundance of caution". No new date has been given for her execution.
It is the second time in the space of a week that Gissendaner's execution has been postponed just hours before she was due to die. On 25 February the execution was put back by five days because of a winter storm expected to hit the north of the state brining high levels of snow.
Gissendaner had already selected her final meal, which formed an extensive list of food including two Burger King whoppers, two large portions of fries, cornbread with a side of buttermilk, salad with boiled eggs, tomatoes, peppers, onions, carrots, cheese and buttermilk dressing, with cherry vanilla ice cream, popcorn as dessert, with lemonade.
She has been sentenced to death after being convicted of conspiring with her 43-year-old partner Gregory Owen to have her husband, Douglas Gissendaner, killed. The couple had previously divorced and re-married, and Gissendaner believed her husband would pester her if the pair simply divorced for the second time.
Owen, who received a life sentence, admitted to forcing Gissendaner's husband into his car, driving him to a remote spot in a woodland area in Gwinnet County, and clubbing him before stabbing him in the neck 10 times. Owen and Gissendaner had then met up to burn the car and cover their tracks, but Owen later confessed and testified against Gissendaner.
Previous appeals for clemency on behalf of Gissendaner have been rejected, but last night her lawyers added additional arguments for its case sent to the High Court, requesting that the court consider a stay because Gissendaner did not physically kill her husband, and claimed she has since been fully rehabilitated and has found her faith while on death row.
The lawyers' request for reconsideration claims that the parole board had not heard the positive testimonies from corrections employees who had not spoken up in favour of Gissendaner's behaviour since her incarceration, while her clemency petition had already included testimonies from dozens of spiritual advisers, inmates and prison staff, who described her as a transformed woman.
Douglas Gissendaner's parents and sister have made it clear they want the execution to go ahead, while two of Kelly and Douglas's children have asked for their mother's life to be spared, citing their journey from anger and bitterness to forgiveness.
"The impact of losing my mother would be devastating. I can't fathom losing another parent," wrote her daughter, Kayla Gissendaner.
Gissendaner would be only the 16th woman put to death nationwide since the Supreme Court allowed the death penalty to resume in 1976. About 1,400 men have been executed since then, according to the Death Penalty Information Centre.
Additional reporting by AP
Join our new commenting forum
Join thought-provoking conversations, follow other Independent readers and see their replies