Kellyanne Conway 'banned from TV' by White House for contradicting Donald Trump's official line
CNN reported the senior aide had been temporarily barred from interviews after comments she made last week, but Ms Conway appeared on Fox News to deny the claims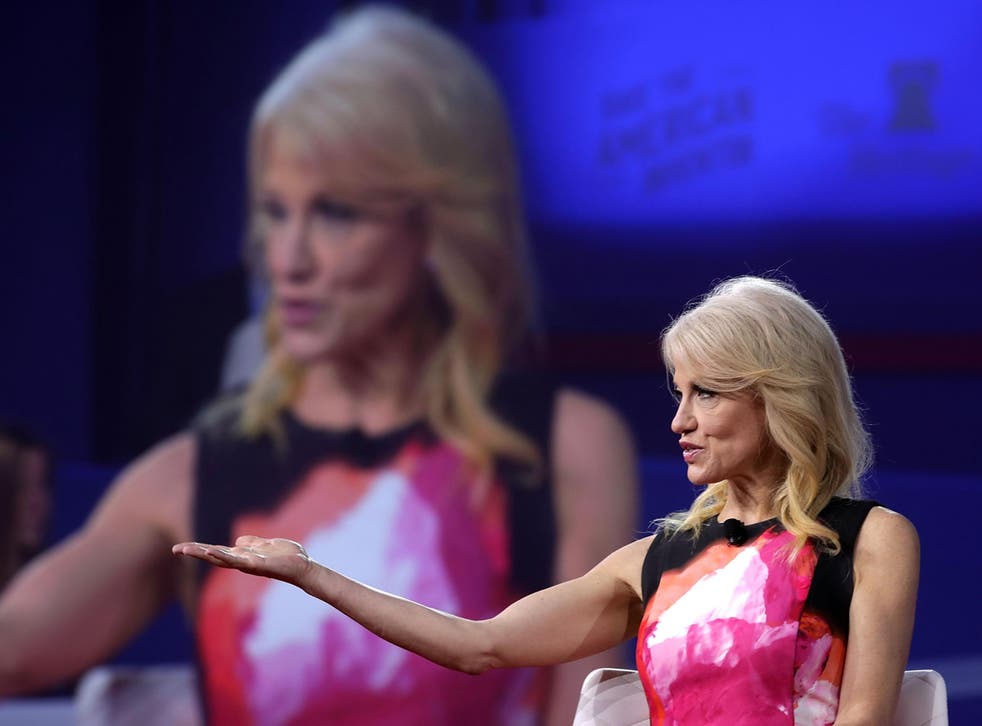 The White House reportedly banned counsellor Kellyanne Conway from television appearances for a week after the senior aide to the president made multiple statements live on air contradicting the Trump administration's official line.
Ms Conway appeared on Fox News on Wednesday night after a prolonged absence to deny claims that she had been disciplined for stating that disgraced national security adviser Michael Flynn had the "full confidence" of President Trump, just hours before he was forced to resign.
Mr Flynn left his post amid revelations that he misled vice President Mike Pence about the nature of his conversations with the Russian ambassador, in a scandal that shook Mr Trump's presidency. But Ms Conway claimed on NBC's Today programme that Mr Flynn had offered to step down.
Ms Conway was "off message," a White House source reportedly told CNN. The network noted that for over a week after the incident the presidential adviser was completely absent from television news.
But Ms Conway told Fox New's Hannity show that speculation she had been barred from appearing was "trying to start up trouble".
She said only "about five percent" of her advisory role to President Trump involved appearing on TV, "and I think that's about right because he's the president now and he's his own best messenger".
She labelled claims she had been banned as "folks just trying to use me as clickbait in a headline" and said people were jealous of the air time she received.
"If I'm out with four kids for three days looking at houses and schools — a lot of my colleagues aren't trying to figure out how to be a mother of four kids, I assure you," she said.
But Ms Conway's inaccurate remarks about Mr Flynn were not the first time she has caused trouble for the White House with comments she has made on air.
Ms Conway has sparked controversy after controversy in the past weeks by making up a terrorist attack in Bowling Green that never happened, illegally promoting the president's daughter Ivanka Trump's clothing line live on air, and coining the term "alternative facts" to excuse misleading statements made by press secretary Sean Spicer.
The controversial orders Donald Trump has already issued

Show all 9
A source close to the White House reportedly told CNN that the Trump administration has seen fewer controversies in Conway's absence.
"Clearly they're having much more of a drama-free week," CNN quoted the source as saying. "Having Kellyanne off television is helping them."
"They're letting the heat cool off," another source reportedly said.
Deputy White House press secretary Sarah Huckabee Sanders, however, denied claims that Conway had been sidelined from television, calling the accusations "another wild goose chase."
"Kellyanne has a number of media appearances this week and also has a large portfolio at the WH and is spending significant time focusing on it," she told CNN.
Reports that the White House is reluctant to have Ms Conway on air come after some shows banned the counsellor for being unreliable.
Mika Brzezinski, from MSNBC's Morning Joe breakfast news programme, has said she will no longer book Donald Trump's adviser – despite her repeated attempts to try and get herself on the show.
"I know for a fact she tries to book herself on this show; I won't do it," Ms Brzezinski said.
"Every time I've ever seen her on television, something's askew, off, or incorrect."
Join our new commenting forum
Join thought-provoking conversations, follow other Independent readers and see their replies