Khizr and Ghazla Khan say 'our fear is real' after year of record-high anti-Muslim hate crimes
The parents of a slain Muslim soldier became vocal leaders of their community after famously calling out Donald Trump at the Democratic convention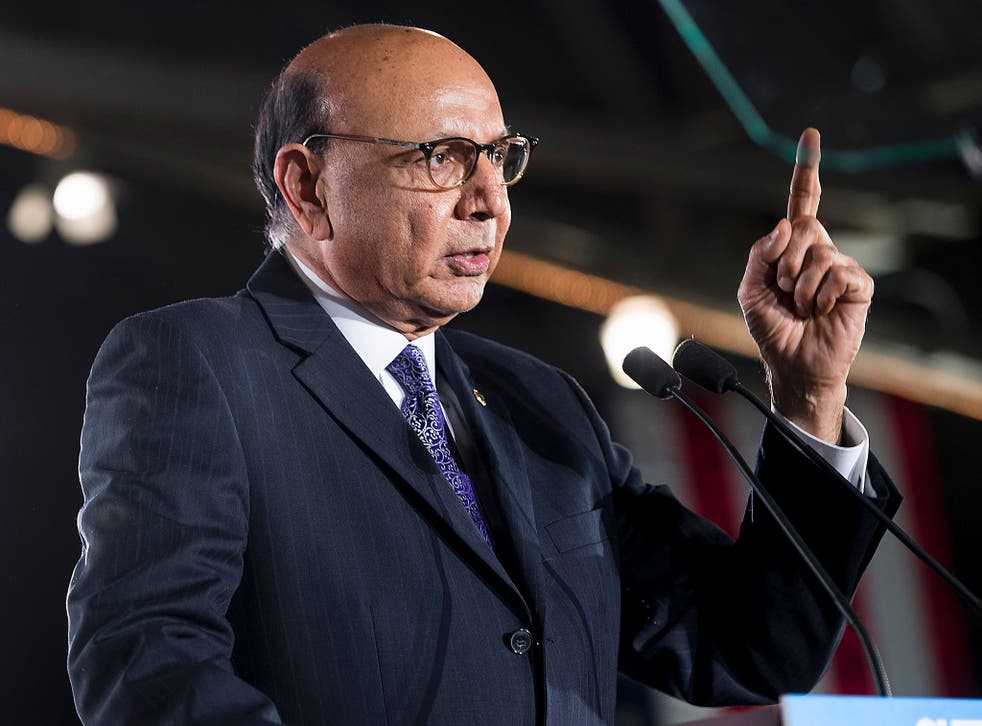 The father of a slain American Muslim soldier who famously spoke against Donald Trump said his community's "fear is real" following two years of record-high hate crimes.
Speaking at the Council of American-Islamic Relations (CAIR)'s annual banquet in Viriginia, Mr Khan told the 1,000-strong audience that every Muslim is fearful of their own wellbeing, and the safety of their family.
"I want to share with you: the concern and the fear is real, because the local law enforcement, the national law enforcement, tells us that there have been approximately 900 plus incidents of harassment, of bigotry, of un-American hate in this country since the election," he said.
"So our fear, our concern, is based on these events of harassment."
Mr Khan was referring to figures from CAIR. The FBI also found that there had been a 67 per cent increase in anti-Muslim incidents in 2015. The Southern Poverty Law Centre discovered there had been close to 1,100 reported hate crimes conducted in the month after Mr Trump was elected.
Mosques have been vandalised and threatened around the country, from New York to California. Women have reported being targeted with abuse and have their hijabs ripped off their heads. Muslim teenagers have been severely beaten in Brooklyn and a Muslim woman has been stabbed in Queens. Another woman was set on fire in New York. A mosque was set alight in Florida. Muslims have been shot and targeted with racial slurs.
"But I want to share something more than that," said Mr Khan. "And that is, that this Islamophhobia, this hatred, this discrimination is un-American. It is un-American. It is against the values of this county."
The father of capitain Humayan Khan, a soldier who was killed by a suicide bomber in Iraq, rose to become a voice for the Muslim community after he called out Mr Trump's heated rhetoric and bigotry against American Muslims. Mr Trump proposed banning Muslims from the US in November 2015 and has vowed to carry out "extreme vetting" and deporations.
Mr Khan rose his copy of the US constitution at the DNC and asked whether the president-elect had even read it, or if he had been to Arlington, Virginia, to visit the famous military cemetery. Mr Trump responded by saying Mr Khan had "viciously attacked" him.
Mr Khan and his wife, Ghazala Khan, were awarded CAIR's American Muslims of the Year award at the ceremony on Saturday.
Ghazala Khan thanked CAIR for the award. She was accused by Mr Trump of "not being allowed" to speak at the Democratic convention. She later explained she had been fearful to speak as she thought she might cry, not because her husband had instructed her to be silent.
"Peace on everyone who are here and who are in their homes, watching and praying for us, for all the Muslims, for or all the minorities. Thank you," she said.
Mr Khan also thanked men and women who were serving in the US military, women leaders in the Muslim community who will "lead us to a better future", and US law enforcement, "who work to keep us safe every day".
Register for free to continue reading
Registration is a free and easy way to support our truly independent journalism
By registering, you will also enjoy limited access to Premium articles, exclusive newsletters, commenting, and virtual events with our leading journalists
Already have an account? sign in
Register for free to continue reading
Registration is a free and easy way to support our truly independent journalism
By registering, you will also enjoy limited access to Premium articles, exclusive newsletters, commenting, and virtual events with our leading journalists
Already have an account? sign in
Join our new commenting forum
Join thought-provoking conversations, follow other Independent readers and see their replies