LA car chase caught on live TV shows carjacker stealing two vehicles and crashing six times
The suspect was shot by police after he tried to carjack a third vehicle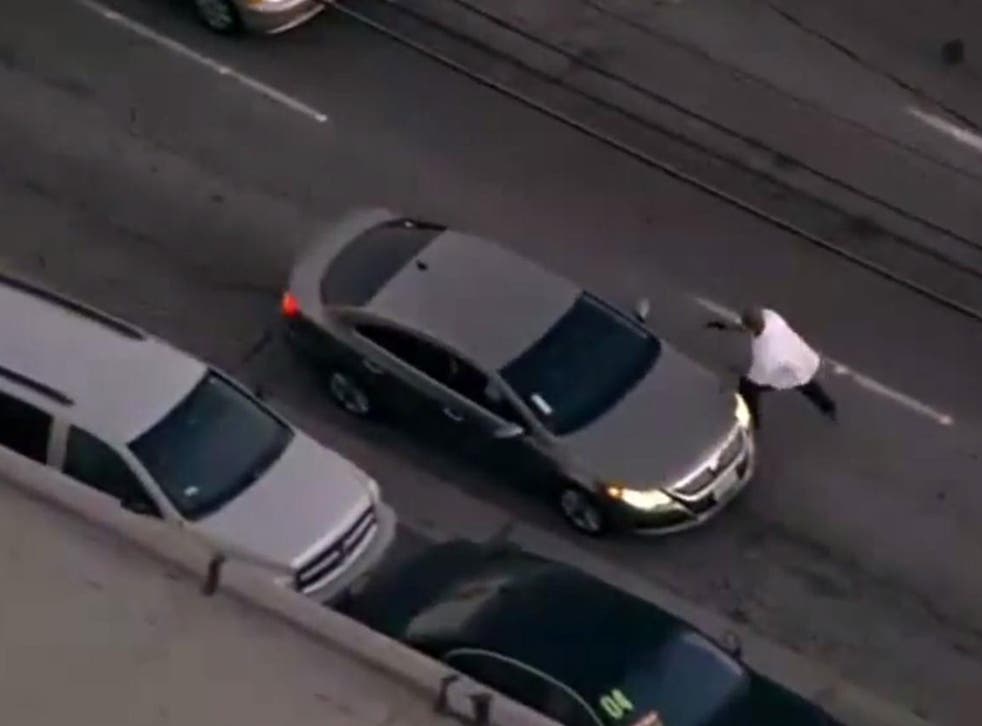 A "maniac" carjacker has been caught live on television leading police on high-speed chase through the streets of Los Angeles, carjacking a vehicle at gunpoint and crashing at least six times.
The spree during Monday's evening rush hour only stopped when the suspect failed to steal a third car that sped away and was shot in the road by police. He is under arrest in hospital.
It started shortly after 5pm local time in downtown LA, when police tried to pull over the man because he was driving a car listed as stolen.
But he drove away, starting the chase that would continue through the city and its suburbs, the LA Times reported.
Footage captured by a helicopter and broadcast on live television showed the car speeding at around 60mph up a three-lane motorway, crashing several times at junctions before veering over pavements and into oncoming traffic on the wrong side of the road.
The car skidded and started spinning, hitting several other vehicles before coming to a stop in the middle of the road.
The driver is seen jumping out of the crushed and smoking car before trying to carjack another vehicle, which sped away from him, and pulling what appeared to be a gun on the driver in the car behind it.
The footage shows onlookers at the side of the road running away as a woman is thrown out of the car and the gunman speeds off down a side street.
The woman, later identified as 22-year-old Elizabeth Yarahuan, told KABC-TV Channel 7: "He just came up to me and pointed the gun at me and told me to get out of my car. I was just scared he was going to hurt me."
At least eight LAPD cars and helicopters tracked the suspect as the chase continued on several motorways until heavy traffic in Montebello stopped the suspect's escape.
Stuck between stationary cars, cameras captured him jumping out of his vehicle and attempting to hijack two more.
But as the second driver resisted and drove away, police running after the suspect on shot him as he fled down the road. He was handcuffed on the ground and taken to hospital in an ambulance.
Last night, the suspect was alive in hospital being treated for "multiple" gunshot wounds.
"This individual acted with a complete disregard for other people's lives," Los Angeles Police Department Commander Andy Smith told the LA Times.
"He callously put innocent people's lives in danger, even after the police backed off the pursuit and tracked with the helicopter. Thank God no one was killed by this maniac."
Register for free to continue reading
Registration is a free and easy way to support our truly independent journalism
By registering, you will also enjoy limited access to Premium articles, exclusive newsletters, commenting, and virtual events with our leading journalists
Already have an account? sign in
Register for free to continue reading
Registration is a free and easy way to support our truly independent journalism
By registering, you will also enjoy limited access to Premium articles, exclusive newsletters, commenting, and virtual events with our leading journalists
Already have an account? sign in
Join our new commenting forum
Join thought-provoking conversations, follow other Independent readers and see their replies