Lamborghini drag race crash leaves $250,000 car in tatters
'Not so fast, not so furious', said police after they charged man who crashed his Lamborghini with reckless driving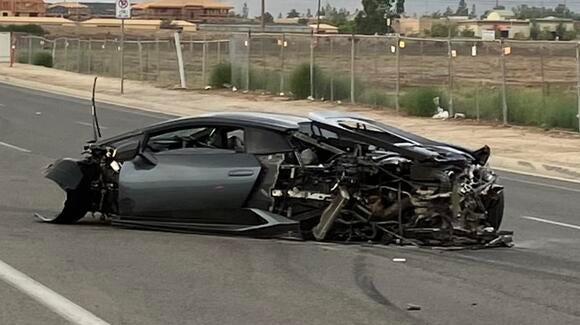 A Lamborghini that is worth $250,000 was totaled in a drag race in Murietta, California.
The sports car, a Lamborghini Huracan, was racing another Lamborghini when one lost control, smashing into a third vehicle that was not in the race, the Murrieta Police Department said.
The race happened on Friday around 6.30pm on Jefferson Boulevard, when the driver lost control of his vehicle and hurtled into the far right lane, where he struck the third car.
Murrieta Police said in a statement on Facebook: "Due to the debris field and a few hundred feet of skid, it was obvious that one of the vehicles was not doing the posted speed limit of 45 mph. It's not rocket science."
Fortunately, all people involved only sustained minor injuries and no one was badly hurt. The person in the third car, however, was shaken up due to the unforeseen crash.
The man who totaled his Lamborghini was named by police as Austin from Colorado, who was checked out of the hospital before being charged with reckless driving and illegal speed contest, otherwise known as street racing.
The other Lamborghini driver fled the scene, without police being able to catch his number plate. They are requesting that local businesses look at their camera footage to see if they caught any identification of the car.
A conviction of speed contest in California can result in 90 days of jail time along with fines of up to $1,000.
Join our commenting forum
Join thought-provoking conversations, follow other Independent readers and see their replies