Larry Nassar: Judge says 'no way' will she punish abuse victims' father for trying to attack disgraced doctor
The judge said: 'I understand your anger. Wait — I don't understand. I can't possibly imagine.'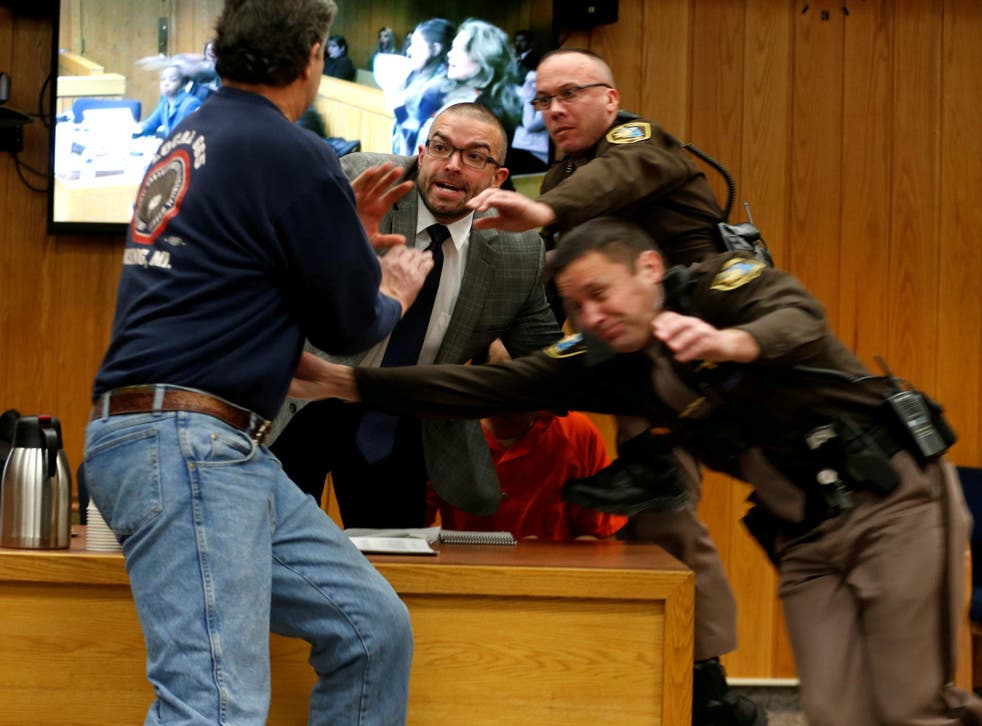 A Michigan judge has said "there is no way" the court would punish the father of three of Larry Nassar's victims attempted to attack the former US Gymnastics doctor.
Eaton County Circuit Judge Janice Cunningham said to Randall Margraves that she "could charge you with contempt. I could put you in jail. I could fine you up to $7,500. I don't want to do that."
Two of Mr Margraves daughters, Lauren and Madison Rae, had just given their victim impact statements when Mr Margraves requested a few minutes alone with the convicted sex predator and charged at him.
He was blocked by Nasser's attorney, pinned down, and taken to a holding cell for the duration of the second day of Nassar's sentencing hearing.
Mr Margraves apologised to the court: "I lost control and I apologise 100 times. I'm not here to upstage my daughters. I'm here to help them heal."
While Ms Cunningham did issue a warning to he and everyone in the courtroom against "vigilantism," she also noted: "I understand your anger. Wait — I don't understand. I can't possibly imagine."
Nasser was a sports doctor at Michigan State University and abused approximately 150 young athletes, often under the guise of medical treatment. Mr Margraves third daughter Morgan was among them.
Some of his victims included 2012 Olympic gold medal-winning gymnasts McKayla Maroney, and Aly Raisman, who gave statements in front of Nasser in his other sentencing trial.
World news in pictures

Show all 50
In that case, Judge Rosemarie Aquilina said to Nassar: "Your decision to assault was precise, calculated, manipulative, devious, despicable. I don't have to add words because you survivors have said all of that and I don't want to repeat it."
"I've just signed your death warrant," Ms Aquilina said during the sentencing hearing.
She sentenced Nasser up to 175 years in prison following the testimony of 160 women.
He has also separately been sentenced to 60 years on child pornography charges as well.
Join our new commenting forum
Join thought-provoking conversations, follow other Independent readers and see their replies