Las Vegas shooting: Death toll rises to 58 with more than 500 people injured in massacre
The FBI has found no connection to international terrorist groups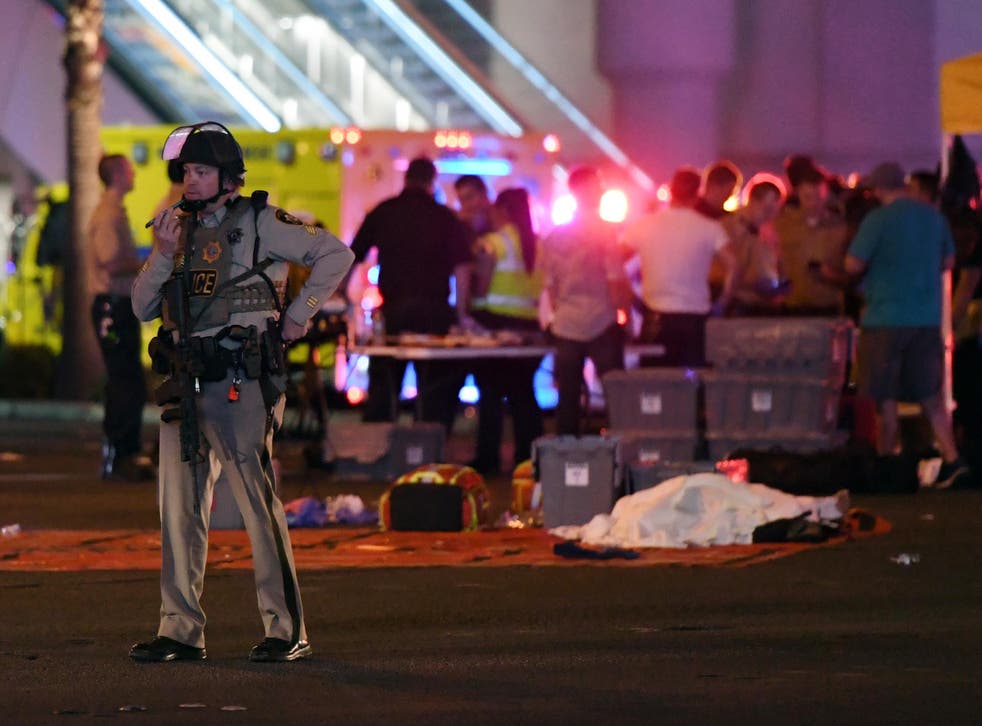 At least 58 people have been killed in the Las Vegas mass shooting, with 515 people injured, according to police.
The number may have increased to 59 in the few minutes it took Clark County Sheriff Joseph Lombardo to brief reporters.
"As the hours go by, that number continues to increase," Mr Lombardo said.
The night before, a Nevada resident had opened fire on a concert near Mandalay Bay Resort and Casino. Mr Lombardo said the shooter used a hammer-like device to break open the window of his 32nd-story room and rain gunfire on the concert-goers. Police believe he was armed with at least 10 weapons.
The man identified as the shooter, 64-year-old Stephen Paddock, killed himself after the shooting, police said.
Las Vegas shooting – in pictures

Show all 15
Mr Lombardo maintained the shooter acted alone, although one woman remains a person of interest. The woman, Marilou Danley, is out of the country, but has made contact with officers. Mr Lombardo said the department plans to "engage" her as soon as she returns.
Mr Paddock had no prior criminal record, Mr Lomabardo said.
While ISIS has claimed responsibility for the attack, an FBI spokesperson said the agency had determined no connection to any international terrorist organisation.
Las Vegas shooting witness recounts woman telling crowd "they were all going to die" before attack
Mr Lomabrdo said the law enforcement agencies had completed their search of Mr Paddock's room at Mandalay Bay, and were turning their attention to his property in northern Nevada. FBI agents were on the scene and awaiting a search warrant at the time of the press conference.
Clark County District Attorney Steve Wolfson underscored the severity of the incident, which has been deemed the deadliest mass shooting in US history.
"This is a weapon, and a man, of mass destruction," Mr Wolfson said.
Las Vegas Mayor Carolyn Goodman praised the actions of first responders and the everyday residents of Las Vegas. She said off-duty police officers in the crowd had helped victims find shelter, and passerby had ushered those fleeing the scene into their cars.
"This is a crazed lunatic full of hate. We don't know much about his background," she said of Mr Paddock. "But it's certainly not an extension about what we believe in."
Congresswoman Dina Titus, who represents Nevada's first congressional district, offered similar praise.
"That's the kind of people we have here in Las Vegas, who are willing to reach out and help one another," she said.
Officials are asking for donations of blood to help the more than 500 wounded. Donations should be made to the United Blood Services or University Medical Centre in Las Vegas.
Join our new commenting forum
Join thought-provoking conversations, follow other Independent readers and see their replies