Las Vegas victim's father pays tribute to 'hero' son who died shielding wife from hail of bullets
James Warren Melton says it is first time he has 'ever hated anyone' in shape of murderer Stephen Paddock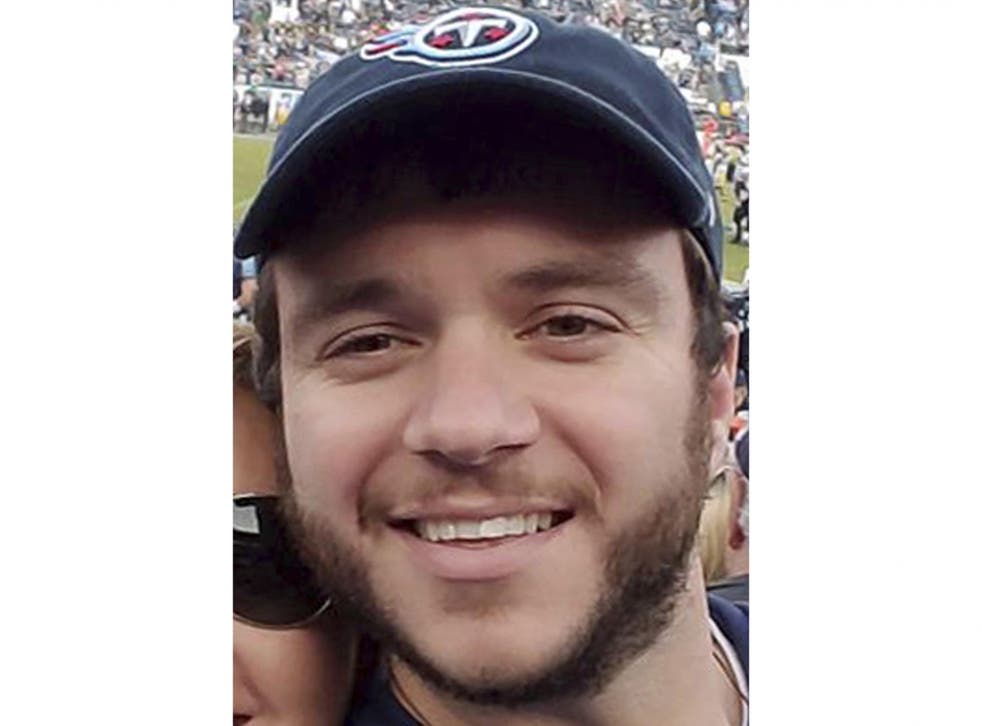 The father of a man who died protecting his wife during the Las Vegas shooting has spoken out in an emotional Facebook post.
Sonny Melton, the first confirmed victim of the shooting, shielded his wife Heather from the hail of bullets coming from the 32nd floor of the Mandalay Bay Resort and Casino, according to his father.
James Warren Melton's message has been widely shared across the internet in recent days after a friend of Mr Melton posted it to social media.
Calling his son a "hero right up until the bullets pierced his back and lungs and he couldn't go on", Mr Melton said it was the first time he had "ever hated anyone" in Stephen Paddock, the man who committed the atrocity.
"As Sonny and Heather ran away from the sniper, he always kept his own body between the danger and his wife. A running human shield. Heather says he had his hands on her shoulders and she felt him get hit and start to fall," Mr Melton wrote.
"And even though she was only a few yards from the safety of a concrete retaining wall, she stopped and turned around to kneel by his side. She made a quick exam and yelled for help as dozens of others fell around them.
Police officer saves cancer patient from Las Vegas massacre
"Bullets hitting the concrete so near that the resulting dust irritated her eyes. But she stayed right there and started CPR there out in the open on the cold ground in a last ditch chance to save her husband.
"Don't you see, Heather is a hero also. Protected by nothing more than the grace of God's invisible hands, she stayed with him and I'm comforted now knowing my son didn't have to die alone."
Mr Melton went on to describe how two "angels" who were also at the concert has rescued the pair before taking them in a pick-up truck to the nearest hospital, where Sonny was pronounced dead.
"The grief has us now firmly in its relentless grip and this evil day has lasted way too long," he wrote. "Once again my prayer is to just be sleep stupid and have this sadness go away, even for just a few hours till I wake to my new, changed and darker world.
"Sonny was a hero."
Las Vegas shooting – in pictures

Show all 15
Paddock murdered 58 people and left more than 500 injured before killing himself on 1 October, the worst mass shooting in US history.
Join our new commenting forum
Join thought-provoking conversations, follow other Independent readers and see their replies