Little Miss Flint meets Donald Trump, appears terrified
The now 9-year-old activist became a household name after writing President Obama a letter inviting him to Flint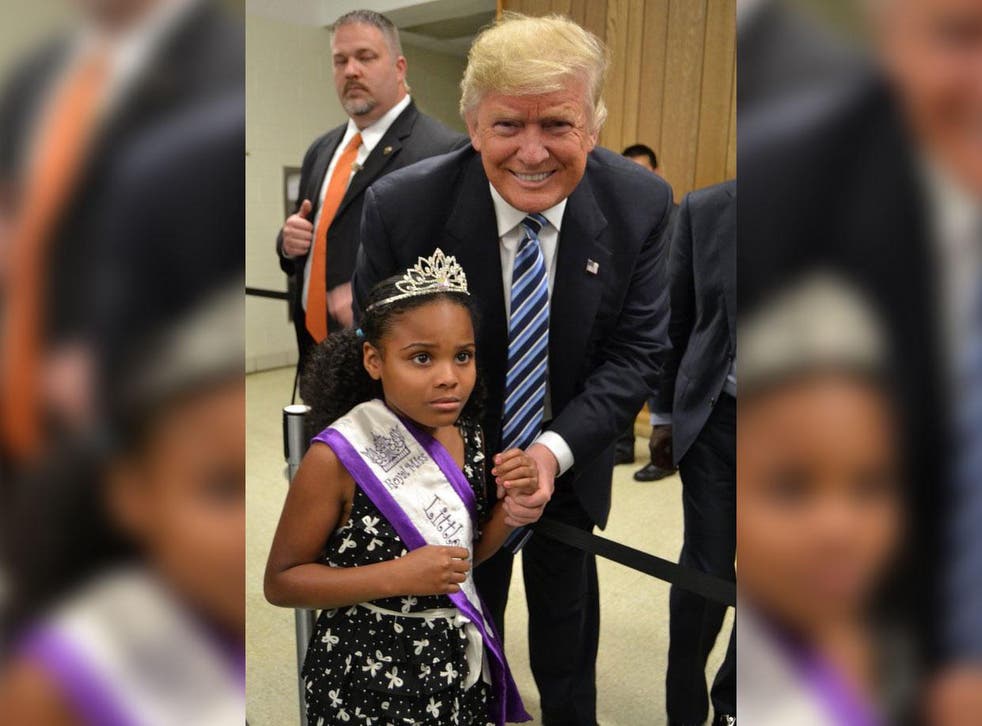 Donald Trump did not receive the hero's welcome he likely expected during his recent visit to Flint, Michigan, amid the city's ongoing water contamination crisis – and in a photo with 9-year-old activist Little Miss Flint, the negative feelings from the town are quite visible.
Little Miss Flint, whose real name is Amariyanna Copeny, became the de facto mascot Flint's recovery efforts when she wrote a letter to President Barack Obama about the water crisis in May. And she was in the audience for Mr Trump's speech at the Bethel United Methodist Church on Wednesday.
In a photo with Copeny and Mr Trump, the young activist did not appear happy to see the Republican, whose talk was cut short by the church pastor as he attempted to deride Hillary Clinton.
People who will flee America if Donald Trump wins

Show all 8
The photo stands in stark contrast of another picture taken in May of Copeny and Mr Obama mid-embrace following his address to the city in May.
Copeny's mother, LuLu Brezzell, said she remains undecided about the election and wanted to see what Mr Trump could bring to the discussion.
"Hillary's been here, we hear what she had to say," Ms Brezzell told the Flint Journal. "Now I want to hear what [Mr Trump] has to say."
Ms Brezzell said her family has dealt with the effects of the high levels of lead in the city's water supply, which includes rashes. But she said Mr Trump had not yet said much about Flint, and she was curious about how he planned to help.
Flint pastor interrupts Donald Trump
"I don't expect him to come in here and say I'm going to wave a magic wand and fix it," she said. "It doesn't work like that, but I do want to hear what he can offer the city if he becomes elected."
Copeny wrote a letter to Mr Obama in April when she was 8, and the president promptly replied weeks before he visited the city to address the crisis.
"I am one of the children that is affected by this water, and I've been doing my best to march in protest and to speak out for all the kids that live here in Flint," she wrote.
Mr Obama replied: "I want to make sure people like you and your family are receiving the help you need and deserve. Like you, I'll use my voice to call for change and help lift up your community."
The water contamination occurred after a state-appointed emergency manager switched the city's water supply from Lake Huron to the untreated Flint river in April 2014 to save money.The water leached lead from old pipes, which tainted the supply that flowed to sinks and showers of Flint homes.
At least nine government officials have received criminal charges.
Register for free to continue reading
Registration is a free and easy way to support our truly independent journalism
By registering, you will also enjoy limited access to Premium articles, exclusive newsletters, commenting, and virtual events with our leading journalists
Already have an account? sign in
Register for free to continue reading
Registration is a free and easy way to support our truly independent journalism
By registering, you will also enjoy limited access to Premium articles, exclusive newsletters, commenting, and virtual events with our leading journalists
Already have an account? sign in