Los Angeles temperature hits 98 degrees beating 131 year record
Forecasters warn it could be deadly for the elderly, children and outdoor workers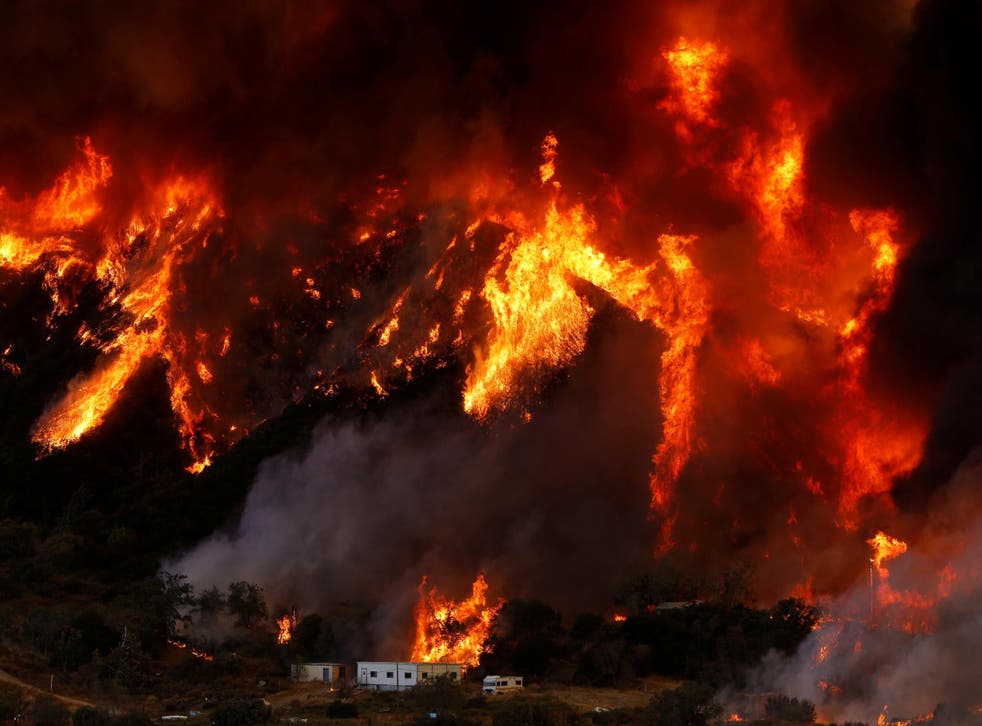 A high temperature record that stood for 131 years in Los Angeles has been shattered by a blistering heat wave.
Southern Californians have flocked to beaches and have gone in search of water, shade and air conditioning to escape the excessive heat.
The temperature has spiked at 98 degrees in downtown Los Angeles this year, topping the previous record of 95 degrees set in 1886, according to the National Weather Service.
Forecasters warned that triple-digit temperatures up to 110 degrees would be common in some inland areas and could be deadly for the elderly, children and outdoor workers.
Air quality was also measured at unhealthy and very unhealthy levels in inland areas.
The news came as two wildfires broke out in California and quickly spread, leaving hundreds of homes at risk and forcing evacuations at a popular resort.
Children and counsellors were temporarily trapped by flames when a fire started at a summer camp, according to a fire official.
A fire that started over the weekend in California's Santa Barbara County had spread to both sides of Highway 154 and was "completely out of control," county fire Captain Dave Zaniboni said.
About 90 children and 50 counsellors were struck at the Circle V Ranch and had to take shelter there until they could be safely evacuated.
High temps and dry gusts tripled the size of another Santa Barbara wildfire to nearly 30 square miles and forced evacuations of about 200 homes in a rural area east of Santa Maria, fire spokesman Kirk Sturm said.
Thousands flee ferocious California wildfires
In Northern California, a Butte County wildfire swept through grassy foothills and destroyed 10 structures, including homes, and led to several minor injuries.
Burned-out pickup trucks were left in ashes, surrounded by charred, leafless trees. The metal frame of a mobile home and a vintage stove were left standing in scorched debris at one site.
The blaze about 60 miles north of Sacramento grew rapidly to more than four square miles and was 20 per cent contained, according to the California Department of Forestry and Fire Protection.
After five years of severe drought, California got a big break with record rainfall and snowpack in parts of the state this year that has delayed the start of fire season in some places, but has also led to explosive vegetation growth that could fuel future fires.
Mansions burn in California wildfires

Show all 7
The state is set to host its own climate change conference on the Paris Agreement in 2018.
Governor Jerry Brown is looking to position the state as a leader in combating global warming on the heels of Donald Trump withdrawing the US from the global accord signed by nearly 200 countries.
The summit set for 2018 in San Francisco will mark the first time a state is hosting a climate gathering aimed at upholding the goals of the Paris deal.
Additional reporting by agencies
Join our new commenting forum
Join thought-provoking conversations, follow other Independent readers and see their replies