Los Angeles police shoot unarmed man in the head who 'waved at them for help with a towel'
'This person then extended their arm, which was wrapped in a towel'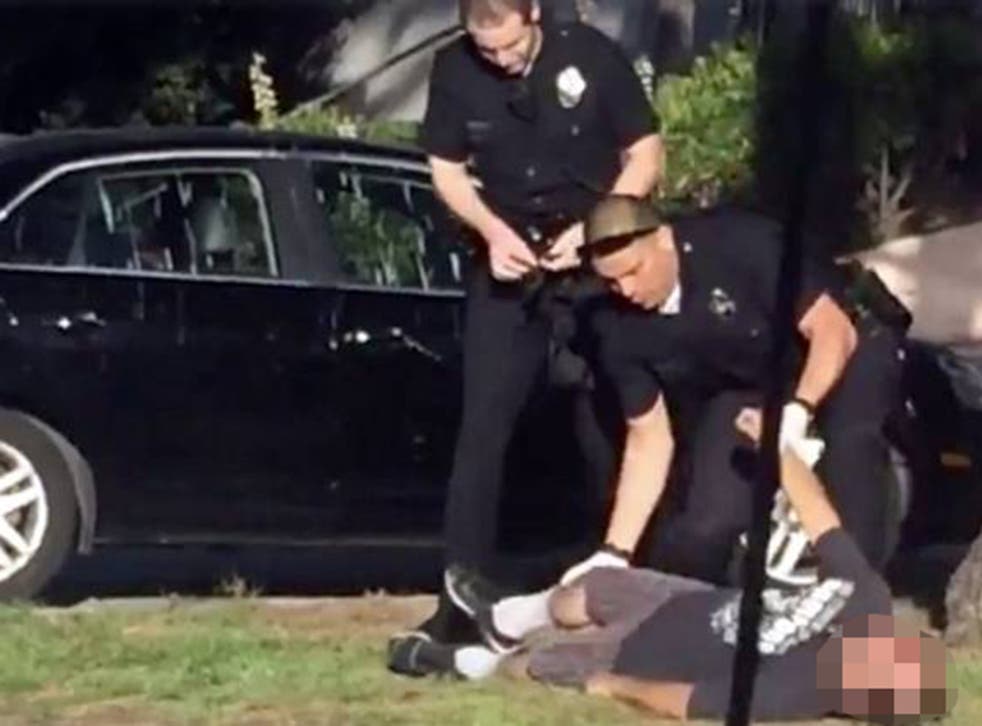 A Los Angeles Police Department officer shot a man in the head after he attempted to flag down officers for help with a towel in his hand.
Officers responded to the scene following an officer-needs-help call in the area, CBS Los Angeles reported.
The officers believed the man was holding a gun and, after ordering him to drop the alleged weapon, officers fired four shots. One of the rounds appeared to shoot the suspect in the head. A motorist posted graphic video of the scene online — which was widely shared on social media — showing the man rolled over and cuffed by police.
"The officers stopped to investigate and see what was needed," LAPD spokesman John Jenal told NBC Los Angeles. "This person then extended their arm, which was wrapped in a towel."
LAPD Commander Andrew Smith told the Los Angeles Times that the officers were following standard procedure for cuffing the man who seemingly had a gaping gunshot wound to the head with blood pouring from it.
Mr Smith said the man was standing on the side of the road asking for the officers' help yelling: "Police, police."
However, police said no weapons were found and only a towel was recovered from the scene.
LAPD officers have fatally shot 589 suspects from 2000 to 2014 — a total of nearly one person per week, according to research from the Young Justice Coalition.
The LAPD is working with families to identify the man who remains in critical condition at a local hospital.
Join our new commenting forum
Join thought-provoking conversations, follow other Independent readers and see their replies