Wife of pastor arrested for nearly hitting protester with church bus flashes wads of cash as she bails him out
Tony Spell was arrested for reversing a bus towards a man who was protesting the pastor's insistence on holding in person church services
Louisiana pastor arrested over footage of him backing bus toward protestor
The Apostle Paul was jailed in Rome for preaching that Jesus Christ was God. Some 2,000 years later, another evangelist - Louisiana Pastor Tony Spell - was jailed for trying to hit a protester with a bus.
While legend holds that Paul was eventually beheaded by Emperor Nero, Mr Spell will have to suffer no such fate; his wife, Shaye, flashed $5,000 at the local jail, made bail, and brought her husband home.
Spell has been in the news for defying state stay-at-home orders for the purpose of holding his church services. He believes his church should be recognised as an "essential service" and that the coronavirus is politically motivated.
The pastor has been under scrutiny by the state for continuing to hold in-person church services despite state social distancing guidelines.
WAFB 9 News in Louisiana reported that Spell was taken into custody and jailed in the East Baton Rouge Parish Prison on Tuesday. He was released later that day after his wife bailed him out.
Police in Central, Louisiana issued a warrant for his arrest, accusing him of aggravated assault with a deadly weapon for an incident in which he allegedly backed a church bus dangerously close to a man protesting the church services.
A security camera caught the incident on tape.
Shaye Spell bailed him out by noon on Tuesday, fanning out the $5,000 bail for the cameras and her supporters to see.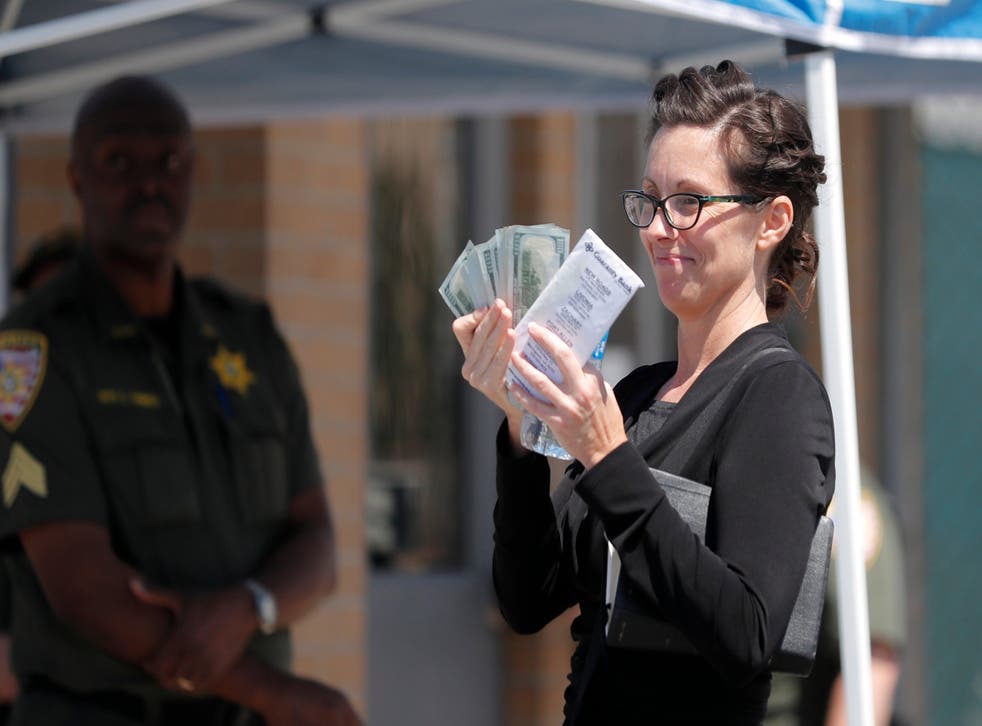 As Spell emerged from the jail, he flashed a "V" for victory sign and his gathered flock, hands raised in worship, cheered.
After being released, Spell gave a press conference, telling reporters: "I am not guilty of any charges that I have been accused of. I am not guilty of assault with a deadly weapon. I am not guilty of defying any orders. The only thing I am guilty of is practising my faith, which was given to me by Jesus Christ himself."
The man who Spell was accused of attempting to hit has been holding signs outside the church, calling it a "coronavirus incubator." The protester, Trey Bennett, was at the jail when Spell was released, holding a sign that said "close this church".
Spell has long maintained that he is within his rights to hold in-person church services regardless of the health risk it might pose.
"We hold these truths to be self-evident, that all men are created equal and are endowed by the creator with certain inalienable rights.My rights to have church and to preach the gospel of Jesus Christ are endowed to me by my creator, not my district attorney, not my chief of police, and not my governor, not my president and not my department of justice," he said.
Spell claimed that part of his inalienable rights was to "assemble and have church" and said he "cannot give up those rights."
The state's stay-at-home order - which may be lifted when it expires on 1 May - limits gathering in large groups, such as church services.
While that guideline worked for Jesus - "wherever two or three gather in my name, there am I among them" - Spell has stricter definitions of what constitutes a church.
In addition to flagrantly defying the state's stay-at-home order, he also earned the public's ire for soliciting his followers to donate their $1,200 government stimulus checks to the church.
"We are challenging you, if you can, give your stimulus package to evangelists and missionaries, who do not get the stimulus package," he told CNN.
Join our new commenting forum
Join thought-provoking conversations, follow other Independent readers and see their replies