Woman kicked off flight for wearing 'inappropriate shorts'
Burlesque dancer Maggie McMuffin was told to change her clothes or go home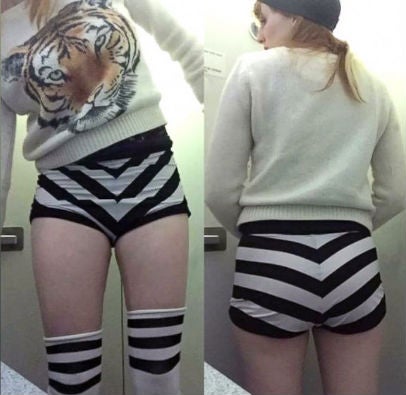 A woman who was told she could not board a plane because of her "inappropriate" shorts has accused the airline of "body-shaming and slut-shaming".
A burlesque dancer who goes by the stage name Maggie McMuffin was waiting for a Seattle-bound flight at Boston airport when an airline worker at the gate said she would not be allowed to board.
"[She] told me that she was really sorry for bringing this up but just what I was wearing was not appropriate and the flight crew had discussed it and the pilot had decided that I needed to put something else on or I would not be allowed to board the flight," she told local news channel Kiro 7.
The passenger was wearing knee-high socks, striped shorts and a long-sleeved sweater.
"I would say body-shaming and slut-shaming more than outright sexism, but it is really hard to remove those two things from misogyny," she told KOMO-TV.
Ms McMuffin had no other clothes in her carry-on luggage, but she offered to tie the sweater around her waist or wrap herself in a blanket, but the airline refused.
"I feel like it's just a symptom of our patriarchal society that women are sold scantily clad things and if we choose to wear them we can be punished for that," she said.
It was the first time she had been approached after flying from New York to Boston earlier that day, and going through security checkpoints at both airports without delay.
The dancer then bought another pair of shorts for $22 at the airport so she could board the jetBlue plane.
jetBlue responded in a statement: "The gate and on board crew discussed the customer's clothing and determined that the burlesque shorts may offend other families on the flight. While the customer was not denied boarding, the crew members politely asked if she could change. The customer agreed and continued on the flight without interruption."
Ms McMuffin said she had made no mention of her profession to the airline either before or after the incident.
She added that the pilot had made the final decision, so it was difficult for passengers to know which "rules" they were breaking.
The airline statement continued: "We support our crew members' discretion to make these difficult decisions, and we decided to reimburse the customer for the cost of the new shorts and offered a credit for future flight as a good will gesture."
She was refunded for the shorts and received a $200 credit.
Join our commenting forum
Join thought-provoking conversations, follow other Independent readers and see their replies