Marine Le Pen says Hillary Clinton would bring 'war' and 'devastation'
The leader of right-wing National Front party in France said 'anything is better' than the Democratic candidate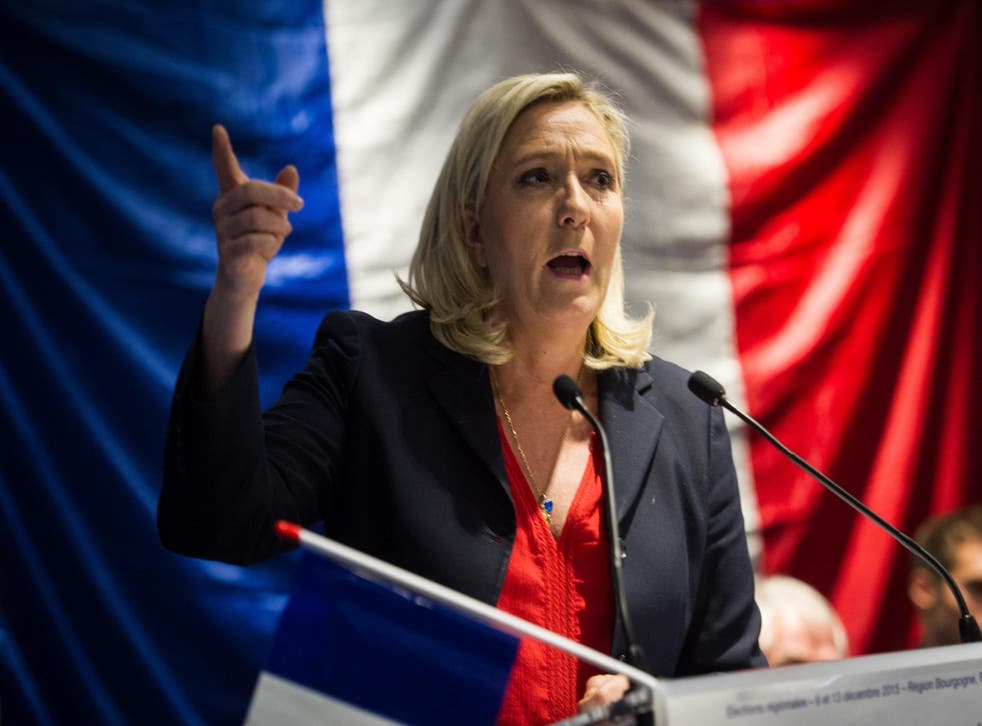 The leader of the National Front party in France has said that "anything is better" than having Hillary Clinton as president of the US.
Speaking to CNN, Marine Le Pen said the Democrat would being war, devastation and "world instability".
"She would be a disaster for my people," said the 2017 French presidential candidate.
"Leading us to world conflict that would have heavy consequences. So anything but her. There."
Although Ms Le Pen would not say directly that she would vote for Donald Trump, she praised the candidate for wanting to control immigration and the talk of a wall on the Mexican border was "symbolic". Mr Trump said in Arizona on Wednesday evening that the wall would be a physical structure, with armed guards and surveillance towers.
"What we have in common is that we're not insiders, we are not taking part in the 'system', we depend on no one and do not take our orders from any financial institutions," she said, adding that being out of the mainstream also worked for Ms Clinton's former rival, Bernie Sanders.
The National Front has become more popular due to the party's rhetoric against immigration and refugees in the wake of a series of devastating terrorist attacks in Paris and Nice.
Polls predict she will succeed in the first round of the election in May next year, but she will lose in the second round to a mainstream candidate. The majority of French people still do not want her to be president, as reported by Reuters.
Ms Le Pen added that Britain's succession from the European Union was not the "catastrophe" that some had predicted, and she did not rule out a so-called "Frexit" if she became president of France.
Her comments come just a few weeks after Nigel Farage, leader of the UKIP party, spoke at a Donald Trump rally, urging voters to stand up to the establishment.
Mr Trump has been criticised for his disparaging comments about deporting Muslims, banning Mexican immigrants and calling women "pigs" and "bimbos".
Ms Le Pen has sought to distance herself from such rhetoric after she expelled her father Jean Marie Le Pen, the previous National Front leader, from the party in August last year.
Register for free to continue reading
Registration is a free and easy way to support our truly independent journalism
By registering, you will also enjoy limited access to Premium articles, exclusive newsletters, commenting, and virtual events with our leading journalists
Already have an account? sign in
Register for free to continue reading
Registration is a free and easy way to support our truly independent journalism
By registering, you will also enjoy limited access to Premium articles, exclusive newsletters, commenting, and virtual events with our leading journalists
Already have an account? sign in
Join our new commenting forum
Join thought-provoking conversations, follow other Independent readers and see their replies