Massive manhunt underway in New York as prisoners escape maximum-security jail in Shawshank Redemption-style break-out
New York Governor Andrew Cuomo says someone must have heard them escape
Andrew Buncombe
Wednesday 10 June 2015 08:10 Comments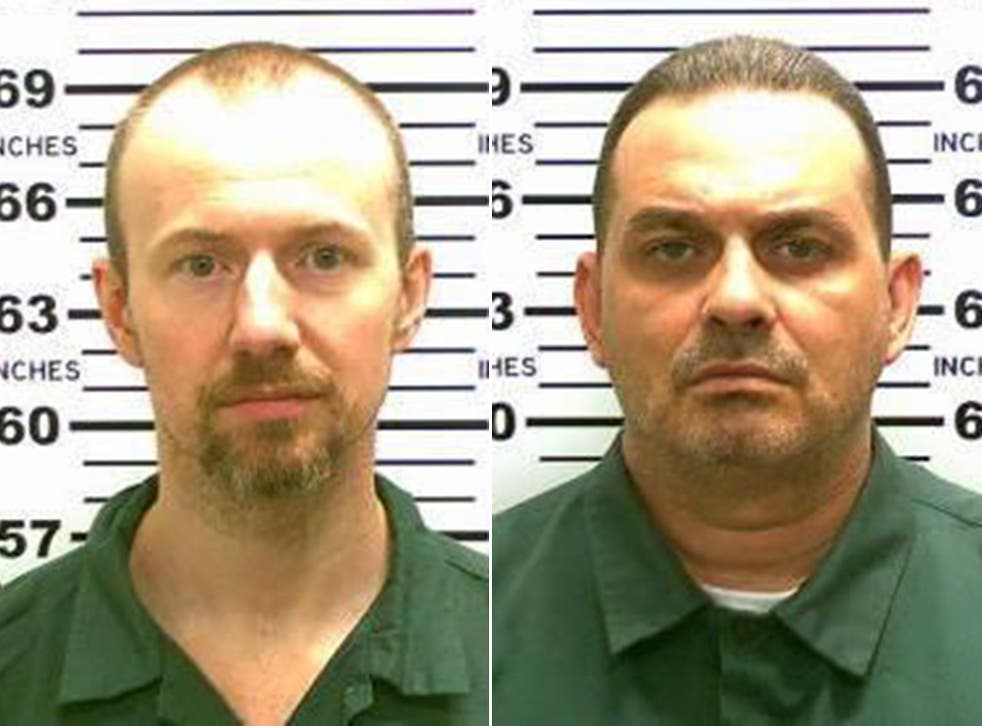 Hundreds of police officers, helped by bloodhounds and helicopters, are engaged in a massive hunt for two convicted killers who cut through steel and squeezed through a steam pipe to escape from a maximum security jail. The men left a note for the authorities that said: "Have a nice day".
In scenes that some have likened to the character Andy Dufresne's escape in the movie The ShawShank Redemption, one man imprisoned for killing a police officer and the second who dismembered his boss, managed to escape form the facility close to the Canadian border.
On Sunday morning, New York Governor Andrew Cuomo said prisoners Richard Matt and David Sweat staged "a really elaborate, sophisticated operation" that involved the use of power tools and ended at a manhole cover blocks away from the prison. He said the escape must have been overheard by someone.
"They were heard, they had to be heard," Mr Cuomo told ABC's Good Morning America.
The Associated Press said the men had piled clothes inside their beds at the Clinton Correctional Facility to make it appear their were asleep in their cells. Their note, written on a square of yellow paper, included a smiling, bucktoothed face.
Reports said that Sweat, 34, was serving a sentence of life without parole after he was convicted of killing a sheriff's deputy in Broome County, New York in 2002. Meanwhile, Matt, 48, was serving a sentence of 25 years to life for the kidnapping, dismemberment and killing of his former boss in 1997.
Steven Tarsia, the brother of police officer Kevin Tarsia, said finding out his brother's killer had escaped "turns your world upside-down all over again".
He told the AP he could not understand how the men could have obtained power tools and escaped without help. Yet, he added: "I don't know why anybody would help them."
Roadblocks were set up in the area and police were using dogs and helicopters to try and locate the escapees.
"It's very important that we locate these individuals," said Mr Cuomo. "They are dangerous and we want to make sure they don't inflict any more pain and any more harm on New Yorkers."
It appears the men escaped overnight on Friday and that their adjoining cells were found to be empty on Saturday morning.
"A search revealed that there was a hole cut out of the back of the cell through which these inmates escaped," said Anthony Annucci, New York's acting state corrections commissioner.
"They went onto a catwalk which is about six stories high. We estimate they climbed down and had power tools and were able to get out to this facility through tunnels, cutting away at several spots."
Investigators were investigating how the men acquired the tools. Officials said it was the first escape from the maximum-security portion of the prison, which was built in 1865.
Canadian officials are said to be concerned the men may attempt to enter Canada through Ontario or Quebec, and safety alerts have been broadcast to police officers in the Greater Toronto Area.
The police described Matt as six feet tall and weighing 210 pounds. He has black hair and hazel eyes, officials said. He has a tattoo on his back that says "Mexico Forever," hearts tattooed on his chest and left shoulder and a Marine Corps insignia tattooed on his right, according to the New York Times.
Sweat is five feet, 11 inches tall and weighs 165 pounds, the police said. He has brown hair and green eyes, and tattoos on his left biceps and his right fingers, according to the police.
It was not Matt's first escape. Officials said he had escaped from an Erie County jail in June 1986. He was eventually caught and returned to prison, where he served time for that crime and for forgery.
Register for free to continue reading
Registration is a free and easy way to support our truly independent journalism
By registering, you will also enjoy limited access to Premium articles, exclusive newsletters, commenting, and virtual events with our leading journalists
Already have an account? sign in
Join our new commenting forum
Join thought-provoking conversations, follow other Independent readers and see their replies