Matt Gaetz accusations: What are the laws of sexual consent in Florida?
Investigation has brought attention to Florida's Romeo and Juliet Law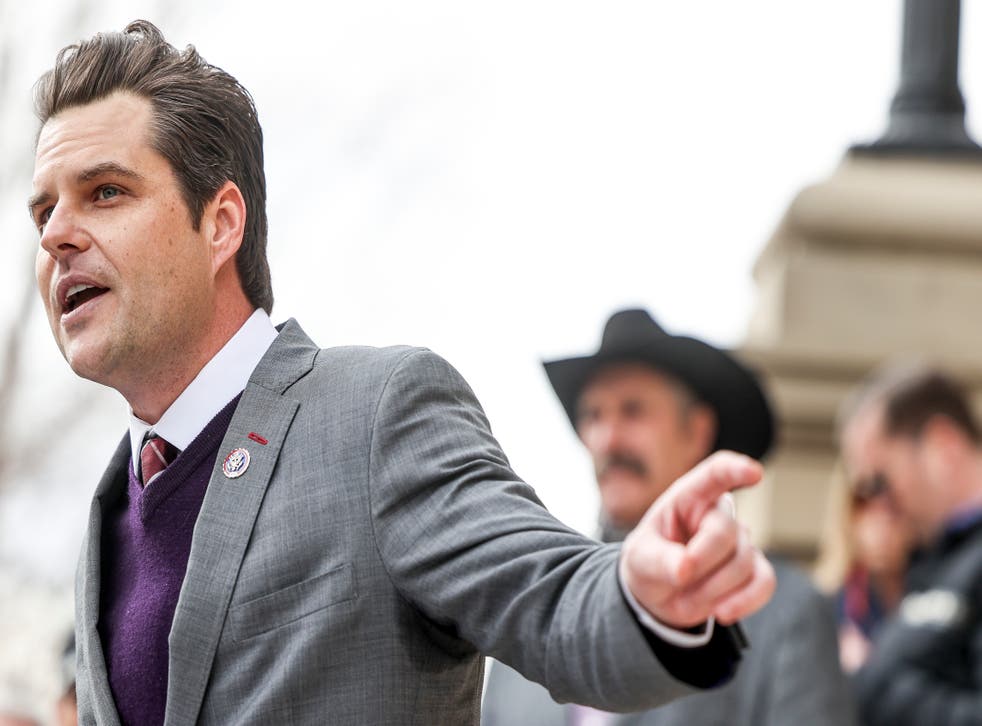 Leer en Español
A Florida Republican representative is being investigated by the US Department of Justice for an alleged sexual relationship with a minor.
Investigators are examining whether Matt Gaetz, 38, of Florida violated the federal sex trafficking law two years ago. Mr Gaetz was a close aide of former US president Donald Trump. The DOJ launched the investigation into Mr Gaetz in the final few months of the Trump administration, the New York Times first reported.
In 2017 Mr Gaetz was the only member of Congress to vote against an anti-human trafficking bill. This bill gave the federal government more money to fight the illegal human trade across the country.
The Republican representative had in a Facebook Live defended his solo stance against the bill. Mr Gaetz, as per news reports, had said that he voted against the bill because it "represented mission creep in creating the committee at the federal level." He further elaborated: "Unless there is an overwhelming, compelling reason that our existing agencies in the federal government can't handle that problem, I vote no because voters in Northwest Florida did not send me to Washington to go and create more federal government."
In a New York Times exclusive, three sources with knowledge of the case said that the extent of Mr Gaetz's criminal exposure was unclear and that no charges have been brought against him.
Read more:
Confirming the DOJ investigation against him, Mr Gaetz told reporters, "The allegations against me are as searing as they are false. I believe that there are people at the Department of Justice who are trying to criminalise my sexual conduct, you know when I was a single guy."
The news of his alleged sexual relationship with a 17-year old came soon after reports claimed that Mr Gaetz was considering an early retirement from Congress. He was believed to be set to join the far-right news outlet Newsmax.
In a statement released on Tuesday, Mr Gaetz claimed that a former DOJ official was seeking $25m from him and his family. "Over the past several weeks my family and I have been victims of an organised criminal extortion involving a former DOJ official seeking $25 million while threatening to smear my name."
He added that the New York Times story was intended to thwart the FBI investigation. "We have been cooperating with federal authorities in this matter and my father has even been wearing a wire at the FBI's direction to catch these criminals.".
He demanded that the DOJ immediately release the tapes, "made at their direction, which implicates their former colleague in crimes against me based on false allegations."
Matt Gaetz, in an interview, said that he didn't travel with a 17-year old, calling the allegation "verifiably false" and asked for his travel record to be checked.
The allegations against Mr Gaetz have brought into the limelight Florida's Romeo and Juliet Law. State legislators in 2007 enacted a major exception to Florida's consent laws, according to which minors aged 16 or 17 are allowed to engage in sexual intercourse with a partner no older than age 23.
The Romeo and Juliet law was passed amid widespread concerns that high school students engaging in consensual sex were being criminalised. According to this close-in-age exemption, any person who engages in sexual activity with someone who is 13 to 17 years of age is not illegal, given they are not more than four years older than their partner.
As per Florida's consent laws, if someone who is 18 or over has sex with someone who is below 18, it is considered illegal, even if the sex was consensual. However, in certain situations, the Romeo and Juliet law can be applied.
In a Florida Senate brief, it was noted that the sexual offender registry "provides no clear distinction between the young Romeo and Juliet sex offenders who had consensual sex and the offenders who harm children and pose a real risk to society." It added that the stigma attached with being a sex offender was lifelong and affect young people's future employment opportunities, besides others.
Since Florida's example, other states have also tried to implement such Romeo and Juliet laws. In 2016, for example, Arizona passed an exception to state consent laws allowing young people to file a petition to get off the sex offender registry.
California also recently passed a law that would begin to loosen the registration requirement for some offenders, who right now are required to register for life. Similarly in New Mexico, sex offenders' names can be removed from the registry depending on the severity of their crimes.
Join our new commenting forum
Join thought-provoking conversations, follow other Independent readers and see their replies