Business displays racist window signs about Muslims and 'Obama toilet paper'
'Obama and other Muslims not welcome here'
Rachael Revesz
Sunday 01 January 2017 19:07 Comments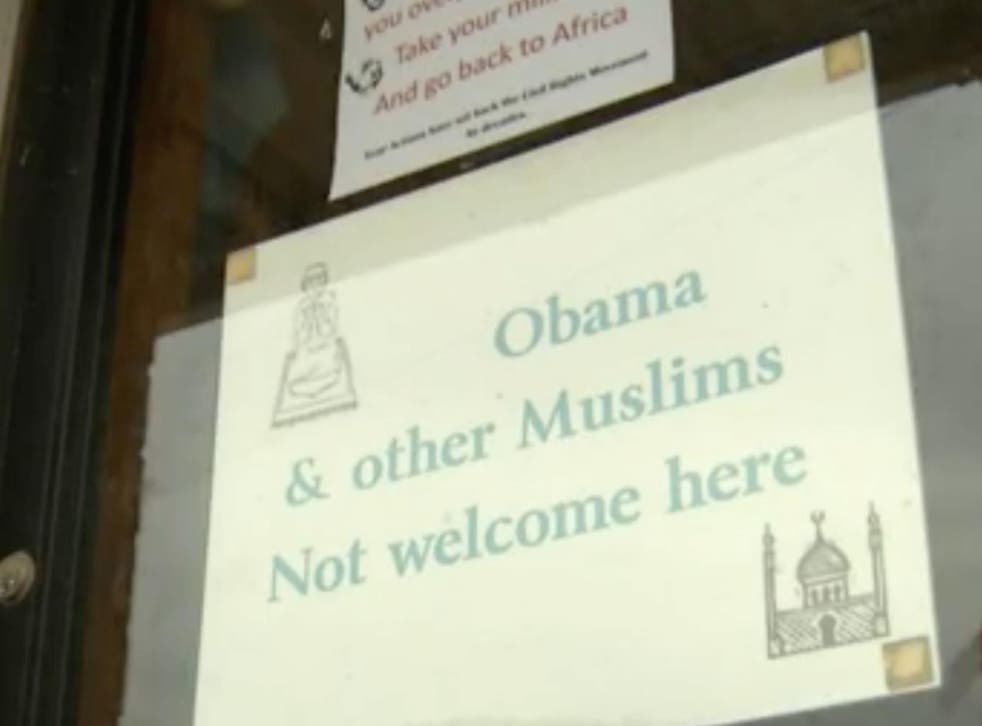 A business has faced growing calls to take down controversial window signs that target president Barack Obama, Muslims and African Americans.
The Mayhill Convenience Store in New Mexico has reportedly displayed the signs for years and has even sold them to customers.
One sign in particular reads: "Obama & other Muslims Not welcome here".
"It's been here a long time," former store employee Marlon McWilliams told KOB, adding that the owner also sold signs that targeted Hillary and Bill Clinton and advertised "Obama toilet paper".
"If you go in there and you offend him, you can't go in there no more. He turns lots of people away."
Mr McWilliams said he felt the signs, including ones that said "all lives matter", were offensive and he no longer went into the shop.
Last year the store reportedly displayed a sign which read: "Kill Obama". Another sign targeted NFL player Colin Kapaernick, who famously protested at police violence against black people by kneeling during the national anthem, calling the athlete an "overpaid half breed" who should "go back to Africa".
The signs prompted a strong backlash on social media, but KOB reported that police has not yet opened an investigation into the store as no one has made a complaint. The store is up for sale at over $350,000.
One person on Facebook said: "By posting a sign that states that only certain people can enter your convenience store, you are participating in the same discrimination that we worked so hard to eliminate many years ago."
"While everyone has the First Amendment right to free speech – even offensive speech – we urge the store's owner to remove the sign in the interest of common decency and of our nation's unity at a time of increasing divisions," said Ibrahim Hooper, national communications director of the Council of American-Islamic Relations.
CAIR said there were more than 900 anti-Muslim incidents in the month after Donald Trump was elected, including Muslim women being targeted and mosques being threatened.
The FBI found there was a 67 per cent increase of such incidents in 2015.
Register for free to continue reading
Registration is a free and easy way to support our truly independent journalism
By registering, you will also enjoy limited access to Premium articles, exclusive newsletters, commenting, and virtual events with our leading journalists
Already have an account? sign in
Join our new commenting forum
Join thought-provoking conversations, follow other Independent readers and see their replies