Meet the US embassy official who has to decide whether relationships are real
True love or a ruse to get a visa? Send for the love ambassador...
Leonie Roderick
Friday 13 February 2015 18:59 Comments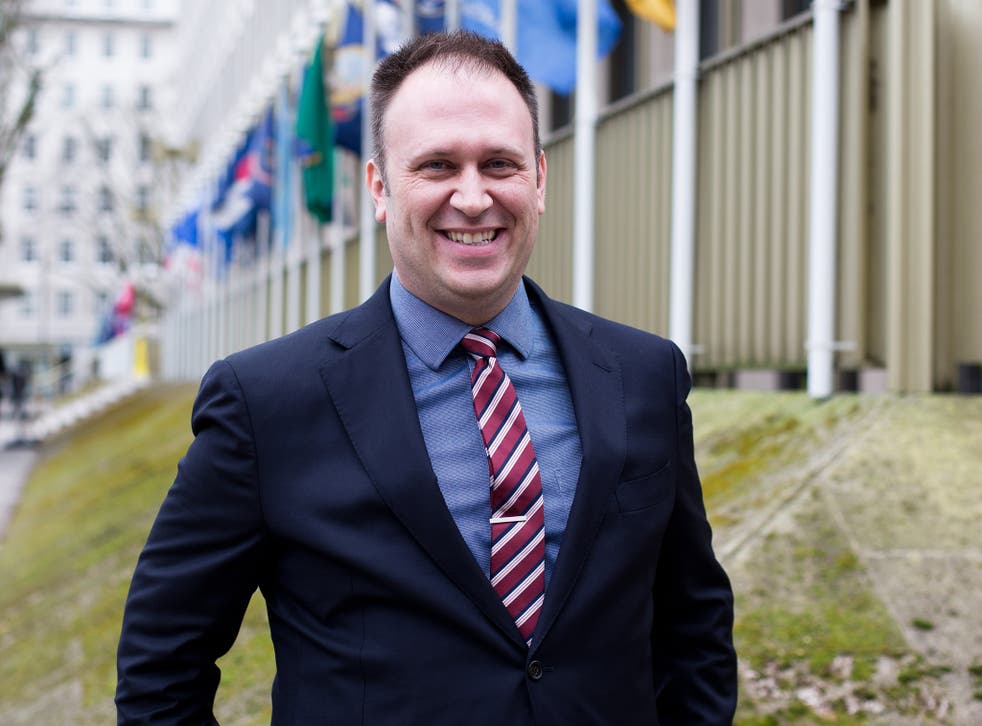 Ever since James Robinson and Elli Deak bonded over their shared love of American football, they have saved mementoes of their relationship just like any other couple. Their collection goes beyond loved-up Facebook photo albums or handmade scrapbooks, however. They needed to collate thorough evidence to demonstrate that their romance is the real deal.
While many couples want to show their love for one another on Valentine's Day, 24-year-old British-born James and his American girlfriend Elli, 22, are among those waiting to discover if they've convinced US embassy officials that their relationships are genuine, in order to get a fiancé visa allowing the couple to move to Elli's home country and tie the knot across the pond.
The application process is arduous and not for the faint-hearted – the average waiting time is seven months. Besides sending date-stamped pictures and written affidavits from both sets of parents, the American partner needs to prove that they can financially support their other half.
The non-US applicant must then undergo a medical exam, which includes blood testing for STDs and a chest X-ray.
This builds up to a final stage: an interview at the US embassy to prove that the couple's relationship is genuine.
In charge of making sure the visa interviews run smoothly is Bill Nelson, the US embassy's immigrant visa chief. On average, the embassy sees around 10 to 15 couples a day. He admits that his role is quite peculiar. "The interviews are a bit strange, but it's a requirement of what people need to do to get a visa," he says.
Mr Nelson has been trained to build rapport quickly during interviews. "Some people are incredibly nervous as the stakes are so high," he says. As a result, the officials try to be as conversational as possible. "We try and treat it like we're meeting them at a dinner party. Many people try and memorise a bunch of dates, but an easy flow of conversation is the best way to do it. We ask questions a friend would ask."
In James and Elli's case, nerves led to intense planning. "We were way over-prepared," says Elli, who is from San Diego. "We had folders filled with countless items to prove our relationship – from pictures and postcards to stamps in our passports. We must have checked our documents at least seven times in the past 48 hours."
And the couples have a good reason to be nervous – the risk of not being believed means wedding plans are off, and dreams of finally living together are shattered.
Another anxious couple are Cassondra Smith, 32, and Myles Luttman, 28. To support her British fiancé through the last interview stage, Cassondra flew over on a surprise visit from Los Angeles. Nerves were wreaking havoc the night before his assessment.
"We didn't manage to fall asleep until 4am and then we were back up at six," she says. Myles adds: "To imagine the psychology: remember the night before Christmas when you were a child? The application process is like that, but you don't know whether tomorrow is actually going to be Christmas or not."
Once the visa is approved, the couples only have 90 days to legally get married in the US. But until the visa is granted, any planning remains difficult. "It's one of the obstacles that we've had," Myles says. "We're aiming for September, But what if I'm not approved in time? You're building the foundation of your marital home on someone else's decision, which is difficult."
If any of the information doesn't add up, a visa won't be granted. "It doesn't happen frequently, but the validity of the relationship is something we have to determine," Mr Nelson says. "People can't marry solely for the purpose of going to the US." There have been situations where people only tell one side of the story. Maybe they met their partner when they were still with their first spouse, so they're resistant to tell you," he says. "But we're not here to be the moral police."
To spot any fakers, body language is closely observed. "We watch for things that people involuntarily do that they might not realise," he says. "We know what's normal behaviour, you get used to it after seeing couples every day."
One thing that Mr Nelson has learnt from his role is that there is no secret formula to a successful relationship. "We see people who meet and immediately apply for a fiancé visa, and there are others who have been together for a long time," he says. "Sometimes, couples don't seem like they have a whole lot in common. But if the relationship is genuine, we don't judge. We're all human beings."
The US embassy cherishes the fact that it's able to allow couples to get to the next stage in their lives. "It's neat that we get to be a small part of their big day," says Mr Nelson.
Register for free to continue reading
Registration is a free and easy way to support our truly independent journalism
By registering, you will also enjoy limited access to Premium articles, exclusive newsletters, commenting, and virtual events with our leading journalists
Already have an account? sign in
Join our new commenting forum
Join thought-provoking conversations, follow other Independent readers and see their replies