Melania Trump faces controversy over her official White House website biography
White House website removes references to climate change, but reportedly adds, then swiftly deletes name of Melania Trump's jewellery business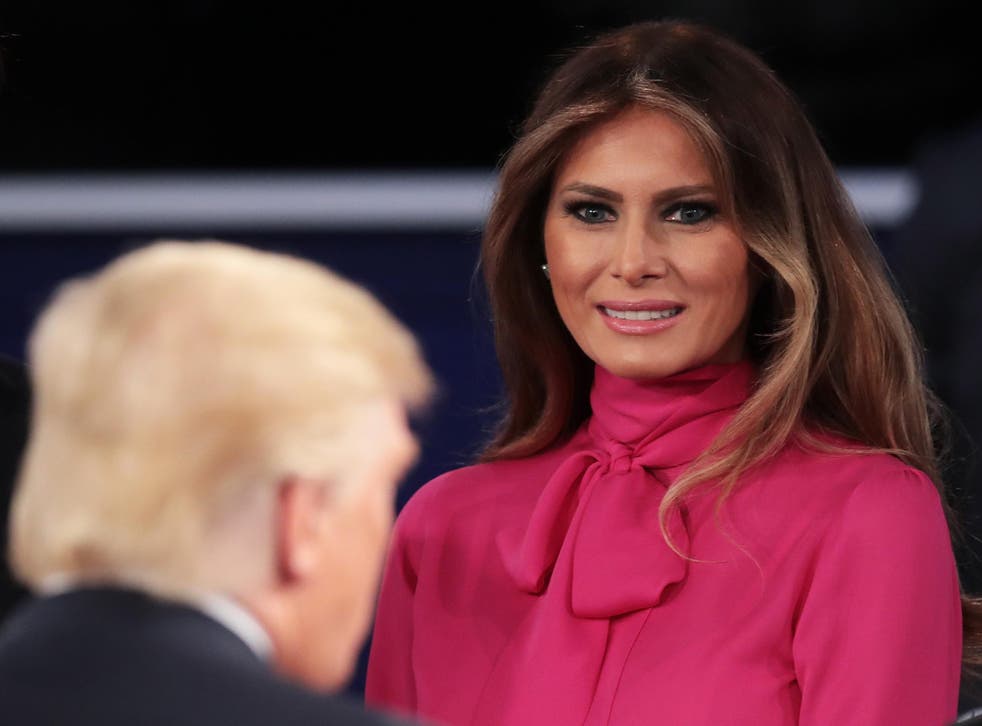 The revamped Trump White House website has reportedly added, then swiftly deleted a mention of First Lady Melania Trump's jewellery business.
At the same time that the White House website was seemingly altered to remove all mention of climate change, global warming and LGBT rights, a biography of Melania Trump was put on the site which according to the Washington Post said: "Melania is also a successful entrepreneur. In April 2010, Melania Trump launched her own jewellery collection, 'Melania™ Timepieces & Jewelry,' on QVC. [the TV shopping channel]"
The online reference was made at a time when Donald Trump is facing mounting controversy over possible conflicts of interests between his numerous commercial concerns and his presidential duties.
Trump's bizarre signature overshadows first official act as President
After the Washington Post report was published, however, the biography on the White House website was altered to delete the name of Mrs Trump's jewellery business. The 'First Lady Melania Trump' page now says: "Melania is also a successful entrepreneur. In April 2010, Melania Trump launched her own jewellery collection."
A spokesperson for Mrs Trump insisted the initial mention of the jewellery business had been intended as a mere statement of fact rather than any sort of plug. The deletion of the name of the business name, the spokesperson added, was only done out of an abundance of caution.
QVC said it does not currently sell Mrs Trump's jewellery.
The biography on the White House website did manage to get the details of Mrs Trump's education correct – in contrast to the account circulated during the election campaign which suggested she had obtained a degree in design and architecture at university in Slovenia.
This resulted in embarrassment when journalists discovered Mrs Trump had attended university but not graduated. The Trump Organisation then completely removed her biography from the company website.
The biography now on the White House website states: "She would pursue a degree at the University of Ljubljana in Slovenia, but pause her studies to advance her modelling career in Milan and Paris before moving to New York in 1996."
In pictures: Women of the world march against Trump

Show all 32
The White House website biography also goes into what some have suggested is an unusual amount of detail about Mrs Trump's media appearances.
It states: "As a model, Melania has appeared in high profile ad campaigns and worked with some of the top photographers in the fashion industry, including Patrick Demarchelier, Helmut Newton, Arthur Elgort, Ellen Von Unwerth, Peter Arnell, Antoine Verglas and Mario Testino.
"She has graced the covers of Vogue, Harper's Bazaar, British GQ, Ocean Drive, Avenue, In Style, and New York Magazine.
"Her major layouts include the Sports Illustrated Swimsuit Issue, Allure, Vogue, Self, Glamour, Vanity Fair, and Elle.
"In addition, Melania has appeared in numerous television commercials and television programs, including co-hosting The View with Barbara Walters."
The biography also lavishes praise on the generosity of the billionaire's wife.
"With a penchant and passion for the arts, architecture, design, fashion and beauty," it states, "Melania has thrived on the cultural diversification of New York City. This passion can only be surpassed by her dedication to helping others, and her generosity has been noted."
After listing a series of philanthropic commitments, the White House website adds: "In 2010, Melania was the Chairwoman for The American Heart Association which raised $1.7 million for research. Melania's philanthropic interests represent her humanitarian side, and she remains an indefatigable and dedicated New Yorker."
While not mentioning that her husband was caught on tape bragging about grabbing women's genitals, or that tens of thousands of people across the world have joined a Women's March in protest at his presidency, the White House website states: "Mrs. Trump cares deeply about issues impacting women and children."
With her husband promising to arrest and incarcerate up to three million undocumented immigrants, the White House website explains how Mrs Trump is a legally resident, foreign-born American citizen.
It states: "In 2006, Melania Trump proudly became a citizen of the United States of America. She is only the second First Lady born outside of the United States. The first since Louisa Adams, wife to John Quincy Adams, the nation's sixth president."
Join our new commenting forum
Join thought-provoking conversations, follow other Independent readers and see their replies