Melania Trump's official First Lady portrait released by White House
Photograph will do little to reassure critics she is taking active role in White House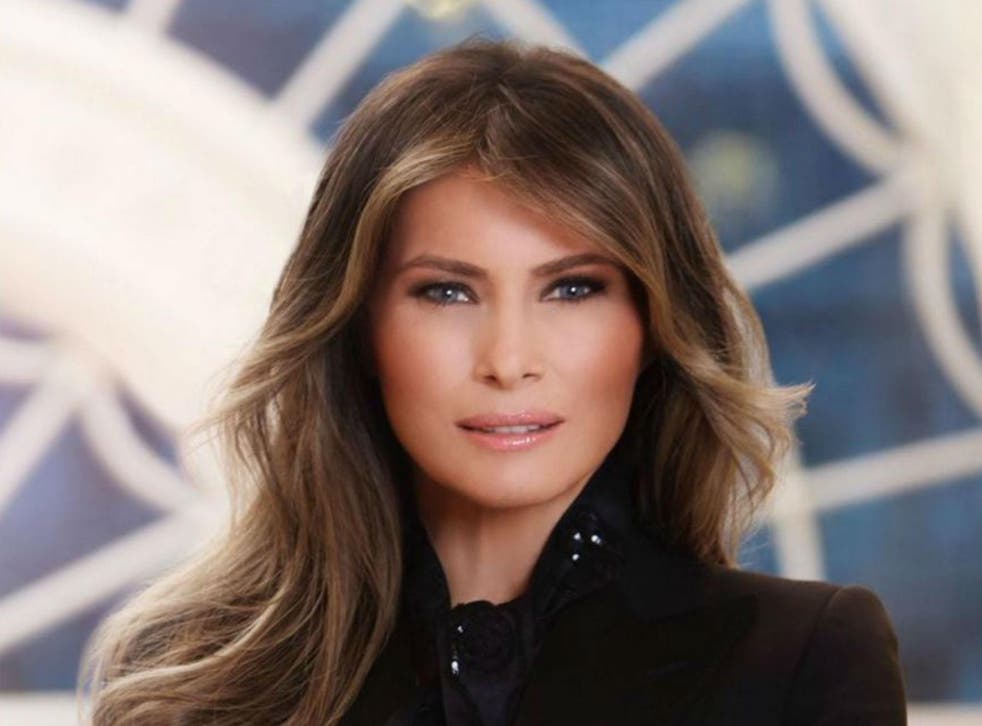 The White House has released the official portrait of Melania Trump, a step to present a more positive and apparently airbrushed image of the First Lady.
In the portrait, the First Lady radiates glamour and couture, a nod to her background as a former model and owner of a jewellery line.
Like her husband's official shot, Ms Trump stands, Apprentice-style, unsmiling. She is clothed in black, with a high collar and her arms are crossed. Her diamond wedding ring is in full shot.
Ms Trump was recently criticised for advertising her jewellery company on her official White House bio page, and the detail was quickly removed.
"This look is so unrealistic to the average woman," tweeted one user about the portrait, while others claimed that bashing the First Lady was only contributing to a culture of sexism.
The portrait, taken on the second floor of the White House private residence, provides a stark contrast to the official portraits of former First Ladies, including Michelle Obama, Nancy Reagan and Laura Bush, who posed with open arms and smiles.
She has yet to announce her exact plans or charitable goals whilst her husband is in office.
Ms Trump said during the campaign that her goal as First Lady was to help children and raise awareness of the dangers of social media, which her husband uses regularly.
As her husband and her step daughter Ivanka Trump decamped to the capital in January, she decided to stay in New York while her son finished the school year. Thousands of people have signed a petition, demanding she move to Washington DC to spare taxpayers from mounting secret service costs.
Melania Trump: 'The time for empowering women is now'
The portrait also provides an important visual for Americans who have caught rare glimpses of her at private events over the last two months.
Last week, she attended the White House Women's Empowerment Panel with her husband, and stood beside Mr Trump as he signed an executive order to close the gender gap in STEM subjects.
Despite the positive photo opportunities, Mr Trump has cancelled all funding for the UN family planning agency, the United Nations Population Fund, and has reinstated a ban on federal funding for overseas organisations that even talk about abortion to their patients.
Ms Trump's brief public appearances also attracted controversy. She was accused of plagiarising Michelle Obama's 2008 speech at the 2016 Republican National Convention.
The Trump team released an apology, signed by staffer Meredith McIver, who took responsibility for the error.
Join our new commenting forum
Join thought-provoking conversations, follow other Independent readers and see their replies